Scottish Independence Losing In The Polls
If recent polling is to be believed, the bid for Scottish independence is going to go down in flames.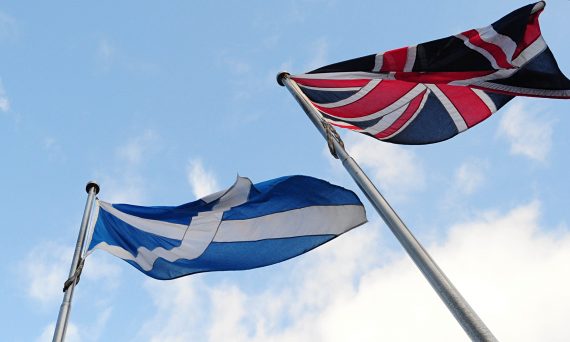 In just over a month, Scots will head to the polls to vote on a referendum on the question of whether they wish to remain part of the United Kingdom, or bring to an end a union that began with King James VI of Scotland's acesscion to the thrones of England and Ireland more than 300 years ago. As Chris Lawrence noted in a a post about two weeks ago, there are still analysts who project that a "yes" vote could end up being victorious. As Walter Russell Mead notes, though, there seems to be some evidence that Scots are turning decisively against independence:
The dream of Scottish independence is beginning to fade away; that at least is what the latest poll shows. 57 percent of Scots say they will vote against independence.  Analysts think the doubts about the Scottish National Party's plans to stick with the British pound are driving voters away from the independence camp. The SNP says an independent Scotland can keep using the pound with or without London's approval, but over time the skeptics seem to be winning the debate.

And speaking of debates, the latest poll shows that a solid majority of viewers thought that anti-independence spokesman Alistair Darling crushed Alex Salmond, the SNP's chief and Scotland's current premier. Darling hammered Salmon over the currency question, and viewers seemed to find Salmond's answers unconvincing. Issues of currency union and bank regulation are particularly salient in Europe these days, given the horrendous consequences of bank crises in countries like Ireland and Greece where national authorities didn't control their currencies. It's difficult to see how Scotland's large financial service industry could prosper without strong backing from the UK Treasury — backing that would likely not be available if Scotland were using the British pound without London's support. Taxpayers in the rest of the UK would not be willing to bail out Scottish banks if the Scots leave the Union, and without that implicit support it is hard to see how Scotland's financial sector could prosper.
Additionally, and perhaps indicative of just why the referendum has never actually had majority support in the polls, The Independent reports on a study that suggests that the movement for Scottish independence has led more people in Scotland to identify themselves as part of the United Kingdom rather than Scottish:
The prospect of Scotland leaving the UK has led to a marked decline in the number of people describing themselves as Scottish, according to research published today.

In a blow to the campaign for independence, the annual Scottish Social Attitudes survey shows that over the last three years a sense of Britishness has been rekindled among Scots.

When asked to choose one single national identity, the number of people who answered "Scottish" has fallen from 75 per cent in the 2011 survey to 65 per cent now. Those who said they regarded themselves as British increased from 15 per cent to 23 per cent over the same period.

Asked to rank their Scottishness against their Britishness, only 26 per cent said they were "more Scottish than British", the lowest figure since the survey was first completed in 1992, when it stood at 40 per cent. The most popular answer was "equally Scottish and British", with 32 per cent saying this description best fitted them.

A report published alongside the survey suggested that the Scottish independence referendum, due to be held on 18 September, may already have had an effect on national identity. An existing trend for people to say they were British as well as Scottish "continued further when people began to be faced with the prospect that Scotland might actually leave the United Kingdom", it said.

John Curtice, Professor of Politics at the University of Strathclyde and co-director of the Scottish Social Attitudes survey, said the referendum may have rekindled a "residual sense of Britishness" in some Scots. "A prospect that actually there's going to be a referendum in which Scotland could vote to leave the UK has perhaps helped at the margins to stimulate some people to say: 'I am primarily Scottish, but I'd like to be British as well'," he said.

The research also highlighted the increasing gender divide on the issue. Only 27 per cent of women now support independence, compared with 39 per cent of men – a gap which has doubled in the space of a year.

Overall, the number of people intending to vote yes has increased from 36 per cent in 2013 to 39 per cent now, once undecided voters are excluded. Yes Scotland pointed out that this meant support for independence was at its highest level since 2005.

"Two other polls in the past week have shown support for yes as high as 47 per cent – including the snap poll conducted after last week's debate, which also showed support for independence slightly higher among women, at 48 per cent," a spokesman said.

However, the research also found that since the Edinburgh Agreement of 2012, when a referendum on independence was agreed by the Scottish and Westminster governments, the proportion of voters who think leaving the UK would be damaging for Scotland's economy has risen from 34 per cent to 44 per cent.

The Better Together campaign said this showed the need for Alex Salmond to inform voters of his "Plan B" if an independent Scotland was unable to enter a currency union on the pound with the rest of the UK. The First Minister has said the country would continue to use the pound "come what may", as it was internationally tradeable.
Viewing the matter objectively, the idea of Scottish independence has always seemed just a little bit silly. Countless studies have made it clear that an independent Scotland would almost immediately become an economic basket case outside the United Kingdom. Contrary to the reassurances of those who advocate it, it is by no means certain that an independent Scotland would be granted membership in either the European Union or NATO, for example. This means that, for at least some period of time Scotland would in many ways be on its own in the world. It could, no doubt, rely upon its energy reserves as a source of revenue at least in the beginning, but it's not at all clear how the ownership of those reserves would be resolved in any potential dispute between Scotland and the suddenly smaller United Kingdom would be resolved. At the very least, though, it seems clear that Scotland would become an economic basket case not dissimilar from some of the worst nations in the EuroZone. Furthermore, given the fact that Scotland has been given significant autonomy over its own affairs in recent decades, it's difficult to see what advantages independence would bring, except of course to the politicians who would suddenly find themselves leading a nation rather than being just another voice in Parliament down in London. For ordinary Scots, though, absent some over inflated sense of national pride, there doesn't seem to be any rational reason to support independence.
Perhaps the polling is wrong, of course. Maybe there's more support for independence than they are indicating. We'll find out on September 18th, but right now it looks as though the United Kingdom will end up staying united after all.