Trump Pardons Joe Arpaio
The president has abrogated his duty to "take Care that the Laws be faithfully executed."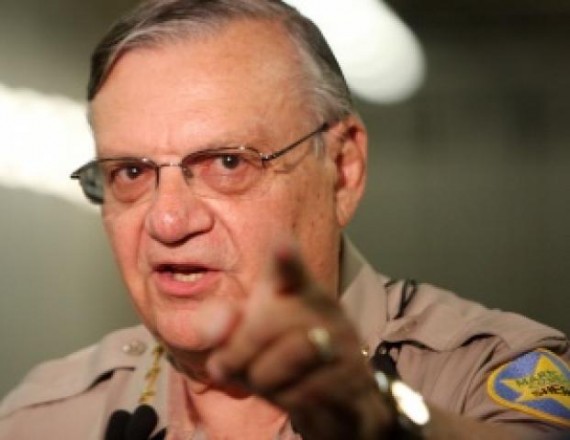 Last night, President Trump followed through on his impulse to pardon notorious former Arizona sheriff Joe Arpaio.
President Trump on Friday pardoned Joe Arpaio, the former Arizona sheriff whose aggressive efforts to hunt down and detain undocumented immigrants made him a national symbol of the divisive politics of immigration and earned him a criminal contempt conviction.

In a two-paragraph statement, the White House said that Mr. Arpaio gave "years of admirable service to our nation" and called him a "worthy candidate for a presidential pardon."

Mr. Trump called Mr. Arpaio "an American patriot" in a tweet later Friday.
Arpaio's conviction, less than a month ago, was for a misdemeanor, not the heinous abuses for which he was investigated:
Former Sheriff Joe Arpaio committed a crime by defying a court order to stop detaining suspected undocumented immigrants, a judge ruled on Monday, in the latest rebuke for a once-popular politician who was voted out of office last year.

United States District Judge Susan R. Bolton found Mr. Arpaio, 85, guilty of criminal contempt of court, a misdemeanor punishable by up to six months in jail. Mr. Arpaio's lawyers said he would appeal.
I have long had qualms about punishing subjects of criminal investigations for their conduct during said investigations, such as giving misleading testimony, when prosecutors are unable to prove the allegations which sparked the investigation. But this wasn't that:
The criminal charge grew out of a lawsuit filed a decade ago charging that the sheriff's office regularly violated the rights of Latinos, stopping people based on racial profiling, detaining them based solely on the suspicion that they were in the country illegally, and turning them over to the immigration authorities.

Hearing the suit, another federal district judge, G. Murray Snow, ordered the sheriff in 2011 to halt detention based solely on suspicion of a person's immigration status, when there was no evidence that a state law had been broken. An appeals court upheld that ruling, and Judge Snow later reinforced it with other orders.

But Mr. Arpaio insisted, publicly and repeatedly, that his office's practices were legal and would not change, and advocates said the detentions continued.

On Monday, Judge Bolton ruled that Mr. Arpaio had willfully violated the 2011 court order. "Not only did Defendant abdicate responsibility, he announced to the world and to his subordinates that he was going to continue business as usual no matter who said otherwise," she wrote.
Six months and a misdemeanor conviction is pretty light for such willful and blatant violation of a lawful order from a federal court. I'm in complete agreement with Arpaio's fellow Arizona Republican, John McCain:
"No one is above the law," he said, "and the individuals entrusted with the privilege of being sworn law officers should always seek to be beyond reproach in their commitment to fairly enforcing the laws they swore to uphold."
There's no question that the president has the right to pardon Arpaio. But doing so shows utter contempt for our legal system. Not only did Arpaio commit countless civil rights abuses under color of his authority, but he then flouted the judicial order and continues to not only show no remorse but revel in his contempt for it. Pardoning him under the circumstances is an abrogation of the president's Constitutional duty to "take Care that the Laws be faithfully executed."