Trump Taxes: Topline Findings
The President is deeply leveraged with no escape in sight.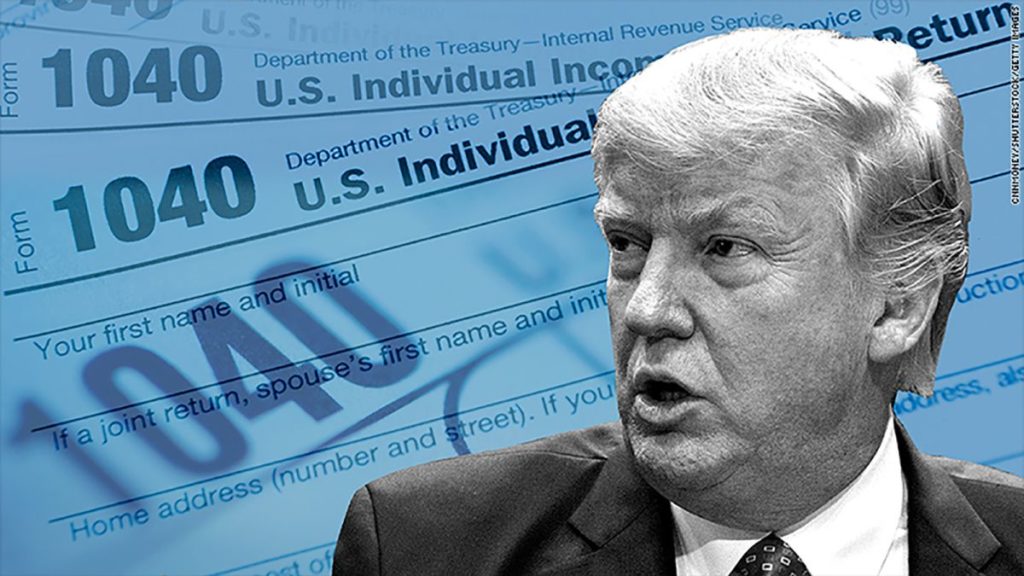 The New York Times is flooding the zone with articles from its investigation into Donald Trump's tax records. David Leonhardt provides some highlights.
Mr. Trump paid no federal income taxes in 11 of 18 years that The Times examined. In 2017, after he became president, his tax bill was only $750.
He has reduced his tax bill with questionable measures, including a $72.9 million tax refund that is the subject of an audit by the Internal Revenue Service.
Many of his signature businesses, including his golf courses, report losing large amounts of money — losses that have helped him to lower his taxes.
This adds more evidence but basically just confirms what we already knew.
The financial pressure on him is increasing as hundreds of millions of dollars in loans he personally guaranteed are soon coming due.
That, at least, is new news to me and important: How does that pay that off? What pressures is that putting on his decisionmaking in office?
Even while declaring losses, he has managed to enjoy a lavish lifestyle by taking tax deductions on what most people would consider personal expenses, including residences, aircraft and $70,000 in hairstyling for television.
While this may infuriate his base—which would be a happy outcome for me—it's arguably not particularly problematic. A lot of things that are "personal expenses" for normal people are "business expenses" for celebrities. (Indeed, there was a great Al Franken bit on Saturday Night Live about this some forty years ago.)
Ivanka Trump, while working as an employee of the Trump Organization, appears to have received "consulting fees" that also helped reduce the family's tax bill.
This strikes me as fishy but may well be "legitimate." The tax code is rife with loopholes that can be exploited.
As president, he has received more money from foreign sources and U.S. interest groups than previously known. The records do not reveal any previously unreported connections to Russia.
Again, this is a red flag. Honestly, I wish the early reporting were focusing on this issue rather than the titillating and sensational.
In terms of the public policy angle, Leonhardt points out several other things:
Mr. Trump may be the wealthiest U.S. president in history. Yet he has often paid less in taxes than other recent presidents. Barack Obama and George W. Bush each regularly paid more than $100,000 a year — and sometimes much more — in federal income taxes while in office.
Amortizing business losses and inflating business expenses may well be perfectly legal. Or they may simply be exploiting the fact that the IRS has been deliberately understaffed in a way that gives a huge advantage to tax scofflaws who can hire armies of high-powered lawyers. But the optics ain't great.
This speculation mirrors my longstanding suspicion:
His 2016 presidential campaign may have been partly an attempt to resuscitate his brand.

The financial records do not answer this question definitively. But the timing is consistent: Mr. Trump announced a campaign that seemed a long shot to win, but was almost certain to bring him newfound attention, at the same time that his businesses were in need of a new approach.
He wouldn't be the first, of course. Indeed, almost every presidential campaign is a vanity exercise and one in brand enhancement. Almost none of the Democrats who ran for the nomination this cycle had any chance at winning. Ditto all but a handful of Trump's 2016 opponents. Trump is simply unique in that he's gotten rich* off of being Donald Trump.
Another key bit:
The presidency has helped his business.

Since he became a leading presidential candidate, he has received large amounts of money from lobbyists, politicians and foreign officials who pay to stay at his properties or join his clubs. The Times investigation puts precise numbers on this spending for the first time.

A surge of new members at the Mar-a-Lago club in Florida gave him an additional $5 million a year from the business since 2015. The Billy Graham Evangelistic Association paid at least $397,602 in 2017 to the Washington hotel, where it held at least one event during its World Summit in Defense of Persecuted Christians.

In his first two years in the White House, Mr. Trump received millions of dollars from projects in foreign countries, including $3 million from the Philippines, $2.3 million from India and $1 million from Turkey.
I have been shouting from the rooftops since at least November 2016 that this was going to be the biggest scandal of his presidency. As big as the Russian interference and attempts to coerce Ukraine's government into damaging Joe Biden were, the day in, day out corruption and self-dealing always struck me as the real story.
But, again, it's still not enough:
But the presidency has not resolved his core financial problem: Many of his businesses continue to lose money.

With "The Apprentice" revenue declining, Mr. Trump has absorbed the losses partly through one-time financial moves that may not be available to him again.

In 2012, he took out a $100 million mortgage on the commercial space in Trump Tower. He has also sold hundreds of millions worth of stock and bonds. But his financial records indicate that he may have as little as $873,000 left to sell.

He will soon face several major bills that could put further pressure on his finances.

He appears to have paid off none of the principal of the Trump Tower mortgage, and the full $100 million comes due in 2022. And if he loses his dispute with the I.R.S. over the 2010 refund, he could owe the government more than $100 million (including interest on the original amount).

He is personally on the hook for some of these bills.

In the 1990s, Mr. Trump nearly ruined himself by personally guaranteeing hundreds of millions of dollars in loans, and he has since said that he regretted doing so. But he has taken the same step again, his tax records show. He appears to be responsible for loans totaling $421 million, most of which is coming due within four years.

Should he win re-election, his lenders could be placed in the unprecedented position of weighing whether to foreclose on a sitting president. Whether he wins or loses, he will probably need to find new ways to use his brand — and his popularity among tens of millions of Americans — to make money.
None of that is per se illegal or unethical. It's hardly unprecedented for a businessman to leverage himself to the hilt in a desperate gambit to save the enterprise. But it's a hell of a position for a sitting President of the United States—with the ability to grant or withhold lots of favors—to be in.
__________________
*While one take from the tax reporting is that he's not nearly as rich as he claims, he has nonetheless managed to live the lifestyle of the rich and famous for forty-plus years. That's more than most of us can say.