Trump Walks Back His Walk Back, Denies Russia Is Trying To Influence 2018 Elections
It took less than twenty-four hours for President Trump to essentially repudiate his purported attempt to walk back the appalling comments he made in Helsinki.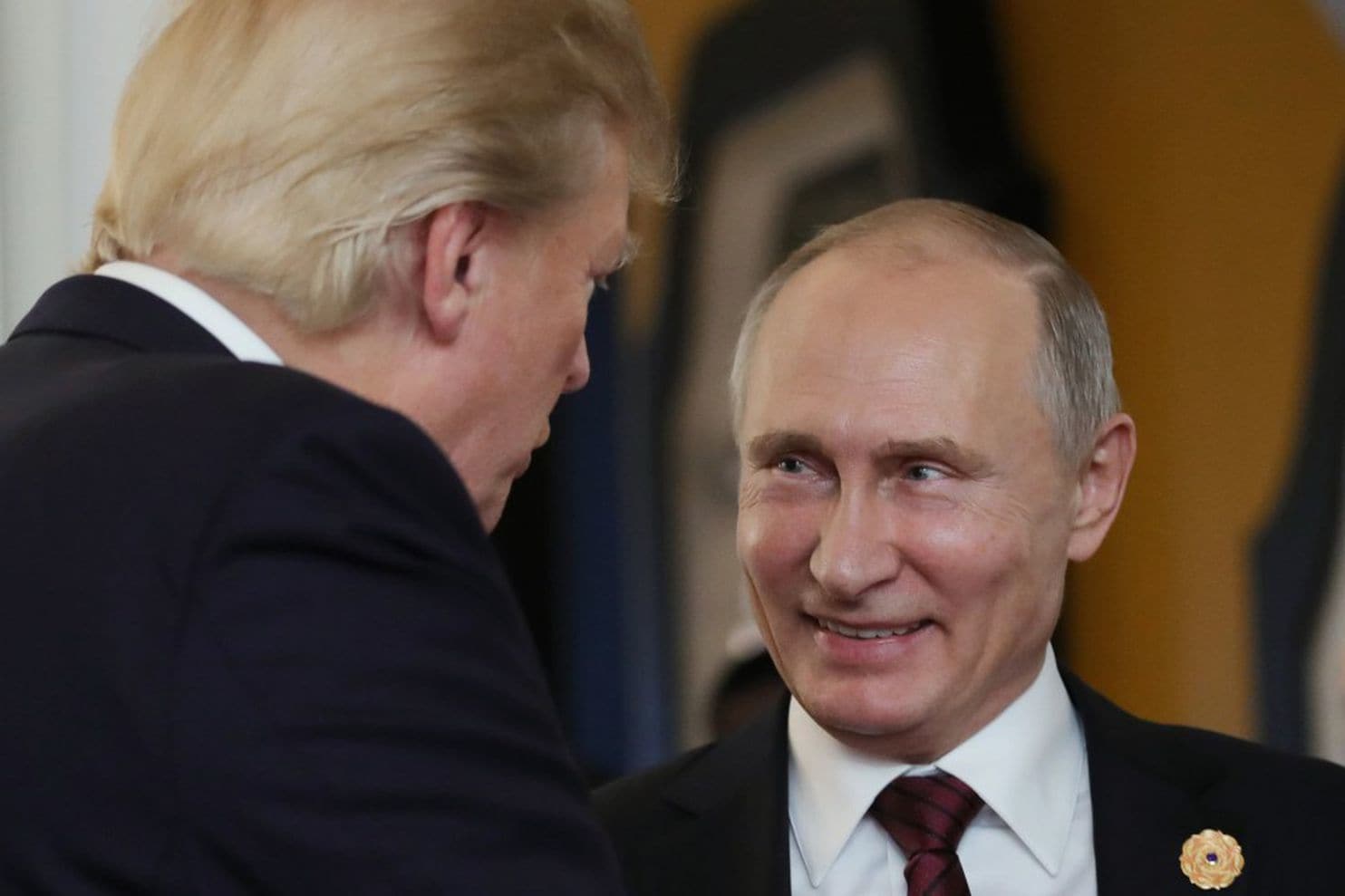 One day after absurdly trying to walk back the comments he made in the initial aftermath of the Helsinki Summit with Russian President Vladimir Putin, President Trump went back today to contradicting his own intelligence chiefs, seemingly dismissing once again the idea that Russia was involved in interfering in the 2016 election, and denying that Russia is involved in trying to once again interfere in the 2018 elections:
President Trump, who has been under fire for not aggressively confronting Russian President Vladmir Putin over election interference, on Wednesday said he believes Russia is no longer targeting the United States.

"Thank you very much, no," Trump said in response to a question from a reporter about whether Russia is still targeting the United States. He also asserted that no president has been tougher on Russia than him.

"I think President Putin knows that better than anybody, certainly a lot better than the media." Trump told reporters.

His assessment of Russia's current aggression is at odds with the views of U.S. intelligence officials. Last week, Director of National Intelligence Daniel Coats said that Russia and other countries are continuing to target American businesses, the government and other institutions and that "the warning lights are blinking red."

"These actions are persistent. They're pervasive and they are meant to undermine America's democracy on a daily basis, regardless of whether it is election time or not," Coats said during a speech at a Washington think tank.

In his remarks, Coats said that the intelligence community continues to see efforts by Russian actors to manipulate U.S. public opinion, including through the use of fake social media accounts. He also sounded the alarm about potential attacks on U.S. infrastructure or the financial system.

Democrats — and some Republicans — immediately took aim at Trump's remarks, made at the top of a Cabinet meeting at the White House on Wednesday.

"Every one of our intelligence agencies — those who are actually led by appointees of President Trump — have said that not only did Russia engage actively in trying to undermine the elections of 2016 against Secretary Clinton and for now-President Trump, but that they are continuing to do so," Sen. Robert Menendez (D-N.J.) said on MSNBC. "It is appalling that the president cannot seem to stand up to Vladimir Putin."

Sen. Lindsay Graham (R-S.C.) said on Twitter that there is a "BIG discrepancy" between Trump's statement and warning by Coats.

"It's imperative we get to the bottom of what is going on so we can be prepared to protect ourselves in advance of the 2018 elections," Graham said. "My personal view: the Russians are at again."
Trump also addressed the issue in a series of early morning Tweets that clearly seemed to walk back the statements he made yesterday afternoon when he said he accepted the conclusions of his intelligence chiefs regarding Russian election interference and claiming that he misspoke on Monday when he ruled out the idea that Russia had been culpable in such actions:
So many people at the higher ends of intelligence loved my press conference performance in Helsinki. Putin and I discussed many important subjects at our earlier meeting. We got along well which truly bothered many haters who wanted to see a boxing match. Big results will come!

— Donald J. Trump (@realDonaldTrump) July 18, 2018
While the NATO meeting in Brussels was an acknowledged triumph, with billions of dollars more being put up by member countries at a faster pace, the meeting with Russia may prove to be, in the long run, an even greater success. Many positive things will come out of that meeting..

— Donald J. Trump (@realDonaldTrump) July 18, 2018
….Russia has agreed to help with North Korea, where relationships with us are very good and the process is moving along. There is no rush, the sanctions remain! Big benefits and exciting future for North Korea at end of process!

— Donald J. Trump (@realDonaldTrump) July 18, 2018
Some people HATE the fact that I got along well with President Putin of Russia. They would rather go to war than see this. It's called Trump Derangement Syndrome!

— Donald J. Trump (@realDonaldTrump) July 18, 2018
Trump's apparent rejection yet again of the idea that Russia was behind the effort to interfere in the 2016 election and that it is clearly trying to do the same with respect to the upcoming midterm election. The evidence for the 2016 interference can be seen in both the statements that have been made by the President's own intelligence chiefs and by the Senate Intelligence Committee as well as the indictments that Special Counsel Robert Mueller issued against thirteen Russian nationals in March and an additional twelve Russian nationals just this past Friday. With respect to the 2018 elections, there has been considerable evidence that this is exactly what is happening. Back in February, for example, the President's own Intelligence Chiefs all said before a Congressional Committee that Russia was actively seeking to interfere in the 2018 elections both in ways similar to what it had done two years ago and in new ways designed to sow chaos and doubt about the integrity of the American electoral process. This came a few weeks after the White House itself acknowledged that our electoral process remained as vulnerable to foreign interference as they were before the 2016 election. Despite this, the National Security Agency has reported that it has received no direct orders from the White House to either prepare for or attempt to counteract any effort to interfere in the electoral or political process by Russia or any other foreign power. In other words, the President and his Administration have been dismissive of the idea of future Russian interference for some time now, so today's comments from the President should hardly come as a surprise.
Trump's walk back of his walk back is, of course, inevitable. As I said yesterday, his refusal to acknowledge the reality of Russian interference in the 2016 election at the Monday press conference is basically the same thing he has been saying for the better part of a year now, over the course of which he has repeatedly referred to the Mueller investigation as a "witch hunt" and labeled reports about the investigation as "Fake News" no matter how well documented those reports are. Additionally, he has said repeatedly, and even hinted in his walk back yesterday, that any hacking that occurred during the election could have been done by anyone, including the proverbial "400-pound guy in his bedroom" that the President has mentioned frequently in the past. All of this is inconsistent with the facts as we know them, and simply inconsistent with reality. Given that, it's not surprising that his efforts to walk back the appalling things he said in Helsinki didn't even last 24 hours. As I said yesterday, "[w]e saw the real Donald Trump in Helsinki yesterday, and it wasn't a pretty sight. No prepared statement is going to change who he really is." Today, he confirmed that.