NSA Has Received No Orders To Act Against Russian Interference In 2018 Election
President Trump continues to deny the reality of Russian interference in the 2016 campaign, and he's failing to act to make sure it doesn't happen again.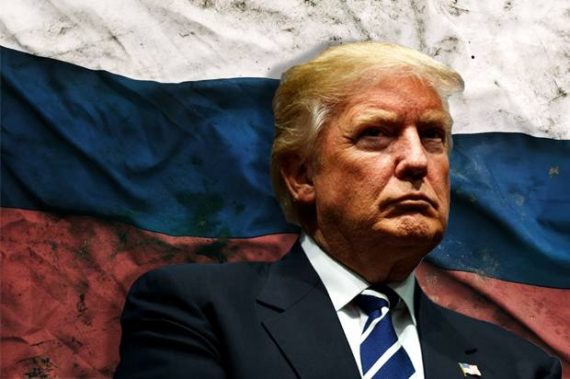 Admiral Michael Rogers, the head of the National Security Agency, told a Congressional Committee yesterday that he has not received any orders from the White House regarding efforts to prevent Russian interference in the 2018 election:
WASHINGTON — Faced with unrelenting interference in its election systems, the United States has not forced Russia to pay enough of a price to persuade President Vladimir V. Putin to stop meddling, a senior American intelligence official said on Tuesday.

Adm. Michael S. Rogers, the departing head of the National Security Agency and the military's Cyber Command, said that he was using the authorities he had to combat the Russian attacks. But under questioning during testimony before the Senate Armed Services Committee, he acknowledged that the White House had not asked his agencies — the main American spy and defense arms charged with conducting cyberoperations — to find ways to counter Moscow, or granted them new authorities to do so.

"President Putin has clearly come to the conclusion that there's little price to pay and that therefore 'I can continue this activity,'" said Admiral Rogers, who is set to retire in April. "Clearly what we have done hasn't been enough."

Admiral Rogers's testimony was the second time this month that a senior American intelligence official had said that Russia's efforts to meddle in American elections did not end in 2016, and that the Trump administration had taken no extraordinary steps to stop them. He and other intelligence leaders warned two weeks ago on Capitol Hill that Russia was using a digital strategy to worsen political and social divisions in the United States, and all the intelligence chiefs said they had not been expressly asked by the White House to find a way to punish Russia for its efforts.

The comments by Admiral Rogers on Tuesday reflected what appears to be a widening gap between President Trump and the intelligence agencies he runs. While the president has mocked the notion of Russian meddling in the election he won, American intelligence officials are convinced of it, and they believe Russia is now looking to interfere in the midterm elections in November.

Sarah Huckabee Sanders, the White House press secretary, said the Department of Homeland Security was working with state and local elections officials to prevent attacks on electoral systems, which were wider than initially thought during the 2016 vote. She also cited a program to provide $40 million to counter Russian and Chinese propaganda, though she failed to mention that the money was delivered to the State Department only after months of delays and withering criticism from Republicans in Congress.

As for Admiral Rogers, "nobody is denying him the authority," Ms. Sanders said before blaming the Obama administration, noting that the Russian campaign began on its watch.

Asked during the earlier hearing whether he had the authority and the ability to disrupt the Russian attacks "where they originate," Admiral Rogers replied, "I don't have the day-to-day authority to do that."

"So you would need, basically, to be directed by the president," said Senator Jack Reed of Rhode Island, the top Democrat on the Armed Services Committee.

"Have you been directed to do so?" Mr. Reed added.

"No, I have not," Admiral Rogers said.
All of this comes in the wake of a month in which several top Administration officials have both reiterated the fact that there is clear and convincing evidence, now backed by a detailed Indictment obtained from a Grand Jury by the office of Special Counsel Robert Mueller, that Russia did indeed interfere in the 2016 election and that they are likely to do so again in 2018 and beyond. At the beginning of the month, for example, Secretary of State Rex Tillerson and other Administration officials outside the White House reiterated the long-standing belief that Russia had in fact interfered in the 2016 election. Just about a week later, Admiral Rogers, along with the heads of the other top intelligence agencies told the Senate Intelligence Committee that there was already evidence that the Putin regime was seeking to repeat and expand its interference efforts in the upcoming midterm elections.
Despite these warnings, which the intelligence chiefs have no doubt shared with the President, Trump continues to doubt that the 2016 campaign was interfered with at all, a position he held on to even after Mueller announced the indictment of thirteen Russian nationals in what was clearly an effort to use social media to interfere in the election. Additionally, Trump has failed to implement the sanctions that Congress passed into law that were designed to be retaliation for the Russian interference campaign. Why Trump is doing this is, of course, open to interpretation. The most nefarious conclusion, of course, is that he knew about, participated in, or allowed members of his campaign to participate in what ended up becoming a campaign that inured to the benefit of the Trump campaign by undermining the campaign of Hillary Clinton and the Democratic National Committee. Somewhere in between that is the conclusion that Trump had no knowledge of what was going on at the time it was happening, but that he has nonetheless sought to undermine the investigation into Russian interference on numerous occasions. The most innocent explanation is that he is basically an egomaniac who is afraid that acknowledging the reality of Russian interference would somehow undermine the legitimacy of his Presidency. Whatever the answer is, though, the reality is that what we're seeing from the White House now, or to put it more succinctly what we're not seeing, is a complete dereliction of duty on Trump's part.
As Admiral Rogers stated in his testimony yesterday, there are some steps he can take as head of the National Security Agency to protect the nation against another Russian interference campaign. In order to do his job the way it should be done, Rogers needs a President who is willing to admit the reality of Russian interference two years ago, and the reality that it is likely to happen again, and who is willing to do whatever it takes to stop it and, if necessary, retaliate for it appropriately. We don't have that kind of President, though, and as a result, we remain as vulnerable to interference and manipulation today as much as we were in 2018. If a Democratic President were doing this, the Republicans in Congress would be in full-on outrage mode. Instead, they're basically sitting on their hands doing nothing. Because of that, they are as complicit in this dereliction of duty as the President.