Trump Still Doesn't Believe Russia Interfered In The 2016 Election
Despite what his own intelligence chiefs are saying, President Trump still does not believe that Russia interfered in the 2016 election.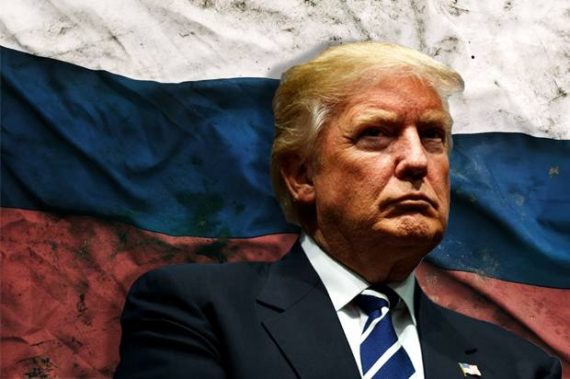 Despite the fact that his own intelligence chiefs have confirmed yet again that Russia did indeed interfere in the 2016 election and that it is seeking to do so again in 2018, President Trump still doesn't believe it happened:
President Donald Trump still isn't buying that Russia interfered in the 2016 election.

Even as his intelligence chiefs unanimously told a Senate panel Tuesday that Russia meddled in 2016 and is planning to do so again in 2018, three sources familiar with the President's thinking say he remains unconvinced that Russia interfered in the presidential election.

While this issue is separate from the question of whether Trump campaign officials colluded with Russian officials, to Trump the issues are interwoven, the sources say. He views the notion that Russia meddled in the election as an argument that he had help to win, and that he didn't win the election on his own.

Trump's view contradicts his intelligence chiefs, including Director of National Intelligence Dan Coats, CIA Director Mike Pompeo and FBI Director Chris Wray, who all testified — again — on Tuesday that they supported the intelligence community's January 2017 assessment that Russia interfered in the 2016 election.

"There should be no doubt that Russia perceives its past efforts as successful and views the 2018 US midterm elections as a potential target for Russian influence operations," Coats said at the Senate Intelligence Committee hearing on worldwide threats.

Trump has been skeptical about the intelligence assessment that Russia meddled ever since he was first briefed on the issue during the presidential transition. But that skepticism has endured even after Trump hand-selected his own intel chiefs and they reiterated the conclusions of their predecessors.

Trump has only begrudgingly acknowledged that Russia may have interfered in the election. In a press conference as president-elect, Trump said, "As far as hacking, I think it was Russia. But I think we also get hacked by other countries and other people." At a June 2017 press conference in Poland, he again said Russia meddled in the election, but added that "other people and other countries" likely did as well.

More often, Trump has cast doubt on accusations of Russian meddling. He has questioned whether the Russians were responsible for hacking the Democratic National Committee, and he has called the entire "Russia story" a hoax perpetuated by angry Democrats. He even convinced Pompeo to personally meet with a conspiracy theorist who denies that Russia hacked the DNC.

Trump caused a stir during his trip to Asia when he suggested that he believed Russian President Vladimir Putin's denials that his government meddled in the election. Trump and Putin met several times on the sidelines of the APEC summit in Vietnam. "Every time he sees me, he says, 'I didn't do that,'" Trump said. "And I believe, I really believe, that when he tells me that, he means it."

But members of Trump's cabinet have bucked Trump and sided with the intelligence community including Secretary of State Rex Tillerson and US Ambassador to the United Nations Nikki Haley, who said in October: "When a country can come interfere in another country's elections, that is warfare."

Tuesday's hearing was the latest opportunity for Democrats to pounce on the conflicting messages coming from the intelligence chiefs and their commander in chief. Maine Sen. Angus King, an independent who caucuses with Democrats, urged the intelligence officials to convince Trump that the issue of collusion was separate from election meddling.

"I understand the President's sensitivity about whether his campaign was in connections with the Russians, and that's a separate question. But there is no question — we've got before us the entire intelligence community, that the Russians interfered in the election in 2016 — they're continuing to do it, and they're a real imminent threat to our elections in a matter of eight or nine months," King said.

"My problem is I talk to people in Maine who say the whole thing is a witch hunt and a hoax because 'the President told me'," he added.
The irony of reports such as this, of course, is that it doesn't match the conduct he's engaged in since virtually the beginning of his Administration with regard to the investigation itself, or the allegations of collusion and obstruction of justice. Since becoming President, Trump has engaged in efforts that seem clearly designed to undermine the Russia investigation. These efforts began exactly one year ago today, when Trump met with F.B.I. Director James Comey if he could end the investigation of former National Security Adviser Michael Flynn. Two months later, Trump fired Comey just days after Comey had testified about the bureau's investigation of Russian election interference and the Trump campaign before a Senate committee. Later, Trump admitted that he fired Comey because of the Russia investigation. Trump also contacted the heads of the intelligence agencies and pressured them to bring the investigation to an end and to influence their potential testimony to Congress to state that Trump and his campaign did not collude with Russia or Russian officials. Trump has also implored Senators to end the Senate Intelligence Committee investigation into the Russia affair or at least publicly confirm that there was no collusion between the Trump campaign and Russian officials. And finally and most recently, there have been rumors that Trump has at least considered firing special counsel Robert Mueller and Attorney General Jeff Sessions as a means of undermining the investigation.  For a man who is allegedly skeptical that the reports of Russian interference are true, he's certainly acting like someone who believes that they are and who is actively trying to undermine the investigation to protect himself.
As Jeniffer Rubin puts it, Trump's skepticism and inaction are putting the nation in danger:
Trump's refusal to defend our elections — a blatant instance of disregarding his oath of office — comes in the face of multiple calls to secure our election machinery. Max Bergmann, the head the Moscow Project for the Center for American Progress, told me "our democracy was attacked in 2016, and the intelligence community just unanimously told us that the Russians plan to do it again in the 2018 elections. Yet the response from Trump and the Republican Congress is a collective shrug." Bergmann added: "There have been no Cabinet meetings on Russian interference, no agency has been charged with leading a response, and no election security legislation. Worse, the administration amazingly turned lemonade into lemons with the new Russia sanctions legislation by not sanctioning anyone." He concluded, "this is a deliberate policy of appeasement that is practically inviting future attacks on our democracy."

(…)

The Republicans' culpability in failing to move swiftly to protect our democratic machinery is stunning. At some point, their 2018 opponents will start asking: Why aren't Republicans protecting American democracy against Russian aggression? The answer is that Trump's ego seems to take precedence over the country's defense — and congressional Republicans are too timid to force action.
For the most part, I think Rubin nails the explanation for what is driving Trump here. From the day after the election forward, he is pushed the idea that he won an overwhelming victory over Hillary Clinton when in reality he lost the popular vote and his victory in the Electoral College was among the narrowest in American history and in any case not nearly as large as former President Obama's wins in 2008 and 2012. Given that, he likely believes any admission by Trump that undermines or appears to undermine the idea that Trump won the election legitimately would undermine his Presidency in general and him specifically. More nefariously, of course, there's the possibility that Trump, in fact, aware of wrongdoing on the part of his campaign and that he's been involved in conscious efforts to undermine the investigation and obstruct justice in order to protect himself and those close to him. Whatever the explanation, though, the fact that we have yet another report that Russia is going to intervene in the upcoming election and the President doesn't care about it is not only maddenning but a clear dereliction of his duties to the nation. Of course, it's not like either his supporters or Republicans on Capitol Hill are going to care.