Trump's Word are Solace to White Supremacists
Solace emboldens and helps to mainstream.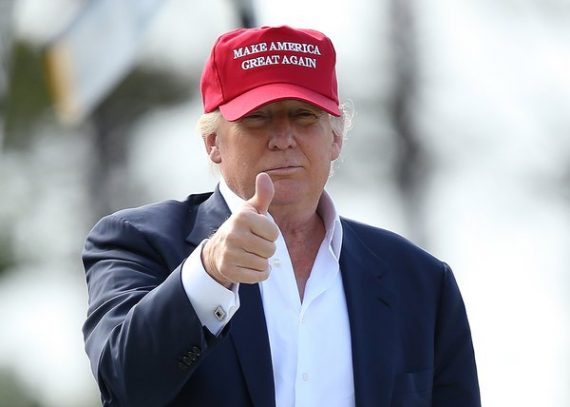 R. Derek Black has an essay via the NYT that I highly recommend, as it provides clear and direct insight into the significance of Trump's words last week:   What White Nationalism Gets Right About American History.
I would note that Black is the son of the founder of the Daily Stormer, and is David Duke's godson.  He was, at one point, considered to be the heir of the American white nationalist movement.  He has since renounced these views and there is a fascinating profile of him in WaPo from last year that is also worth a read:  The white flight of Derek Black.
His essay in the Times starts as follows:
My dad often gave me the advice that white nationalists are not looking to recruit people on the fringes of American culture, but rather the people who start a sentence by saying, "I'm not racist, but …"

The most effective tactics for white nationalists are to associate American history with themselves and to suggest that the collective efforts to turn away from our white supremacist past are the same as abandoning American culture. My father, the founder of the white nationalist website Stormfront, knew this well. It's a message that erases people of color and their essential role in American life, but one that also appeals to large numbers of white people who would agree with the statement, "I'm not racist, but I don't want American history dishonored, and this statue of Robert E. Lee shouldn't be removed."
He continues later in the essay (emphasis mine):
We have all observed the administration's decisions over the past several months that aligned with the white nationalist agenda, such as limiting or completely cutting off legal and illegal immigration, especially of Hispanics and Muslims; denigrating black communities as criminal and poor, threatening to unleash an even greater police force on them; and going after affirmative action as antiwhite discrimination. But I had never believed Trump's administration would have trouble distancing itself from the actual white nationalist movement.

Yet President Trump stepped in to salvage the message that the rally organizers had originally hoped to project: "George Washington was a slave owner," he said, and asked, "So will George Washington now lose his status?" Then: "How about Thomas Jefferson?" he asked. "Because he was a major slave owner. Now are we going to take down his statue?" He added: "You're changing history. You're changing culture."

Until Trump's comments, few critics seemed to identify the larger relationship the alt-right sees between its beliefs and the ideals of the American founders. 

[…]

Until Tuesday I believed the organizers of the rally had failed in their goal to make their movement more appealing to average white Americans. The rally superimposed Jefferson's image on that of a pseudo K.K.K. rally and brought the overlap between Jefferson and white nationalist ideas to mind for anyone looking to find them. But the horrific violence that followed seemed to hurt their cause.

And then President Trump intervened. His comments supporting the rally gave new purpose to the white nationalist movement, unlike any endorsement it has ever received. Among its followers, being at that rally will become something to brag about, and some people who didn't want to be associated with extremism will now see the cause as more mainstream. When the president doesn't provide condemnation that he has been pressed to give, what message does that send but encouragement?
This is not just Black who sees this, and he certainly has a history that would allow him to understand how his former allies would interpret the president's words (again, I recommend the WaPo profile). We know that David Duke and Richard Spencer took solace in Trump's words as well.
Thank you President Trump for your honesty & courage to tell the truth about #Charlottesville & condemn the leftist terrorists in BLM/Antifa https://t.co/tTESdV4LP0

— David Duke (@DrDavidDuke) August 15, 2017
https://twitter.com/RichardBSpencer/status/897572085052190723
https://twitter.com/RichardBSpencer/status/897570011665006592
At a less prominent level I have certainly see plenty of individuals online more than willing to decide that Black Lives Matters, to name one group, is just a left-wing version of neo-nazis.  Anyone who has been on Facebook or Twitter the last week has seen this.
Black is also correct that our history does contain substantial amounts of white supremacy.  But the challenge is not to extol and cultivate that aspect of our past, but to understand and it to elevate ourselves beyond it.
The United States was founded as a white nationalist country, and that legacy remains today. Things have improved from the radical promotion of white people at the expense of all others, which has persisted for most of our history, yet most of us have not accepted the extent to which white identity guides so much of what we still do. Sometimes it seems that the white nationalists are most honest about the very real foundation of white supremacy upon which our nation was built.

The president's words legitimized the worst of our country, and now the white nationalist movement could be poised to grow. To challenge these messages, we need to acknowledge the continuity of white nationalist thought in American history, and the appeal it still holds.

It is a fringe movement not because its ideas are completely alien to our culture, but because we work constantly to argue against it, expose its inconsistencies and persuade our citizens to counter it. We can no longer count on the country's leader to do this, so it's now incumbent upon all of us.
That last sentence is chillingly true.  Of all the things we typically would expect of a President, a reflexive criticism of neo-nazis in an important, but low bar.  Yet, it is not one that the current occupant of the office can attain.