Turkish-Syrian Tensions Increase After Syria Shells Turkish Village
Turkey's military has attacked Syria several times since Syrian forces shelled a Turkish village.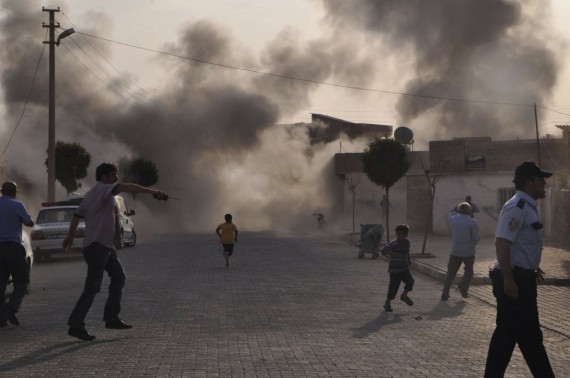 Tensions between Turkey and Syria heated up considerably yesterday when Turkish forces struck back at Syrian military targets in response to a Syrian mortar attack that ended up killing give Turkish civilians. Before the end of the day, Turkey had requested an emergency meeting of NATO Ambassadors in Brussels, which resulted in a condemnation of the Syrian attack. Beyond that statement, though, it seemed clear that NATO as a whole was reluctant to get involved in conflict with Syria, which would threaten to draw the alliance into the country's civil war. Today, though, the Turks took things a step further when their Parliament authorized further military action against Syria:
ISTANBUL — Turkey's Parliament approved a motion Thursday that authorizes further military action against Syria, as Turkey began its second day of shelling targets within Syria in response to a mortar attack that killed five civilians.

The measure, which was ratified after several hours of a closed-door session in the capital, Ankara, permits cross-border raids, although senior officials insisted that NATO ally Turkey did not want a war with its Arab neighbor — an escalation that could turn Syria's bloody civil strife into a regional conflict with international involvement.

The motion read, in part, "The ongoing crisis in Syria affects the stability and security in the region and now the escalating animosity affects our national security," according to the semiofficial Anatolian News Agency.

The Turkish military pounded targets inside Syria on Thursday in retaliation for the mortar attack a day earlier that killed five civilians in Turkey.

Local news reports said Turkish shells fell inside Syria on at least 10 occasions after midnight, landing near the border town of Tel Abyad, some six miles inside Syrian territory, across a historic fault line where modern Turkey abuts Arab lands that once formed part of the Ottoman Empire.

State television said the shelling continued until dawn with four more barrages until the guns fell silent around 6:45 a.m. Activist groups in Syria said the shelling killed several Syrian government soldiers.

The exchanges sent tremors across a region fearful that the mounting violence in Syria would spill into neighboring countries. Ibrahim Kalin, a senior aide to Prime Minister Recep Tayyip Erdogan of Turkey, wrote on Twitter feed: "Turkey does not want war with Syria. But Turkey is capable of protecting its borders and will retaliate when necessary." In a separate message, he said: "Political, diplomatic initiatives will continue."

(…)

The Turkish motion was seen as addressing the threat that the clashes would have serious consequences both militarily and in international law, analysts said.

"Turkey's shelling into Syria late yesterday and the parliamentary motion drafted in emergency both aim at building pressure over Damascus," said Nihat Ali Ozcan, a strategy expert with the Economic Policy Research Foundation of Turkey.

"Many felt disappointed about the government's lack of action when Syria shot down a Turkish warplane in June and got away with it," he said.

Syria has intimated that it never intended to strike inside Turkey, and its minister of information, Omran al-Zo'aby, suggested on state television that Syria was defending against a regional threat that could affect Turkey and Syria.

"The Syrian-Turkish border is a long one and is being used for smuggling weapons and terrorists," he said, adding that in response to border episodes, neighboring countries should act "wisely and rationally and responsibly, especially in cases of the presence of armed terrorist groups who have their different agendas that are not targeting the Syrian national security but the regional security."

It was unclear if the mortar that struck Turkey was fired by government forces or by rebels fighting to oust the government of President Bashar al-Assad of Syria, but Turkey believed it came from a government position, Turkish analysts said. Turkey has called in an emergency session at the North Atlantic Treaty Organization and revised its engagement rules in a way to allow military action when its national security is threatened. It refrained from direct military engagement in response to the downing of its jet in international airspace.

"Turkey is not a country wishing for war, but peace," Omer Celik, a senior government official, said on Thursday in a televised statement before the parliamentary debate, but he called on all parties to support what he called a measure to protect Turkey's sovereignty.

While Syria has offered condolences to Turkey over the death of its civilians and has said an investigation was under way, Mr. Celik said that the "words of a regime killing its own people cannot be taken into account."
Walter Russell Mead observes:
If Turkey steps up the fight against the Syrian government in the border regions, the situation could morph into a long term, contested Turkish presence. These areas are home to many Kurds, some of whom have recently been fighting in Turkey (possibly with help from Damascus). With Damascus' authority in these areas weak, Turkey could quickly find itself unable to pacify these areas completely — and also unable to leave.

But Syria has been poking Turkey in the eye for months now, with no military response from Ankara: the shell that killed the Turkish family yesterday was one of hundreds that routinely fall on the Turkish side of the border, and in June Syria shot down a Turkish reconnaissance jet. If there were any attractive Turkish policy options, Ankara would have taken them before now.
It's hard to tell how far Turkey is willing to go here, or whether Syria will back down at this point. It seems rather foolish of them to be engaging a larger and more powerful neighbor at the same time that they're dealing with an armed internal insurgency that has proven itself capable of striking even in the heart of Damascus itself. If they keep it up, though, the Turks may feel that have no choice but to do more than launch retaliatory strikes against Syrian positions. In that event, Assad would find himself effectively dealing with a civil war and a war with his neighbor to the north and it's hard to see how his regime could possibly survive that.
In the wake of the Syrian shoot down of a Turkish jet several months ago, James Joyner noted that it was unlikely that NATO would get involved in this matter any further than issuing the statement of condemnation that came out several days after the incident. It strikes me that the situation is the same now, even though the nature of Syria's action, and the fact that Turkey has decided to both retaliate and essentially give the military a blank check with regard to future cross-border incidents. The arguments against intervention in Syria are the same as they have been for more than a year now. NATO has resisted getting involved in the Syrian civil war for just those reasons. Unless Syria starts taking far more serious action than this that requires an allied response of some kind, I don't see anyone changing their minds. However that doesn't preclude the possibility of this quickly spiraling out of control.
Even the Russians are aware of the risks:
Amid growing international concerns that the conflict could escalate further, Syria's ally Russia on Thursday urged Syria to publicly admit that its forces had fired the shell that killed the civilians.

Russian Foreign Minister Sergei Lavrov said the Syrian authorities had told him the incident "was a tragic accident and that it will not happen again," the Russian news agency RIA quoted him as saying during a visit to Islamabad.

"We think it is of fundamental importance for Damascus to state that officially," he added.
Whether an admission will be enough for the Turks, or whether the Syrians will even listen to the Russians, remains to be seen.