Ukraine Taking The War to Russia
The tables have turned.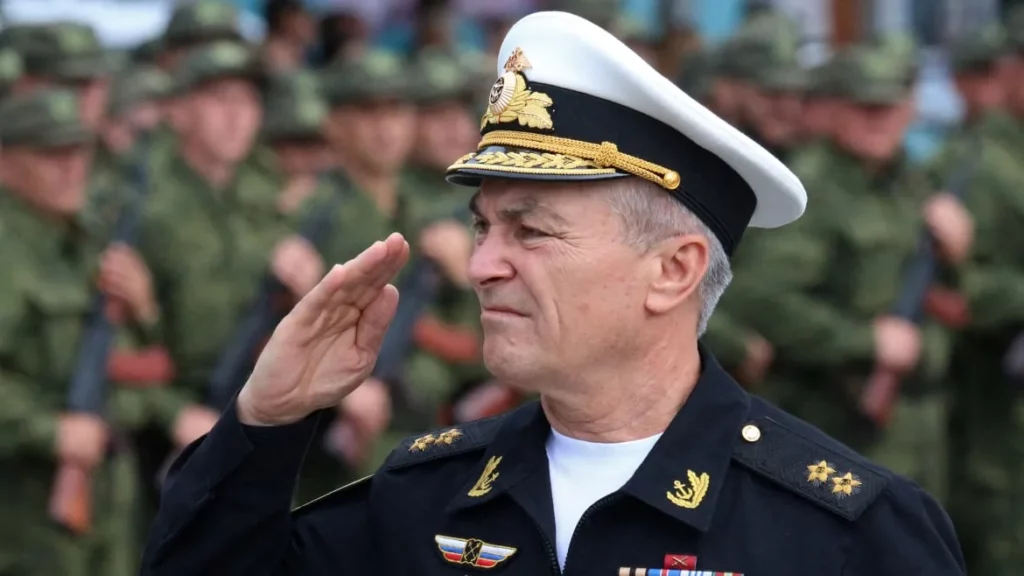 Nico Hines, The Daily Beast ("Russian Naval Commander and 33 Officers Obliterated in Biggest Blow Yet, Says Ukraine"):
In one of the most devastating blows of the war so far, Ukraine says it took out a whole chunk of Russia's naval leadership in a single missile attack, which killed the commander of the notorious Black Sea Fleet.

Vice Admiral Viktor Sokolov was allegedly killed in Friday's missile strike on the Black Sea Fleet's HQ in Crimea, which was illegally occupied by Russia in 2014.

Sokolov, who was drafted in to beef up the faltering navy last year, was attending a meeting of top naval and military figures when the missile crashed into the building in Sevastopol, according to the Special Operations Forces of Ukraine. The Spetsnaz unit claims that 34 officers in total were killed in the explosion.

A huge plume of black smoke was seen billowing from the building last Friday in one of Ukraine's most stunning missile assaults of the war. The direct hit on the naval command center was a symbolic blow for Russia as the Black Sea Fleet has been a source of national pride since it was established by Catherine the Great in 1783.

President Vladimir Putin fired the commander of the fleet last year after it suffered a series of embarrassing setbacks including the sinking of its lead warship, the Moskva, and an attack on its air base in Crimea that saw eight warplanes destroyed.

Sokolov, who previously held a prestigious role as the head of a military academy, was brought back into active service to reinstate pride in the Black Sea Fleet.

His death—compounded by those of so many of his colleagues—in the heart of the fleet's operation would represent a severe blow to that pride.

Over the weekend, rumors on social media began to suggest that Sokolov had been caught up in the explosion. The Special Operations Forces posted its confirmation on Telegram on Monday.

"After the attack on the Russian Black Sea Fleet headquarters, 34 officers, including the Commander of the Russian Black Sea Fleet, lost their lives, with an additional 105 occupants sustaining injuries. The headquarters building is beyond repair," the Telegram statement read.

The special forces unit did not name any of the other victims of the attack by one of the Storm Shadow air-launched missiles donated by Britain and France earlier this year.

Lt. Gen. Kyrylo Budanov, the head of Ukraine's military intelligence, previously said Col. Gen. Alexander Romanchuk, the commander of Russian forces on the southern front, and Lt. Gen. Oleg Tsekov were seriously wounded in the attack.

Ukraine has been desperate to prove that it can make serious gains in the remainder of the fighting season before winter sets in and, in particular, Kyiv wants to show the skeptical West that it is capable of retaking Crimea.
Benedict Smith, The Telegraph ("Ukrainian drone strike plunges Russian villages into darkness"):
Several villages in Russia's Kursk region were left without power this morning after a Ukrainian drone reportedly struck an electricity substation.

Kursk governor Roman Starovoit said: "A Ukrainian drone dropped an explosive device on an electricity substation in the village of Snagost in Korenevsky District. Seven settlements were left without power.

"None of the residents were injured. Emergency crews will start restoring power as soon as the situation allows."

The region, which borders Ukraine, has been a frequent target for drone attacks allegedly coordinated by its eastern neighbour.

Ukraine's energy minister warned last week that Russia had resumed a campaign against its power stations, which left millions without electricity and water last year.
The Economist (unsigned) ("War has arrived in Crimea"):
Two ukrainian missiles smashed into the headquarters of Russia's Black Sea fleet before noon on September 22nd. This time, there could be no cover-up. After a Ukrainian attack on a nearby command post two days earlier, censors had scrubbed most social-media posts written by locals. But the daytime strike in central Sevastopol, timed to coincide with a meeting of senior generals, was impossible to hush up. Local chatrooms buzzed with gossip. "Day 576 of a three-day war to take Kyiv," read one. "What about our red lines? Time to wipe these bloody Ukries from the face of the earth," another. Amid Ukrainian claims that they had killed the commander of the fleet and another 33 officers, Russian authorities even started turning on early-warning air-raid sirens—something they had previously tried to avoid.

One and a half years in, Vladimir Putin's war has come to Crimea in earnest. Since the beginning of summer, Ukraine has massively stepped up strikes on the peninsula annexed by the Kremlin in a largely bloodless coup in 2014. Using a mix of new home-made drones and foreign-supplied cruise missiles, it has hit military bases, air bases, and command-and-control centres.

On September 13th a strike on the Sevmorzavod dry dock in Sevastopol took out an amphibious landing ship and one of just six kilo-class submarines capable of launching cruise missiles near the Ukrainian shore. A day later drones and Ukrainian cruise missiles destroyed a cutting-edge s-400 air-defence system that had an export price tag of over $1bn. On September 23rd, a day after the strike on the headquarters, another salvo of cruise missiles hit a pier in Sevastopol. Slowly, and methodically, Ukraine is chipping away at Russia's Crimean firepower.

Ukrainian military sources say the operations are not necessarily ends in themselves. They should rather be seen as auxiliaries to two more important efforts. The first is Ukraine's ongoing land counter-offensive, focused on the Zaporizhia region to the north-east of Crimea. Any Ukrainian success in degrading air power, railways and logistics, they say, undermines the Russian troops there who are directly supplied from the peninsula.

The second focus is a naval contest in the Black Sea. Here, Ukraine is trying to deny Russia a monopoly of the sea and to regain control of vital shipping routes. It is destroying Russian warships wherever it can, and pushing the rest out to a distance that makes striking ports, cities and a new sea corridor as difficult as possible. The process began in April 2022 with the sinking of Russia's flagship Moskva, hit with a home-produced Neptune cruise missile that the navy wasn't sure even worked. Since then Ukraine has sunk or damaged at least 19 Russian ships.

Ukraine's economy rests on the success of a new sea corridor in and out of Odessa, announced in August in the wake of Russia's refusal to extend a grain deal. The safety of the route, which hugs the shoreline inside Ukrainian territorial waters, depends on two things: a bet that Russia will not target civilian ships sailing under neutral flags; and a viable threat of retaliation should that not prove enough.

The latter is already real. At the start of the war Russian warships were positioned menacingly close to Odessa. Today, they rarely enter the north-western Black Sea—a remarkable achievement for a Ukrainian navy without a single operational warship. "The Ukrainians have adapted to become a mosquito fleet [using naval drones, missiles and artillery]," says John Foreman, a former British defence attaché in Moscow and Kyiv. "It's a classic sea-denial strategy that others used against the [British] Royal Navy in the past."
Ukraine's war aim has always been maximalist: not simply pushing Russian troops to the pre-2022 invasion status quo but retaking Crimea. I'm still not sure that's possible without substantially more Western participation but they're certainly making it very costly for Russia to hold the territory.
NATO countries, and the United States in particular, have very slowly ratcheted up the deadliness and range of weapons they are willing to supply Ukraine. They've just taken possession of US M-1 Abrams tanks and President Biden has promised ATACMS missiles, which have a range upwards of 200 miles. While maddeningly slow from the Ukrainian perspective, it makes sense given Western fears of escalation. It's not clear what Putin's "red line" is and at what point he'll go into desperation mode.