UNF Oral Sex Photo Controversy
A photo suggesting oral sex on the cover of a student newspaper has generated controversy.
Believe it or not, the photo below is generating some controversy.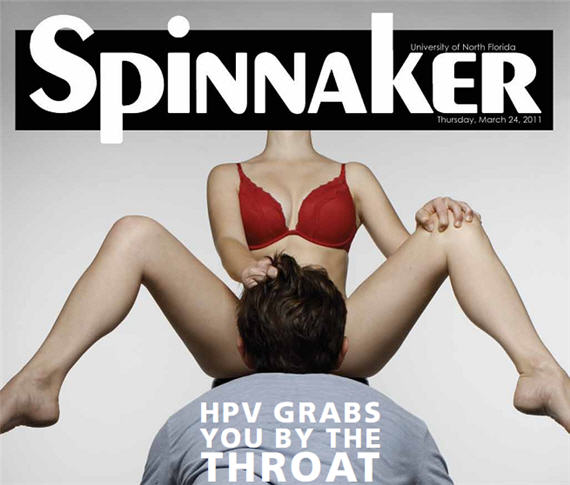 Florida Times-Union ("UNF student newspaper catching flak for racy photo"):
The University of North Florida's student-run newspaper – and the school's administration – have been fielding complaints about a controversial edition featuring a cover photo depicting oral sex.

The article in Thursday's Spinnaker discussed recent findings that throat cancer is on the rise among people who contract the sexually transmitted disease HPV (human papillomavirus) through oral sex. But many readers thought the racy cover photo was distasteful and took away from the message of the story.

In the photograph, a fully clothed man is shown simulating oral sex on a woman sitting atop a stool and wearing only a red bra. Neither's face is shown.

The paper's editor, Josh Gore, defended the decision and said he felt the shock value was "minimal." Most of the complaints, Gore said, have been from UNF employees and people outside the university, not fellow students. "We put this on the cover to show students that HPV is a real concern with oral sex," said Gore, who graduates in May. "I think this is a real important issue to touch on, and this is the way we decided to illustrate it."
The cover is intentionally provocative but, one presumes, had the intended effect of getting people to take a second look and piquing student interest in the story about an important public health issue. College students are mostly over 18 and, like it or not, many of them are having sex—oral or otherwise—and at risk for HPV and other STDs. Getting their attention in a competitive information environment is challenging. To the extent a mildly risque cover achieved that goal, good for the editors.