University of California TAs and Postdocs on Strike!
A showdown over wages could upend the apprenticeship arrangement that has long characterized graduate education.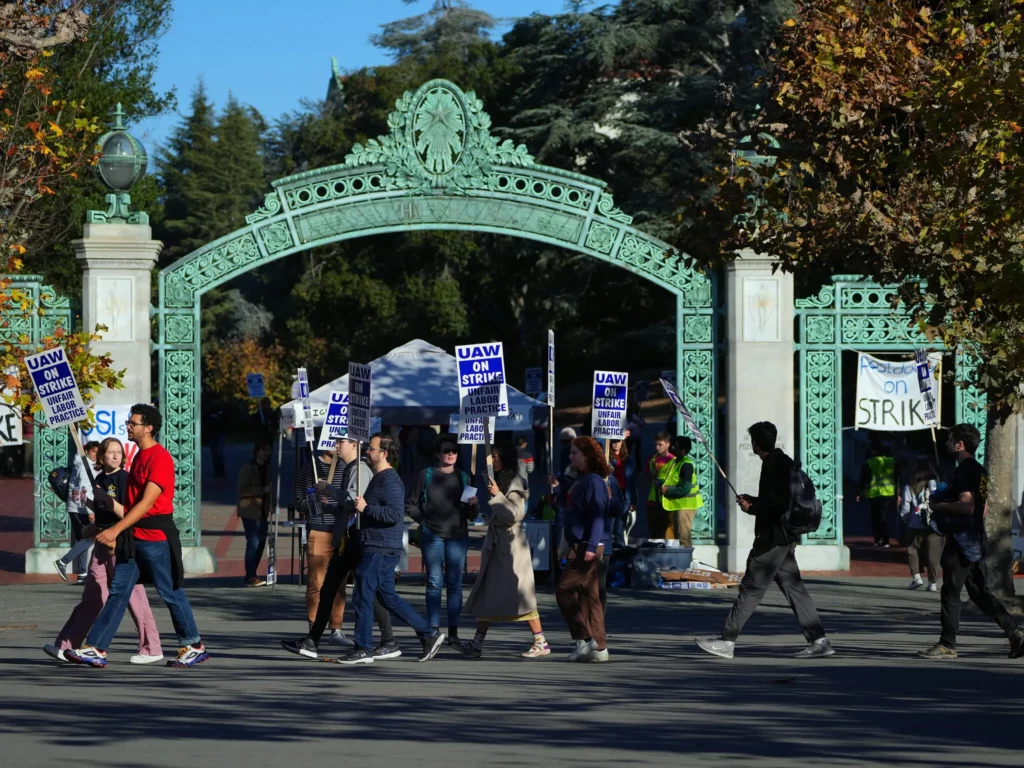 WaPo ("In largest strike of 2022, California academic workers walk off job"):
In the largest work stoppage of the year, thousands of academic workers at the University of California system went on strike Monday over the university system's bargaining practices with their union, which is trying to secure higher wages.

Some 48,000 teaching assistants, postdocs, researchers and graders on the front lines of teaching and research at California's prestigious public university system are seeking a minimum annual salary of $54,000 and increased child-care benefits, saying they do not earn enough to live in the state. They also accuse the university of not bargaining in good faith with their union, the United Auto Workers.

"At every turn, the university has sought to act unlawfully at the bargaining table, which is preventing us from reaching an agreement," said Neal Sweeney, the president of UAW Local 5810, which represents more than 11,000 UC postdocs and academic researchers.

The University of California strike is also the largest academic strike in higher education in U.S. history, according to the UAW.

The bargaining units that represent UC academic workers said university leadership has illegally made changes to pay and transit benefits without consulting the union. They also alleged that the university has refused to provide necessary information about who is in the bargaining unit and has otherwise obstructed the bargaining process. Negotiations have been underway for more than a year.
Let me state at the outset that I have next to no knowledge of the contracts and labor laws in question. Consequently, I have no opinion as to whether they're being violated.
On the broader question of teaching assistants and postdocs striking over labor conditions, though, I find the whole notion bizarre. That they're being represented by an auto workers union simply adds to my concern. TAs and postdocs are students seeking to train themselves for careers in academia, receiving free tuition and a stipend as part of what amounts to an apprenticeship. That they should be paid as though they were full members of the labor force trying to raise families is, therefore, ludicrous.
The strike threatens to disrupt classes, research and grading ahead of final exams at the UC system's 10 campuses. Students would have to rely solely on professors for grades, teaching and other one-on-one instruction.

University administrators and the union continued to meet over the weekend through Sunday evening, with some progress toward a deal, but union officials said they remained far apart on the core issue of wages.

In the days leading up to the strike, some tenured UC professors said they had the right to cancel classes during the work stoppage and spoke out in solidarity with academic workers.
Again, I have no opinion on the applicable labor laws.
Obviously, the strikers have, in standard fashion, timed their work stoppage at the time they have the most leverage: toward the end of a semester, when the maximum burden of grading falls. For tenured faculty used to being able to shunt the most mundane of academic tasks off on to grad students, the timing is most unwelcome. But, frankly, institutions at which faculty have that luxury are almost always ones where faculty have the lightest teaching loads; I suspect they will survive the indignity.
The problem is that, as a NYT report on the strike notes,
[T]he students and employees involved, who are represented by the United Automobile Workers, make up a core work force in classrooms and labs throughout the university system, where most campuses are only a few weeks away from final examinations.

"We're the ones who perform the majority of the teaching, and we're the ones who perform the majority of the research," said Rafael Jaime, a doctoral candidate at the University of California, Los Angeles, who is president of U.A.W. Local 2865, which represents some 19,000 teaching assistants, tutors and other classroom workers.

"We're the backbone of the university," he said, "and I have a hard time seeing how operations are going to be maintained with us on the picket line."
If their ranks include contingent faculty (aka, "adjuncts") their bargaining power increases tremendously. If it's just TAs and postdocs, they really shouldn't be "perform[ing] the majority of the teaching," let alone of the research, at any university.
I would also note that leaving one's mentors in a lurch in this way is not likely to endear yourself to them. Given that they are the ones who will pass judgment on the quality of the dissertation and write letters of recommendation and otherwise be instrumental in helping place students into jobs, it seems unwise to me.
The strike arrives amid a wave of increased labor activity in the United States, buoyed by pandemic working conditions and a record-hot labor market that has afforded workers more leverage to negotiate for improvements in pay and schedules.Workers have scored historic union victories at Amazon, Starbucks and Apple this year. Minnesota recently faced the largest private-sector strike in the nursing industry in U.S. history.
Again, I just don't see TAs and postdocs as analogous to longer-term workers, let alone blue collar workers. If these folks want to leave school and work for Amazon, I suspect they will soon find they've made a grave error in judgment.
The United Auto Workers is asking UC leadership for a minimum salary of $54,000 for all graduate students and a minimum salary of $70,000 for all postdocs, as well as annual cost-of-living adjustments in contract negotiations. Many graduate students earn in the low $20,000 a year, and postdocs earn a minimum of $55,631. The union has also requested $2,000 a month in child-care reimbursements, expanded paid parental leave and public transit passes for its members.
Granted that California is a very expensive place to live, this is simply ludicrous. Again, these are supposed to be stipends for CV-enhancing work performed as apprentice professors and scholars, not salaries on which to raise a family.
Interestingly, the universities have already gone well beyond that:
The university system has offered pay increases ranging from 4 percent to 7 percent in the first year of the contract, with smaller subsequent raises. Workers have rejected those offers, saying they are too low. For example, many teaching assistants would earn less than $30,000 a year with the university's proposal.

University negotiators have also offered child-care stipends of between $2,500 and $4,050 a year and some transit subsidies. Some workers receive $3,300 in child-care subsidies a year. Workers have said the proposed annual stipend would barely cover a month of child care. Still, the union said, bigger pay increases are paramount to winning a contract that improves the quality of life for their members.

University leadership maintains that "providing fair and competitive pay to all employees is a UC priority and essential to ensuring the excellence of our workforce and the quality of our service to students and the public," UC administrators said in a press release.
The NYT adds:
Workers also want salaries to be set high enough that no employees would have to spend more than 30 percent of their monthly pay on housing; the U.C. system has noted that housing is an issue for workers throughout California, and that it already provides a limited amount of subsidized housing for graduate student workers that is priced at up to 25 percent below market rates.
While I managed to house and feed myself on my roughly $6700 a year assistantship almost 30 years ago, it's apparently gotten a lot harder—at least in parts of California:
The union said the vast majority of UC graduate students spend more than a third of their income on rent. For example, teaching assistants at UCLA earn an average of $24,000 a year, the union said. The median annual rent in the Los Angeles-Long Beach-Anaheim metro area is more than $36,000 a year, according to Realtor.com.

[…]

Jacob Kemner, a doctorate student in environmental studies at UC Riverside, makes roughly $28,000 a year and donates blood plasma twice a week for roughly $200 in extra income.

"I'm making ends meet by selling plasma," Kemner said. "I am less able to be effective in my job as a result of this because I spend six to 10 hours going to and from the plasma donation center. If I wasn't spending time on that, I could be lesson planning and grading."

Aya Konisha, a teaching assistant and second-year PhD student in the sociology department at UCLA, said she cannot afford to live near campus and has to commute an hour on public transit to get to school.

"My salary is definitely not enough to make ends meet," said Konisha, whose rent takes up half her monthly income of $2,400. "I make all of my food at home. I don't make any expensive purchases at all and I often skip meals when I have to teach. UCLA is supposed to be the number one public university in the United States … but it's extremely inequitable."
I'm skeptical that the comparison to median rental prices, which presumably includes places large enough for families with children, is apt, I would agree that TAs and postdocs should be able to afford to feed and house themselves in modest fashion on their stipend. Again, the NYT report adds clarity on that front:
The U.C. campuses lie in some of the most expensive housing markets in the nation, not just in the Bay Area and Los Angeles, but coastal enclaves such as Santa Barbara, Santa Cruz and Irvine. Even subsidized campus housing in some areas is significantly more expensive than market rents in much of the country.
The offset, of course, is that PhDs from these schools—in particular Berkley and UCLA—are highly coveted and being paid even a modest stipend while going to school free to get them is a pretty good deal.