Unemployed Journeyman Becomes NBA's First Openly Gay Player
Jason Collins is gay. Who the hell is Jason Collins, you might ask?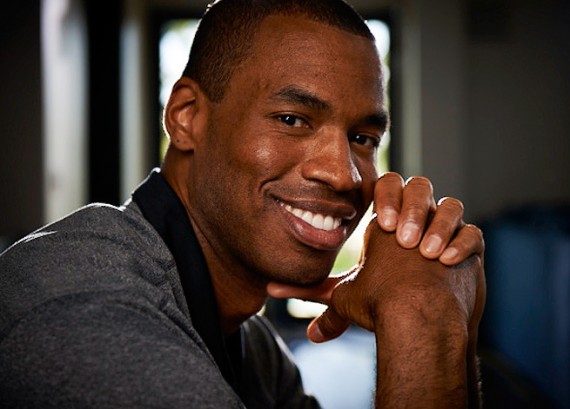 Jason Collins is gay. Who the hell is Jason Collins, you might ask?
I'm a 34-year-old NBA center. I'm black. And I'm gay.

I didn't set out to be the first openly gay athlete playing in a major American team sport. But since I am, I'm happy to start the conversation. I wish I wasn't the kid in the classroom raising his hand and saying, "I'm different." If I had my way, someone else would have already done this. Nobody has, which is why I'm raising my hand.

My journey of self-discovery and self-acknowledgement began in my hometown of Los Angeles and has taken me through two state high school championships, the NCAA Final Four and the Elite Eight, and nine playoffs in 12 NBA seasons.

I've played for six pro teams and have appeared in two NBA Finals. Ever heard of a parlor game called Three Degrees of Jason Collins? If you're in the league, and I haven't been your teammate, I surely have been one of your teammates' teammates. Or one of your teammates' teammates' teammates.

Now I'm a free agent, literally and figuratively. I've reached that enviable state in life in which I can do pretty much what I want. And what I want is to continue to play basketball. I still love the game, and I still have something to offer. My coaches and teammates recognize that. At the same time, I want to be genuine and authentic and truthful.
The last several seasons, he's averaged around 10 minutes and one point per game. If he doesn't get picked up somewhere after the announcement, it's likely not because he's gay.
UPDATE: The tongue-in-cheek take here is a function of my not previously had Jason Collins on my radar, not a dismissal of the event. His lack of big-name status makes this less of a milestone than if a LeBron James had made the same announcement but it's a milestone nonetheless.
I've written several posts over the years about athletes coming out and have noted that it has been increasingly greeted with "What's the big deal"? That's a good thing.  The major American team sports have been the last barrier, and football and basketball in particular are macho cultures. And, as Collins himself suggests in his opener, the domination of those sports by black men makes coming out even more difficult, given homophobic strains in parts of that subculture.