Venezuela Rebellion Appears To Fizzle Out
While street protests continue, the efforts to get the Venezuelan military to oust President Nicolas Maduro appear to have failed.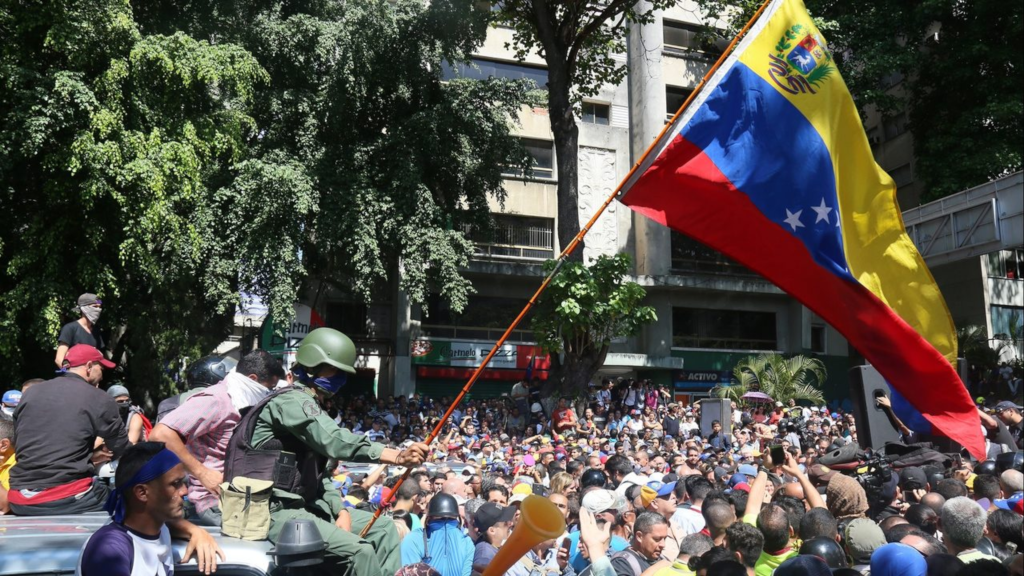 The effort by opposition leader and self-proclaimed President of Venezuela Juan Guaidó to foment a rebellion by the Venezuelan military and what would effectively be a coup d'etat appears to be fizzling even as street protests enter a second day:
CARACAS, Venezuela (AP) — Wary Venezuelans braced for another day of upheaval Wednesday as both the opposition and Nicolás Maduro's loyalists vowed to take to the streets, hoping to tip the balance in an agonizing power struggle that appeared to grow even more desperate after a so-far unsuccessful attempt to spark a military uprising.

Johanns Davila, 61, walked his dog through a street in Venezuela's capital littered with shotgun shells, tear gas canisters and a charred motorcycle where skirmishes between the opposition and state security broke out a day before.

"This is a war zone," he said.

Opposition leader Juan Guaidó stunned the nation Tuesday when he appeared on a video surrounded by a few dozen national guardsmen asking troops to abandon Maduro and join those clamoring for the socialist leader's ouster.


But while the call to action spurred protests around the nation, only a small group of soldiers left their commands. By the end of the day, it was clear that a quick end to the protracted standoff was still out of sight.


A defiant Maduro, who had been absent throughout the tense day, emerged on state television late Tuesday night surrounded by his closest advisors, blasting the plot as a U.S.-backed coup attempt and vowing to take action.


"This cannot go unpunished," he said.


The bold and risky move by 35-year-old lawmaker Guaidó, who is recognized by the U.S. and over 50 nations as Venezuela's rightful president, is likely to force Maduro to make a decision on whether to let his adversary remain a free man.


Giancarlo Morelli, with the British analysis group Economist Intelligence Unit, said Maduro faces peril whatever path he takes.


"Failing to arrest Mr. Guaidó would be perceived as an important sign for weakness from Mr. Maduro," Morelli said. "But arresting Mr. Guaidó risks a strong counter-reaction from the U.S.," which has been ratcheting up sanctions.


With both sides looking to secure a grip on power, Wednesday's demonstrations could be a sign of what's to come.


"We need to keep up the pressure," Guaidó said in a video released to his followers on social media. "We will be in the streets."

(…)

Amid the unrest, Maduro's military commanders went on state television to proclaim their loyalty. Flanked by top generals, Defense Minister Vladimir Padrino López condemned Guaidó's move as a "terrorist" act and "coup attempt" that was bound to fail like past uprisings.


Notably, U.S. officials said they had expected Padrino López to abandon Maduro.


But in a possible sign that Maduro's inner circle could be fracturing, the head of Venezuela's feared SEBIN intelligence agency wrote an open letter breaking ranks with the embattled leader. Manuel Ricardo Cristopher Figuera, said he had always been loyal to Maduro but now it is time to "rebuild the country." He said corruption has become so rampant that "many high-ranking public servants practice it like a sport."


"The hour has arrived for us to look for other ways of doing politics," Figuera wrote.


Like past attempts to oust President Nicolas Maduro, the opposition seemed outmaneuvered.


The opposition's hoped-for split in the military didn't emerge, a plane that the United States claimed was standing by to ferry Maduro into exile never took off and by nightfall, López had quietly sought refuge with his family in a foreign embassy.


U.S. Secretary of State Mike Pompeo claimed Maduro had an airplane "on the tarmac" Tuesday morning and was ready to flee but was dissuaded by "Russians." Maduro ridiculed that idea in his TV speech, adding: "Mr. Pompeo, what lack of seriousness."


Guaidó said he called for the uprising to restore a constitutional order broken when Maduro was sworn in earlier this year for a second term following a presidential election boycotted by the opposition and considered illegitimate by dozens of countries.
This rebellion, while apparently wider in scope than what we've seen in the past, appears to be following the same pattern that we have seen in Venezuela over the past several years. While there have been several attempts by some elements of the military to rebel against Maduro, and before him the late Hugo Chavez, those efforts have been limited in scope and ultimately failed because the vast majority of the military and its leadership has remained loyal to Maduro and his party. One important reason for this, of course, is the fact that many of the members of the military leadership owe their positions to either Maduro or Chavez before him and convincing them that they would be better off in a Venezuela where Maduro and his Chavist supporters are out of power is likely to be a difficult sell. Additionally, Maduro in particular has seemingly been quite effective at purging the military, the national police, and the intelligence services of potential rivals for power or people who might be likely to side with the opposition. Finally, there have been no signs that the rank-and-file members of the military are at all inclined to disobey their commanders and come out in support of the rebellion.
Without this uprising from within the ranks of the military, or a decision by the leadership to withdraw support from the Maduro regime, it's unlikely that any attempted rebellion will succeed. Instead, as we've seen in the past, Maduro is likely to use this as an opportunity to weed out of the leadership and the military itself any potential threats against him and his government. In that respect, the street protests by civilians that Guaidó is calling for are not likely to lead anywhere. The caveat to all of this, of course, is how the military might react if the street protests become more prevalent and violent and Maduro orders the military to take drastic measures against civilians. As we saw in Egypt in 2011, that may end up being a step too far for the military and could be what kindles the rebellion that finally drives Maduro from power. Unless we see something like that, though, it's unlikely that those protests will accomplish anything. At that point, the question will be what happens to Juan Guaidó, who could either end up in prison or forced into exile outside Venezuela if the rebellion fails as it seems to be doing.