Virginia Man Dies After Being Held In Jail For Four Months Without Trial Or Bail
Four months in jail, no opportunity for bail, no trial, no access to mental health care. And, now Jamycheal Mitchell is dead.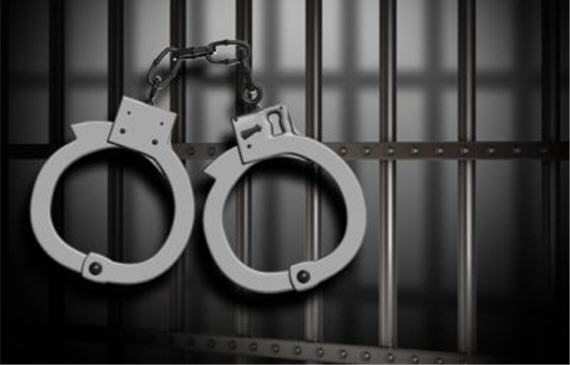 The Guardian is out with the story of a Virginia teenager who died in jail after being held for four months without trial:
A young black man arrested by police in Portsmouth, Virginia, on the same day that one of the city's officers fatally shot an unarmed black 18-year-old, has been found dead in jail after spending almost four months behind bars without bail for stealing groceries worth $5.

Jamycheal Mitchell, who had mental health problems, was discovered lying on the floor of his cell by guards early last Wednesday, according to authorities. While his body is still awaiting an autopsy, senior prison officials said his death was not being treated as suspicious.

"As of right now it is deemed 'natural causes'," Natasha Perry, the master jail officer at the Hampton Roads regional jail in Portsmouth, said of his death in an interview. Perry said there were no obvious outward signs of injury to the 24-year-old's body.

Mitchell's family said they believed he starved to death after refusing meals and medication at the jail, where he was being held on misdemeanour charges of petty larceny and trespassing. A clerk at Portsmouth district court said Mitchell was accused of stealing a bottle of Mountain Dew, a Snickers bar and a Zebra Cake worth a total of $5 from a 7-Eleven.

"His body failed," said Roxanne Adams, Mitchell's aunt. "It is extraordinary. The person I saw deceased was not even the same person." Adams, who is a registered nurse, said Mitchell had practically no muscle mass left by the time of his death.

A few hours after Mitchell was arrested on 22 April by Portsmouth police officer L Schaefer for the alleged theft, William Chapman was shot dead by officer Stephen Rankin outside a Walmart superstore about 2.5 miles away in the same city. State prosecutor Stephanie Morales said on Thursday she would pursue criminal charges over Chapman's death.

Except for a brief item stating that an inmate had been found dead, the story of Mitchell's death has not been covered by local media in Virginia, and is reported for the first time here.

Adams said in an interview that her nephew had bipolar disorder and schizophrenia for about five years. Nicknamed Weezy, he lived with his mother Sonia and had been unable to hold down work. "He just chain-smoked and made people laugh," said Adams. "He never did anything serious, never harmed anybody."

Officials said that after his arrest, Mitchell was taken to Portsmouth city jail, where he stayed for almost three weeks before being transferred across the city to the regional jail on 11 May.

Ten days after that, the court clerk said, Judge Morton Whitlow ruled Mitchell was not competent to stand trial and ordered that he be transferred to Eastern State hospital, a state-run mental health facility in Williamsburg, for treatment.

The clerk said that typically in such cases "we do an order to restore the defendant to competence, send it to the hospital, and when the hospital has a bed, we do a transportation order, and he's taken to the hospital." Whitlow reiterated the order on 31 July and was due to review the case again on 4 September, according to the clerk.

But the hospital said it had no vacancy and the 24-year-old was therefore detained in jail until his death on 19 August, according to Adams, Mitchell's aunt, who said she had tried to assist the hospitalisation process herself but was left frustrated.

"He was just deteriorating so fast," she said. "I kept calling the jail, but they said they couldn't transfer him because there were no available beds. So I called Eastern State, too, and people there said they didn't know anything about the request or not having bed availability."

When asked which state agency was ultimately responsible for ensuring Mitchell was transferred to the hospital, the court clerk said: "It's hard to tell who's responsible for it."

Officials from the court, the police department and the jail could not explain why Mitchell was not given the opportunity to be released on bail.
It's worth noting, though not necessarily relevant to this case, that Mitchell had previously served time in jail. In 2010, he spent four months in the same jail where he died on a petty larceny charge, which is the same charge he was facing this time around. Then, in 2012, he was apparently again arrested on a charge of petty larceny but was released four months later after having spent at least some time in a state mental hospital. It's unclear from the report if Mitchell was ever actually convicted in either of these cases, or if he had merely been held pending some future resolution of the case. Whatever the answer to that question is, though, there is no evidence that Mitchell had a history of violent crime or that he was any kind of flight risk. Indeed, the brief description of his previous record seems to indicate that he was a petty criminal with serious mental problems but not someone who was a threat to others or a flight risk.
While we don't know exactly what happened in this case, there certainly seem to be enough red flags to cause one to believe that Mitchell's death, even if it was by natural causes, was completely preventable. Right off the top of the bat, the fact that he was jailed at all for a theft of property amount to roughly $5,00 is unusual in and of itself. While it's not necessarily unusual for someone to be arrested for such a small theft if the retailer insists on it, it is somewhat unusual for them to be held in jail rather than released on their own recognizance in my experience. Perhaps the fact that Mitchell had a previous record played a role in how his case was handled, but even in that case he should be have been given the opportunity to apply for bail and that apparently never happened. Then, when Mitchell was determined to be incompetent to stand trial his transfer to a hospital where he could be treated was delayed for seemingly inexplicable reasons and he was either denied access to his medication or not placed in an environment where he could receive the proper treatment.
At the very least what we're looking at here is a case of massive bureaucratic failure that allowed Mitchell to disappear into the system, not receive the treatment he needed, and completely lose contact with a family that was desperately trying to find out what had happened to him. At the worst, this is a case of deliberate neglect. Whatever the answer is, this is case that clearly calls for further investigation.