War As Aspirational
Why do we persist in going to war?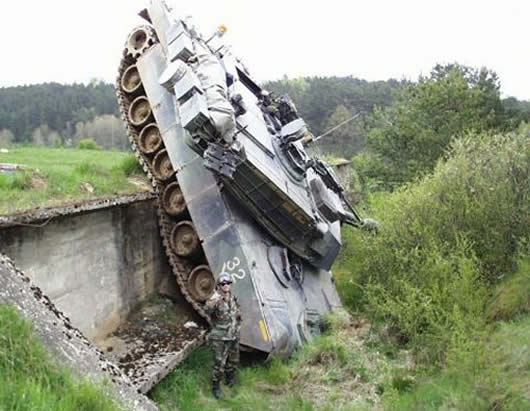 I genuinely wish that more people, particularly people in positions of power, would take heed of Andrew Bacevitch's LA Times op-ed. Here's the meat of it:
The truth is something few people in the national security establishment are willing to confront: Confusing capability with utility, the United States knows how to start wars but has seemingly forgotten how to conclude them. Yet concluding war on favorable terms — a concept formerly known as victory — is the object of the exercise. For the United States, victory has become a lost art. This unhappy verdict applies whether U.S. forces operate conventionally (employing high-tech "shock and awe" tactics) or unconventionally ("winning hearts and minds").
and his conclusion:
What then is to be done? That which Washington is least capable of undertaking: Those charged with formulating policy must think anew. For starters, that means lowering expectations regarding the political effectiveness of war, which is demonstrably limited.

Take force off the metaphorical table to which policymakers regularly refer. Rather than categorizing violence as a preferred option, revive the tradition of treating it as a last resort.
I have only one minor point of disagreement with Dr. Bacevitch in this. I don't think we've "forgotten how to conclude" wars.
In winning World War II we killed about 10% of the populations of Germany and Japan, laid waste to their cities, and eliminated their ability to produce war material or even house and feed themselves. And there was a relentless propaganda campaign that supported that prolonged and intense program of killing and destruction. We didn't have a great deal of choice with respect to that war in the case of Japan or, arguably, Germany. It was less chosen than thrust upon us.
Since then the circumstances have been different. We have not gone to war through necessity but because our political elite have chosen wars as ways of minimizing their own downside political risk, waging them in such a way as to continue to minimize downside political risk.
Although a substantial proportion of the American people, sometimes referred to as "Jacksonians") continue to be willing to prosecute war to produce a clearcut victory, another substantial proportion of the American people just don't care to think of themselves as the kind of people that will kill 10% of the populations of other countries in war or impose misery and privations even if it's necessary to produce the sort of clearcut victory that Jacksonians long for.
Similarly, there's a substantial proportion of the American people who reject our colonizing other countries even if that's what's necessary to produce a clearcut Jacksonian-type victory. We invade other countries with a primary objective being leaving again rather than staying on, a basic violation of the preconditions of counter-insurgent activity, one of which is that you believe that you have a right to remain there. For an example of this, consider the successful prosecution of counter-insurgency by the British in Malaya.
Consequently, I don't think our reluctance to achieve clearcut victories is so much a case of "forgetting" as of a significant proportion of us not wanting to be that sort of people. For many of us war is distant from us and has, therefore, become aspirational.