War: The Missing Campaign Issue
Tom Brokaw notices something peculiar about the campaign debates: Nobody's talking about Iraq or Afghanistan.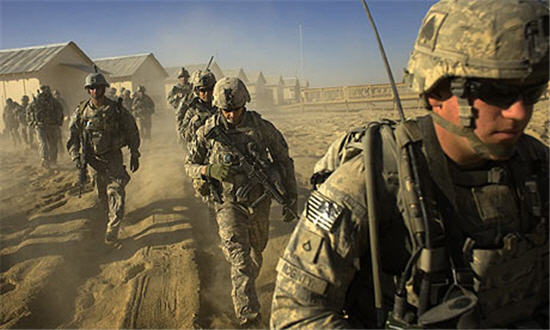 Tom Brokaw notices something peculiar about the campaign debates:
IN what promises to be the most contentious midterm election since 1994, there is no shortage of passion about big issues facing the country: the place and nature of the federal government in America's future; public debt; jobs; health care; the influence of special interests; and the role of populist movements like the Tea Party.

In nearly every Congressional and Senate race, these are the issues that explode into attack ads, score points in debates and light up cable talk shows. In poll after poll, these are the issues that voters say are most important to them this year.

Notice anything missing on the campaign landscape?

How about war? The United States is now in its ninth year of fighting in Afghanistan and Iraq, the longest wars in American history. Almost 5,000 men and women have been killed. More than 30,000 have been wounded, some so gravely they're returning home to become, effectively, wards of their families and communities.

In those nine years, the United States has spent more than $1 trillion on combat operations and other parts of the war effort, including foreign aid, reconstruction projects, embassy costs and veterans' health care. And the end is not in sight.

So why aren't the wars and their human and economic consequences front and center in this campaign, right up there with jobs and taxes?

The answer is very likely that the vast majority of Americans wake up every day worrying, with good reason, about their economic security, but they can opt out of the call to arms. Unless they are enlisted in the armed services — or have a family member who has stepped forward — nothing much is asked of them in the war effort.
There's a large grain of truth to that.  If there were still a military draft, as we had in Vietnam, there would doubtless be more anger about the wars.
Then again, the Iraq War was a significant issue in the 2008 campaign.  One could argue that Barack Obama's having been opposed to the war from the start was the main programmatic issue separating him from the other major candidates for the Democratic nomination and was the thing that him the nominee rather than Hillary Clinton.   And, while it wasn't the key issue in the general election — by then the economic crisis was afoot — John McCain's statement that it would be fine if we were still in Iraq in a thousand years (so long as we weren't taking any more casualties than the troops that have been in South Korea for the past half century) didn't go over too well, as you may recall.
No, the reasons that the wars in Iraq and Afghanistan aren't major issues this time around is that the economy is more important to most Americans and there's a rough bipartisan consensus on these wars.   Iraq has gone away as a point of contention because the rate of American casualties has fallen to next to nothing and everyone senses that we're on our way out with our heads held up relatively high.   And, oddly, the elites of both parties both seem to think that we're unlikely to win in Afghanistan but that we need to give it one more heroic effort before conceding that point.   If we're not either "winning" there or clearly on our way out by early 2012, it'll certainly be a big issue in that campaign.