Was Donovan McNabb Traded Because He Was Black?
A renowned sports economist argues that black quarterbacks are treated differently than their white counterparts.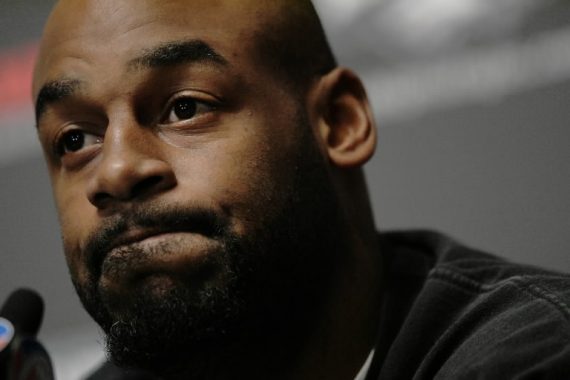 Economist David Berri asks, "Did Race Play a Role in Donovan McNabb's Departure from Philadelphia?"
Alas, he doesn't give us any insights into that question other than to note that: 1) Donovan McNabb is black and 2) Warren Moon — who was also black! — got traded, too. No, seriously.
Trades in the NFL are certainly not unusual. But consider the following list of quarterbacks: Roger Staubach, Terry Bradshaw, Dan Fouts, Dan Marino, John Elway, Jim Kelly, and Troy Aikman. What do these quarterbacks have in common?

• Each quarterback started their career after 1969.
• Each is in the Hall-of-Fame.
• Each played their entire career with one team.
• And each is white.

Since 1969, ten quarterbacks have entered the league and eventually were selected to the Hall-of-Fame. Nine of these quarterbacks were white. And of these nine, only Joe Montana and Steve Young – who both played for the San Francisco 49ers — played for more than one team in their career.

In contrast, consider the story of Warren Moon, the one black Hall-of-Fame quarterback. Moon was undrafted in 1978 (despite leading the Washington Huskies to a victory in the Rose Bowl in 1978). He then spent five years in the Canadian Football League (where he won five consecutive league championships) before finally landing a job with the Houston Oilers in 1984. With the Oilers in 1984, Moon became just the sixth black quarterback to attempt 100 passes in a single NFL season. Yes, prior to the 1990s it was very clear that black quarterbacks were treated differently than white signal callers.

Moon's Hall-of-Fame career was also different from his white colleagues. Across fifteen seasons, Moon worked for four different teams. Once again, no other Hall-of-Fame quarterback in the aforementioned sample toiled for so many different franchises.

If we look at NFL history, it is clear that race matters. And if we look at just the Hall-of-Fame quarterbacks, it also appears that race impacts a player's career. But history and a sample of ten observations is hardly enough to tell us much about how quarterbacks are viewed today.
Yeah, no kidding. Especially when one considers that the list of black quarterbacks currently in the Hall of Fame include: Warren Moon.
For a larger and more recent sample, consider the factors that get a quarterback paid in the NFL. Rob Simmons and I – in a paper published in 2009 — looked at a sample with 435 observations. Across this sample we examined the factors that determine a quarterback's salary. Once we controlled for performance (in a variety of ways), where a quarterback was selected in the draft, years of experience, the quality of skill players around the quarterback, pro bowl appearances, and the size of the market where a quarterback played; we uncovered evidence that a quarterback's race impacts the size of his paycheck.
Well, that's interesting. But it's a separate question than the one being asked here. What else ya got?
But let's return the specific story of Donovan McNabb. One can take the statistics (i.e. yards from passing, rushing, and sacks; total plays; and interceptions) tabulated for an NFL quarterback and use these to measure how many wins a quarterback produced (some details can be found HERE and more is offered in Stumbling on Wins – where the story of race and the NFL quarterback is also explored). Across McNabb's career, he has produced 27.7 wins; and per 100 plays, his Wins Produced stands at 0.487. To put those numbers in perspective, McNabb's career production of wins (and his career is not over yet) already top the career numbers of Staubach, Bradshaw, Kelly, and Aikman (even after these Hall-of-Famer's numbers were adjusted for the time period when each quarterback played). And his per play performance tops what we saw from both the aforementioned quartet and John Elway.

If we look at performance in each season, McNabb has not posted below average numbers since his second NFL season. In contrast, Aikman was below average in three different years. And Bradshaw and Elway posted below average numbers four and five times respectively. But unlike Moon and McNabb, none of these players ever departed the team that employed the quarterback his rookie season.

So did race play a role in McNabb's departure from Philadelphia? There is no way to answer that question with certainty. What we can say is the there is evidence that in general, elite black quarterbacks are treated differently than elite white quarterbacks. This is clearly seen when we look at the salary data.
But here's the thing:  Staubach, Bradshaw, Kelly, Aikman, and Elway played all or most of their careers in the pre-salary cap, pre-free agency era.   So, they were operating in completely different labor markets.  In those days, if a once-great player's skills were declining — or even if they weren't — ownership simply gave them less money.   And they could be patient grooming a successor (Staubach sat behind Craig Morton for two years, despite being 27 when he came to the Cowboys from the Navy). And while Aikman wasn't traded, he was summarily fired while still playing well enough to draw interest from other teams.
In the current environment, great players get cut and traded all the time because teams don't want to be left holding the bag when a great player stops being productive.    Brett Favre was traded by the Falcons after his rookie season, played approximately 97 seasons for the Packers, was pushed into retirement and ultimately traded months after leading the team to the NFC Championship game.  Why?  He was old and the team had spent a 1st round pick and several years developing Aaron Rodgers to replace him.  They don't come any whiter than Favre.
Then there's the case of Favre's fellow Caucasian, Drew Brees, who just led the Saints to their first Super Bowl and championship.   Same thing happened to him:  He was hurt and the team that originally drafted him, the San Diego Chargers, had already invested two #1 draft picks on Phillip Rivers.  Bye, bye, Breesy.
I bring up Favre and Brees because they're very comparable to McNabb:  Players of uncertain value to teams who'd spent a high draft pick on a successor.   Yup, the Eagles spent their 1st pick in the 2007 draft on Kevin Kolb and thought he was ready.   McNabb is 12 years older and has a history of injuries.
Oh, and Staubach led his team to four Super Bowls, winning two.   Bradshaw,  four for four.  Kelly four straight, no wins.  Aikman, three SBs, three rings.  Elway, five appearances, two wins.   Favre was one for two with the Packers and Brees is now one for one with the Saints but was oh for oh with the Chargers.  McNabb?  One trip, no cigar.  The loyalty factor, therefore, is lower for McNabb than for the white QBs with whom he's being compared.
Despite rooting for a division rival, I really like Donovan McNabb.   He's been a terrific performer on the field and seems to be a genuinely good guy.   But he's 33 years old and likely in the twilight of his career.    The Eagles traded him in for a newer model.   That's not racism; it's professional football in the modern era.
via Matt Yglesias