Weak Presidential Field. Again.
Why are all the candidates for president so awful?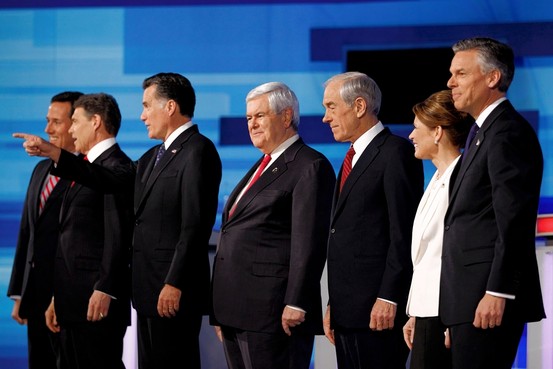 Ross Douthat laments that, in a country of over 300 million people, "the Republican Party has been unable to find a candidate for the White House in 2012 who inspires anything but weary resignation from its voters." Alas, he notes, "it's not that much weaker than a number of recent presidential vintages, from the Democrats' lineups in 1988 and 2004 to the Republican field in 1996. In presidential politics, the great talents (a Clinton, a Reagan) seem to be the exception; a march of Dole-Dukakis-Mondale mediocrity is closer to the rule."
Kevin Drum agrees, observing, "I think it's fair to say that Reagan in 1980 and Obama in 2008 were unquestionably inspirational figures among their party's base, not just candidates they were willing to settle for. I think it's also safe to say that Mondale, Dukakis, Bush Sr., Dole, Gore, Kerry, and McCain, weren't." Of the rest, only Bill Clinton and George W. Bush were even close, in his judgment, to filling that bill. Thus, "out of 11 non-incumbent candidates over the past three decades, only two were clearly inspirational at the time, two more were possibly B-list inspirational, and seven were basically duds. "
Douthat's theory is that, "a successful presidential campaign calls on a trio of talents that only rarely overlap. Being a master politician in a mass democracy, in this sense, is a bit like being a brilliant filmmaker who's somehow also a great economist, or a Nobel-winning scientist who writes best-selling novels on the side."
First, a great politician needs the gift of management. A would-be president has to be the C.E.O. of his or her campaign, with a flair for fund-raising, an eye for talent, and a keen sense of when to micromanage and when to delegate. This is the arm-twisting, organization-building, endorsement-corralling side of presidential politics, and not surprisingly it tends to favor insiders and deal-makers and old Washington hands.

But successful insiders and deal-makers are rarely comfortable with the more public, rhetorical, self-advertising side of politics. The great manager is unlikely to be a great persuader, capable of seducing undecided voters with his empathy, or inspiring them with what George H. W. Bush (who lacked it) called "the vision thing." He's also unlikely to be a great demagogue, capable of demonizing his enemies and convincing his supporters that they stand at Armageddon and battle for the Lord. The manager can play these roles, but there will always be a hint of irony, a touch of phoniness, a sense that he'd much rather get back to the inside game.

Nor do the gifts of persuasion necessarily overlap with the gifts of demagoguery. Quite the reverse: The politician who's good at reaching out to the unconverted is usually mistrusted by his own base, and the politician whose us-versus-them rhetoric inspires devotion among ideologues rarely finds it easy to pivot to a more transcendent, unifying style.
I've long held a similar belief, that great presidents needed to be simultaneously wonks, mastering the complexities of public policy and passionate about a few programs and yet come across as folksy to outsiders. They also need to be simultaneously cold, decisive leaders able to make hard calls even if it means alienating long-time friends–and yet a master empath, able to be the nation's head cheerleader and Mourner in Chief as the occasion requires. And they need to be master coalition builders, able to inspire their party base and help elect more of their partisans to office while at the same time seeming above politics, putting the interests of the country first.
That's just about an impossible combination.
Clinton, I would argue, combined these skills better than any president in my lifetime–including Reagan. He combined raw analytic intelligence and emotional intelligence better than anyone I've ever seen in public life. And, yet, he inspired an amazing amount of antipathy, both because of his excess of appetite and lack of self-control and his seeming ability to get away with it. Because he left the presidency young and in great health, though, he's elevated himself to elder statesman status because his gifts can now be viewed without partisan animus.
Reagan, despite the warm recollections, was also quite polarizing, if not on such a visceral level. His mastery of the demagogic gift created plenty of hard feelings on the left, with many seeing him as uncaring toward the less fortunate. His "welfare queens" bit, in particular, is still cited as racist dog whistle politics. Unfortunately, since he was younger when he entered the presidency than Clinton is now–and contracted Alzheimer's either late in his presidency or almost immediately after retirement–he never had the opportunity to become a non-political figure.
George H.W. Bush, I've long contended, would have been an outstanding prime minister. He was genuinely smart and decent and mastered the policy world, especially foreign affairs, in a way no president in my lifetime has. Further, he was genuinely a Country First leader, willing to reach across the aisle and work with the Democratic opposition as partners. Alas, he was also an awful campaigner, visibly annoyed at the damned silliness of it all. He could spout the demagogic lines on the stump, but was alternately bored or restraining himself from rolling his eyes.
George W. Bush had, if there is such a thing, a failed two-term presidency. Hopes that the Iraq War would be rehabilitated in the eyes of history are fading fast, as that country descends into what looks to be another civil war. Afghanistan, seen by most as a necessary war, has dragged on too long and everything but the initial invasion to topple the Taliban and punish them for harboring the 9/11 attackers will be seen as stupid. Katrina was a debacle, even if little of it was his doing. The Great Recession, or whatever we're calling it, began on his watch and, while it likely would have happened whoever was in office, the guy in the big chair gets the blame. His Big Government conservatism has long since been rejected by his own party, so there's no one left to fight for his legacy, either. Still, I would argue, he actually possessed a fair amount of each of the skills Douthat identifies. Which perhaps explains how he managed to get re-elected by a fairly comfortable margin despite Iraq and a general lack of enthusiasm among the base.
Outside the heat of a partisan campaign, I'd argue that many of the non-winners that we've written off as mediocrities were better than we think. Al Gore and, especially, John Kerry have rebounded nicely after bitter defeats. Gore has gone on to greater glory, but also descended into bitter frothing from time-to-time. Kerry has quietly become a genuine elder statesman in the field of foreign relations while still on active duty in the Senate. For that matter, while not the most exciting man to win a major party nomination for president, we could have done a lot worse than Bob Dole.
Mitt Romney may not have what it takes to beat Obama, who's an exceptionally skilled organizer and campaigner. He's got great managerial skills and self-discipline but he may be a worse campaigner even than Bush the Elder. He combines Gore's penchant for looking artificial and Bush's inability to deliver a half lie. The continued debacle over his taxes also signals some defect, probably a combination of too much self-awareness and defensiveness of the advantages he's had in life.
Still, like every one of the nominees that we complain about, he's objectively quite accomplished and impressive. He only seems small compared to the office to which he aspires and the handful of greats who have held it.