Weigh More, Pay More?
Peter Singer argues that heavy people ought to pay more to fly.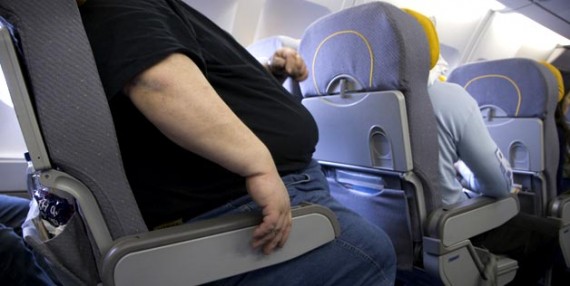 Peter Singer argues that heavy people ought to pay more to fly.
I am writing this at an airport. A slight Asian woman has checked in with, I would guess, about 40 kilograms (88 pounds) of suitcases and boxes. She pays extra for exceeding the weight allowance. A man who must weigh at least 40 kilos more than she does, but whose baggage is under the limit, pays nothing. Yet, in terms of the airplane's fuel consumption, it is all the same whether the extra weight is baggage or body fat.

Tony Webber, a former chief economist for the Australian airline Qantas, has pointed out that, since 2000, the average weight of adult passengers on its planes has increased by two kilos. For a large, modern aircraft like the Airbus A380, that means that an extra $472 of fuel has to be burned on a flight from Sydney to London. If the airline flies that route in both directions three times a day, over a year it will spend an additional $1 million for fuel, or, on current margins, about 13% of the airline's profit from operating that route.

Webber suggests that airlines set a standard passenger weight, say, 75 kilos. If a passenger weighs 100 kilos, a surcharge would be charged to cover the extra fuel costs. For a passenger who is 25 kilos overweight, the surcharge on a Sydney-London return ticket would be $29. A passenger weighing just 50 kilos would get a discount of the same amount.

Another way to achieve the same objective would be to set a standard weight for passengers and luggage, and then ask people to get on the scales with their luggage. That would have the advantage of avoiding embarrassment for those who do not wish to reveal their weight.

Friends with whom I discuss this proposal often say that many obese people cannot help being overweight – they just have a different metabolism from the rest of us. But the point of a surcharge for extra weight is not to punish a sin, whether it is levied on baggage or on bodies. It is a way of recouping from you the true cost of flying you to your destination, rather than imposing it on your fellow passengers.
This strikes me as rather silly. If we take Singer's data as face value, added passenger weight has a negligible impact on fuel costs. $472 in fuel costs on a large airliner (which seats 525 people) on an incredibly long flight is next to nothing. After all, a flight from London to Sydney is billed at more than $2000 per passenger. And, frankly, it would almost surely cost more than $472 per flight to carefully weigh, assess, and haggle with 525 passengers.
via The Browser