What If Hillary Were President?
Dana Milbank asks, "Would we be better off under a President Hillary Clinton?" His affirmative answer isn't very convincing.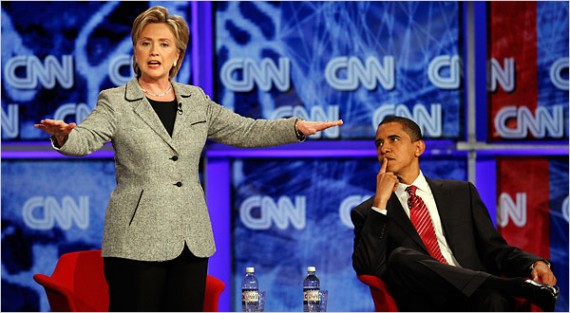 Dana Milbank asks, "Would we be better off under a President Hillary Clinton?"
Would unemployment have been lower under a President Hillary? Would the Democrats have lost fewer seats on Tuesday? It's impossible to know. But what can be said with confidence is that Clinton's toolkit is a better match for the current set of national woes than they were for 2008, when her support for the Iraq war dominated the campaign.

Back then, Clinton's populist appeal to low-income white voters, union members and workers of the Rust Belt was not enough to overcome Obama's energized youth vote. But Clinton's working-class whites were the very ones who switched to the Republicans on Tuesday.

Back in '08, Clinton's scars from HillaryCare were seen as a liability, proof that she was a product of the old ways of Washington. But now that Obama has himself succumbed to the partisanship, his talk of a "growth process" in office makes Clinton's experience in the trenches look like more of an asset.
What experience, pray tell, is that? She served in the Senate for eight years to Obama's four. Before that, he'd actually been "in the trenches" in Chicago whereas she was married to the president. And it's not like she — or anyone else who'd been elected — wouldn't have been battered over the last two years.
Clinton campaign advisers I spoke with say she almost certainly would have pulled the plug on comprehensive health-care reform rather than allow it to monopolize the agenda for 15 months. She would have settled for a few popular items such as children's coverage and a ban on exclusions for pre-existing conditions. That would have left millions uninsured, but it also would have left Democrats in a stronger political position and given them more strength to focus on job creation and other matters, such as immigration and energy.
Now, I'm not a fan of ObamaCare. But it's arguably the most significant step in the Democratic agenda since the Johnson administration. And how was she going to create jobs, anyway?
Clinton, for example, first called for a 90-day foreclosure moratorium in December 2007, as part of a package to fight the early stages of the mortgage crisis with a five-year freeze on subprime rates and $30 billion to avoid foreclosures. But an Obama campaign adviser dismissed Clinton's moratorium, saying it would "reward people for bad behavior."
This would have been a wash politically. While it would have been popular with the Democratic base, it would have riled up the Tea Partiers even more. Aside from "rewarding people for bad behavior," it actually punishes those of us who've managed to keep paying our bills.
Some differences would have been stylistic. As a senator from New York, Clinton had good relations with Wall Street. As the heir to her husband's donor base, she would have had more executives in government – envoys who would have been able to ease the uncertainty about tax and regulatory policy that has been crippling business.
So, we'd have even more Timothy Geithners and Larry Summers? That would have helped . . . how?