When Can Government Force You to Violate Religious Beliefs?
A federal judge poses an interesting question in a case over Obama's contraceptive mandate.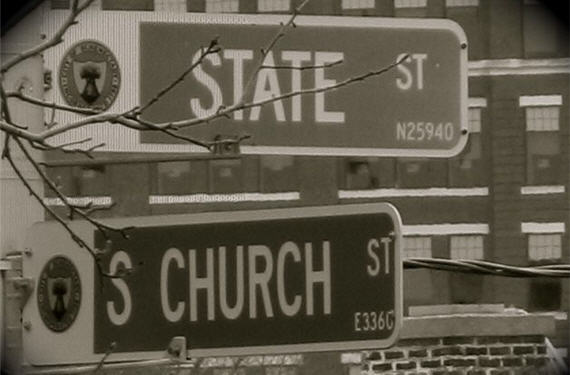 Federal Judge Reggie Walton, who became famous during the Scooter Libby trial, is now  presiding over a case involving a religious publishing house seeking relief from the Obama  administration regulation requiring it to provide contraceptive coverage.
CNS' Terence Jeffrey reports ("DOJ to Federal Judge: We Can Force Your Wife to Violate Her Religion") on an interesting exchange during a hearing over a temporary injunction:
While presenting an oral argument in the U.S. District Court for the District of Columbia last fall, a lawyer for the U.S. Justice Department told a federal judge that the Obama administration believed it could force the judge's own wife—a physician—to act against her religious faith in the conduct of her medical practice.

The assertion came in the case of Tyndale House Publishers v. Sebelius, a challenge to the Obama administration's regulation requiring health-care plans to cover sterilizations, contraceptives and abortion-inducing drugs.

Tyndale is a for-profit corporation that publishes Bibles, biblical commentaries and other religious works. Tyndale House Foundation, a religious non-profit organization, owns 96.5 percent of the corporation's stock and receives 96.5 percent of its profits. The foundation's mission is "to minister to the spiritual needs of people, primarily through grants to other religious charities."

[…]

When Tyndale sought a preliminary injunction to prevent the administration from enforcing the regulation on the company before the federal courts could determine the issue on its merits, Benjamin Berwick, a lawyer for the Civil Division of the Justice Department presented the administration's argument for why Tyndale should be forced to act against the religious faith of its owners. The oral argument over the preliminary injunction occurred Nov. 9 in Judge Walton's court.

Berwick argued here–as the administration has argued in other cases where private businesses are challenging the sterilization-contraception-abortifacient mandate–that once people form a corporation to conduct business they lose their First Amendment right to the free exercise of religion insofar as their business is concerned.

In the face of this argument, Judge Walton asked an interesting question. His wife, a graduate of Georgetown Medical School, is a physician. She has incorporated her medical practice. Does that mean, according to the Obama administration's argument, that the federal government can force her to act against her religious faith in the conduct of her medical practice?

Berwick effectively answered: Yes.

Here, from the official court transcript, is the verbatim exchange between this Obama administration lawyer and Judge Walton:

Benjamin Berwick: "Well, your honor, I think, I think there are two distinct ideas here: One is: Is the corporation itself religious such that it can exercise religion? And my, our argument is that it is not. Although again, we admit that it is a closer case than for a lot of other companies. And then the second question is, can the owners–is it a substantial burden on the owners when the requirement falls on the company that is a separate legal entity? I think for that question precisely what their beliefs are doesn't really matter. I mean, they allege that they're religious beliefs are being violated. We don't question that. And we don't question that that is the belief.

Judge Reggie Walton: But considering the closeness of the relationship that the individual owners have to the corporation to require them to fund what they believe amounts to the taking of a life, I don't know what could be more contrary to one's religious belief than that.

Berwick: Well, I don't think the fact this is a closely-held corporation is particularly relevant, your honor. I mean, Mars, for example–

Judge Walton: Well, I mean, my wife has a medical practice. She has a corporation, but she's the sole owner and sole stock owner. If she had strongly-held religious belief and she made that known that she operated her medical practice from that perspective, could she be required to pay for these types of items if she felt that that was causing her to violate her religious beliefs?

Berwick: Well, Your Honor, I think what it comes down to is whether there is a legal separation between the company and—

Judge Walton: It's a legal separation. I mean, she obviously has created the corporation to limit her potential individual liability, but she's the sole owner and everybody associates that medical practice with her as an individual. And if, you know, she was very active in her church and her church had these same type of strong religious-held beliefs, and members of the church and the community became aware of the fact that she is funding something that is totally contrary to what she professes as her belief, why should she have to do that?

Berwick: Well, your honor, again, I think it comes down to the fact that the corporation and the owner truly are separate. They are separate legal entities.

Judge Walton: So, she'd have to give up the limitation that conceivably would befall on her regarding liability in order to exercise her religion? So, she'd have to go as an individual proprietor with no corporation protection in order to assert her religious right? Isn't that as significant burden?
I should state up front that I tend to be dubious of reports from CNS, which has a history of distorting facts to gin up phony controversies. I was skeptical of the source when I saw the story linked from memeorandum. In this case, though, the presentation of facts doesn't strike me as over-the-top. More importantly, the meat of the story is taken from an official court transcript, which I've taken the time to verify is substantially correct.
Turning to the merits of Walton's query, there are actually a lot of issues wrapped up in it. (And, I should note, there's a lot more to the questioning than this particular inquiry; it's a complicated dispute.) We've got a series of Supreme Court rulings going back more than a century now limiting the Free Exercise Clause of the First Amendment. Essentially, while Americans have an absolute right to believe and espouse any religious belief they choose—even to make up a religion out of whole cloth and entice others to follow—the state has a right to enforce belief neutral limitations on individual conduct.
As always, I commend FindLaw's Annotated Constitution to those wishing a more detailed discussion of the case law. Below are some excerpts relevant to the particular dispute at hand:
While the Court has consistently affirmed that the Free Exercise Clause protects religious beliefs, protection for religiously motivated conduct has waxed and waned over the years. The Free Exercise Clause "embraces two concepts– freedom to believe and freedom to act. The first is absolute, but in the nature of things, the second cannot be." 189 In its first free exercise case, involving the power of government to prohibit polygamy, the Court invoked a hard distinction between the two, saying that although laws "cannot interfere with mere religious beliefs and opinions, they may with practices." 190 The rule thus propounded protected only belief, inasmuch as religiously motivated action was to be subjected to the police power of the state to the same extent as would similar action springing from other motives. The Reynolds no-protection rule was applied in a number of cases, 191 but later cases established that religiously grounded conduct is not always outside the protection of the free exercise clause. 192 Instead, the Court began to balance the secular interest asserted by the government against the claim of religious liberty asserted by the person affected; only if the governmental interest was "compelling" and if no alternative forms of regulation would serve that interest was the claimant required to yield. 193 Thus, while freedom to engage in religious practices was not absolute, it was entitled to considerable protection.
There's a lengthy discussion of a series of cases involving the Mormons and Jehovah's Witnesses; there's also relevant case law dealing with the Amish and Christian Scientists. These, however, all involve groups that have or had practices that wildly diverged from the social norms of the broader society. Tyndale, though, involves more mainstream beliefs and practices.
[I]n recent years the Court's decisions evidenced increasing discontent with the compelling interest test. In several cases the Court purported to apply strict scrutiny but nonetheless upheld the governmental action in question. In United States v. Lee, 232 for example, the Court denied the Amish exemption from compulsory participation in the Social Security system. The objection was that payment of taxes by Amish employers and employees and the receipt of public financial assistance were forbidden by their religious beliefs. Accepting that this was true, the Court nonetheless held that the governmental interest was compelling and therefore sufficient to justify the burdening of religious beliefs. 233 Compulsory payment of taxes was necessary for the vitality of the system; either voluntary participation or a pattern of exceptions would undermine its soundness and make the program difficult to administer.

"A compelling governmental interest" was also found to outweigh free exercise interests in Bob Jones University v. United States, 234 in which the Court upheld the I.R.S.'s denial of tax exemptions to church-run colleges whose racially discriminatory admissions policies derived from religious beliefs. The Federal Government's "fundamental, overriding interest in eradicating racial discrimination in education"–found to be encompassed in common law standards of "charity" underlying conferral of the tax exemption on "charitable" institutions–"substantially outweighs" the burden on free exercise. Nor could the schools' free exercise interests be accommodated by less restrictive means. 235 

[…]

Laws may not single out religiously motivated conduct for adverse treatment, Supp.13.1 but formally neutral laws of general applicability may regulate religious conduct (along with other conduct) regardless of the adverse or prohibitory effects on religious exercise. That the Court views the principle as a general one, not limited to criminal laws, seems evident from its restatement in Church of the Lukumi Babalu Aye v. City of Hialeah: "our cases establish the general proposition that a law that is neutral and of general application need not be justified by a compelling governmental interest even if the law has the incidental effect of burdening a particular religious practice." Supp.14 Similar rules govern taxation. Under the Court's rulings in Smith and Swaggart, religious exemptions from most taxes are a matter of legislative grace rather than constitutional command, since most important taxes (e.g., income, property, sales and use) satisfy the criteria of formal neutrality and general applicability, and are not license fees that can be viewed as prior restraints on expression. 254 The result is equal protection, but not substantive protection, for religious exercise. 255 
In short, the Supreme Court has been wildly inconsistent over the years. They've attempted to balance the public policy aims of society with the religious freedom of individuals and have issued a series of "tests" to help lawmakers and other courts weigh the conflict. None of the tests have survived very long, however, either because the Justices didn't like the results of applying said tests in future cases or simply because some government interests are more compelling than others.
My instinct here is that the courts will ultimately side with the administration even though, in the particular case at hand—as well as Judge Walton's fictional case—it should go the other way.
Tyndale House has been in business fifty years, is a clearly religious company, and has only "approximately 250" employees. Presumably, Dr. Walton would have even fewer employees and should similarly have enormous discretion over the nature of the health insurance she provides them. In both cases, then, the harm done to the public interest would be minuscule and freely chosen by a very small number of people, each of whom could presumably be considered to share the religious values of their employer.
It actually gets much more complicated in the case of, say, the Catholic Church and its many entities, including most notably its hospitals. While my inclination remains that they, as religious institutions, ought to be able to make choices based on their long-touted (i.e., not invented for the sake of skirting the provisions of the law) religious beliefs. But there's undeniably a much stronger government interest, given the sheer size of the employee base affected.
The nature of the government interest matters, too. There's no Constitutional right to have one's employer provide free contraception; there is a Constitutional right to freely exercise one's religion. But if the religious institution, whether a large one like the Catholic Church or a small one like Tynsdale, argued that their religious faith precluded their hiring–or serving–blacks, gays, Jews, or whathaveyou, it would run up against the Fourteenth Amendment and clearly run afoul of a compelling government interest.