White House Website Politicization
I was struck by the degree to which WhiteHouse.gov looks like an Obama campaign site.
I went to the White House website at whitehouse.gov to see what President Obama had to say about Hurricane Sandy in his 1245 address. I was struck by the degree to which it looked like a campaign site.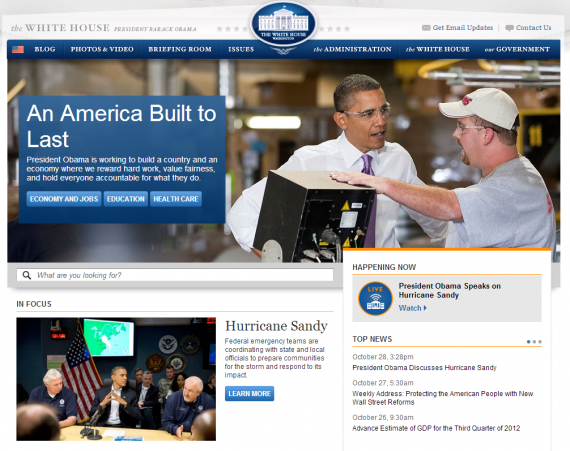 We're immediately hit with "President Obama is working to build a country and an economy where we reward hard work, value fairness, and hold everyone accountable for what they do." Later, we get "Protecting the American People with New Wall Street Reforms."
Contrast this with the most recent comparable, the October 29, 2004 site of President George W. Bush: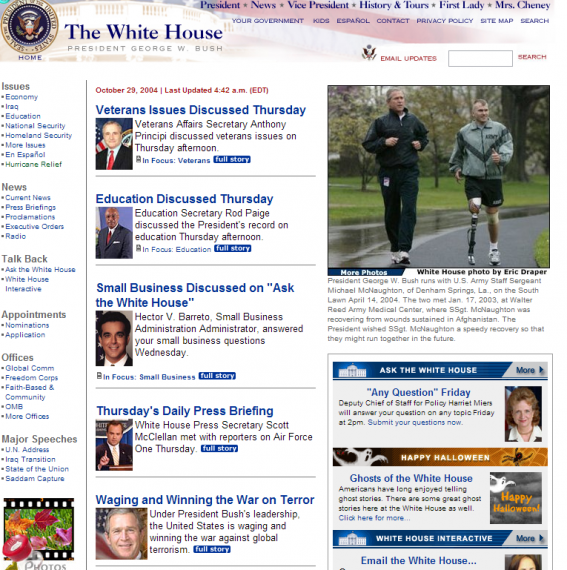 Or, less comparably (since Bush wasn't running again) the October 29, 2008 site: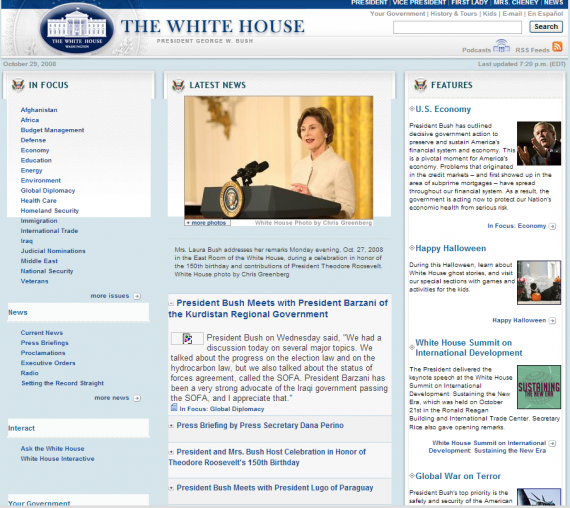 Some of this is just the evolution of the Web. Organizations used to view their sites as bulletin boards, whereas now they see them as a central part of their communications strategy. Still, it strikes me as a bit unseemly for a taxpayer-funded site to be so brazenly political.
UPDATE: I suppose I shouldn't be surprised at this, given that the Obama team politicized the site from Day 1. Literally.  See my January 20, 2009 post "Whitehouse.gov Gets Makeover,"  which asked, "Why does it look like his campaign website just changed URLs?" Or my January 21, 2009 follow-up,  "Whitehouse.gov Gets Makeover II," noting the propaganda included, "President Obama will keep the broken promises made by President Bush to rebuild New Orleans and the Gulf Coast. He and Vice President Biden will take steps to ensure that the federal government will never again allow such catastrophic failures in emergency planning and response to occur," to which I responded, "This is unseemly.  He's president now, not a political candidate or even president-elect.  This sort of nonsense does not belong on the people's website."
Also, back in May, in "History as Propaganda," Doug noted that the administration had gone so far as editing the bios of the previous presidents to use as fodder for advancing President Obama's agenda.