Several Thousand Words on Irresponsibility (Updated)
No masks, no distancing, no caution.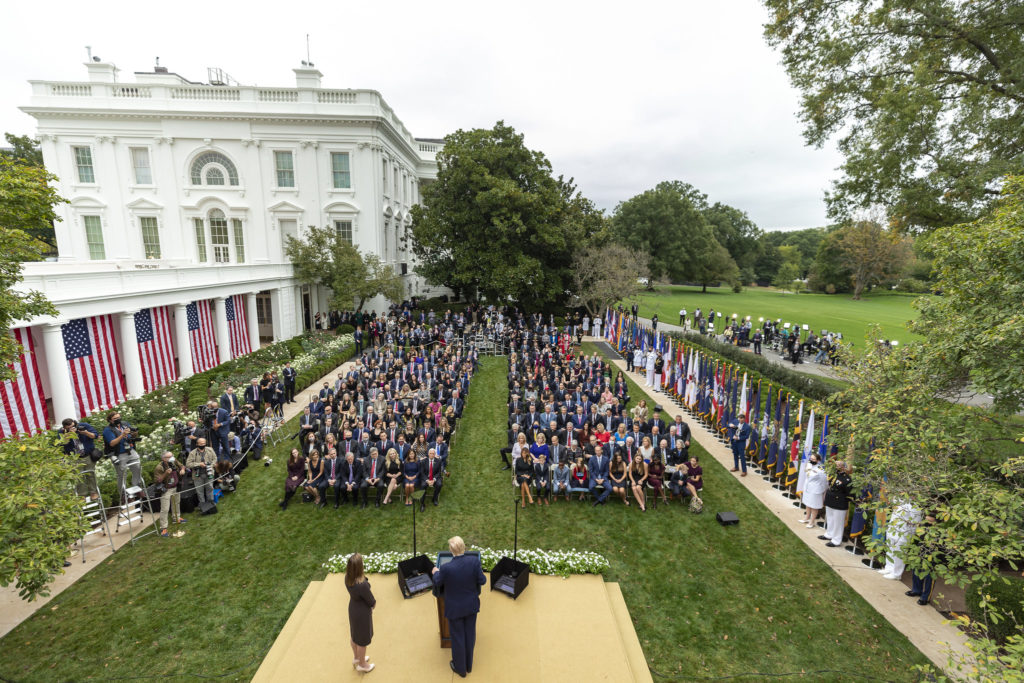 The following are from the official White House Flickr page:
Not to mention:
And inside:
I saw video (or maybe a still) or what appeared to be Barrett shaking hands in a inside receiving line, but I cannot find it now (please share if you do).
Update: Thanks to commenter Monala, here is the photo I was thinking of:
The irresponsibility is stunning. And the blame belongs to leadership, i.e., the President. He has set this tone from the beginning of the pandemic.
As of this post persons linked known to have Covid-19 (the top eight were at the event for sure, I am not sure about McDaniel and Stepien–update: a more careful reading of the NYT piece linked below indicates only 1-8 were at the event):
President Trump
First Lady Melania Trump
Hope Hicks
Kellyanne Conway
Senator Mike Lee (R-UT)
Senator Thom Tillis (R-NC)
Rev. John I. Jenkins, the President of the University of Notre Dame.
Chris Christie
Ronna McDaniel, RNC Chair
Bill Stepien, Trump campaign manager
Plus three journalists.
To see the web of connections, check out the NYT: Tracing Trump's Contacts Before He Tested Positive for Coronavirus.