It Just Keeps Getting Weirder In Mississippi
The votes have been counted, the result is clear, but the battle between Senator Thad Cochran and Chris McDaniel continues to get stranger by the day.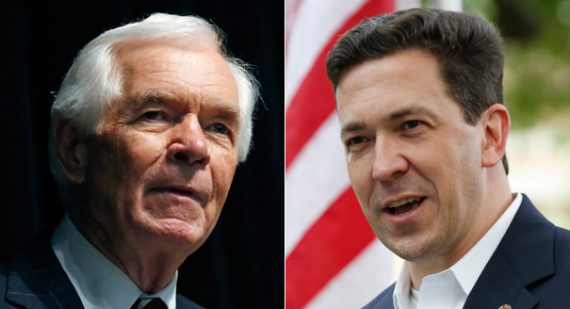 If  you thought that the story of the Mississippi GOP Senate Primary was over, you haven't been paying attention. When we last left the story, Chris McDaniel and his Tea Party supporters had just begun making a series of bizarre allegations against Cochran and the way he won the election that seemed focused mostly on the fact that the campaign succeeded in part by appealing to African-American voters who don't typically vote in Republican primaries. Since then, McDaniel has begin fundraising off of the claim that there were voting irregularities in appeals that seem to at least hint at the idea that he would be filing a lawsuit to challenge the election. A conservative organization called TrueTheVote has already filed a lawsuit alleging voting irregularities. Various conservative "journalists" have made their way to the Magnolia State to cover the story, and yesterday things took another bizarre turn when someone disrupted what was supposed to have been a Cochran campaign conference call with the media:
A conference call set up by the campaign for U.S. Sen. Thad Cochran devolved into a shouting match and then ended, after which time supporters of GOP primary challenger Chris McDaniel chatted for a bit.

California-based blogger Charles C. Johnson posted the call-in number on Twitter and encouraged people to call in and crash the call. He succeeded.

Cochran campaign advisor Austin Barbour started the conference call normally. After a few minutes of talking about working with McDaniel volunteers in the Hinds County courthouse reviewing ballots and how the campaign set up its GOTV effort, an unidentified male started asking about harvesting cotton and black votes. (The call was aimed at national and other media who could not make their Jackson presser.)

Barbour tried to continue on, but he was repeatedly cut off by the man. Eventually Barbour and Cochran spokesman Jordan Russell told media that they could be reached by email or cell phone and then hung up.

Afterward, McDaniel supporters talked a bit criticizing the guy who asked about harvesting black votes. They were worried that media would report that the guy was a McDaniel supporter. One female McDaniel supporter suggested the guy was a Cochran supporter planted to make the McDaniel campaign sound racist.

Callers, including some who identified themselves as McDaniel supporters, agreed that if the guy was a McDaniel supporter himself, he had done the state senator no favors with the racist remarks.

A couple of reporters asked if the guy was Johnson. Two people on the call who identified themselves later as McDaniel supporters said it was not Johnson. (Based on hearing Johnson talking before the call started, it did not sound like him at all. And if my guess is right, it's a well known racist who is still stuck on the 2001 flag vote.)

Finally an unidentified woman came on and the call was likely being recorded and that the best thing McDaniel supporters on the call could do is get off the phone. At that time, several people said their goodbyes and then got off.
Here's the audio of the call:
Johnson was previously in the news as the writer of a piece at The Daily Caller alleging that Cory Booker didn't really live at the Newark, N.J. he claimed as his official residence in a story that appeared shortly before the Special Election for Senate that Booker won handily last October. Later, it was revealed that Johnson was working for an anti-Booker PAC at the time he wrote that article. Since the runoff election, Johnson  been down in Mississippi since the election stirring up trouble, most often via unsubstantiated claims made on his Twitter account, but also on his own website. Most recently, he posted a report based on interviews with an African-American Pastor who claims that he was given money by the Cochran campaign to get African-Americans to vote, with the obvious suggestion that he was then paying people to go to the polls. That report was picked up by the popular conservative web site Red State and quickly made its way around the internet. As Kevin Boyd points out in his own article about these new allegations, though, there are plenty of questions about the veracity of this report. For one thing, the person who claims he was paid by the campaign has been involved in several cases involving home repair fraud in the past, thus calling his own ability to tell the truth into account. For another, Johnson has admitted that he paid for the interview, something that most credible journalists never do, but refuses to discuss how much he paid for the same. Finally, even if it is true that money changed hands before the election, the more likely explanation is that this was intended by the campaign to be used as part of normal get out the vote efforts, such as covering the costs of driving people to the polls and such. There's no proof in anything Johnson reported that the Cochran campaign was involved in some kind of scheme to bribe African-Americans to vote for him.
As I have noted in previous posts, there is virtually no chance that anything McDaniel and his supporters do will overturn the results of the runoff election. From a political point of view, the smartest thing for McDaniel to do would have been to graciously accept defeat and move on, with the idea being that perhaps he'd run for higher office in the future. As Seth Michaels notes, though, that's unlikely to happen:
McDaniel and his backers are like the proverbial fish that doesn't know it's wet; they swim so deeply in their right-wing milieu that the idea that they could lose an election fairly doesn't cross their mind.

And there's an even uglier undercurrent to all of this, centered around the fact that Cochran specifically reached out not just to Democratic voters, but to black voters (and in deeply polarized Mississippi, the Venn diagram of those two groups is almost a circle). With radio, phone calls and mail, Cochran made the case in Mississippi's most heavily black counties that they should come out in the runoff to ensure that it would be Cochran, not McDaniel, as the GOP nominee in this very red state.

And it worked. Cochran's biggest gains came in heavily black counties around Jackson and the Delta region, and turnout actually increased from the primary to the runoff. "They targeted voters outside the universe of likely voters in a Republican primary," writes David Jarman, "that meant explicitly trying to make inroads among African-American voters…it seemed like a Hail Mary at the time … but looking at Tuesday night's election results, it very clearly worked."

The outrage among McDaniel voters goes beyond just sore-loserdom. Right-wingers' assertion that Cochran's votes were "invalid" tie into long-standing issues around black citizenship and black participation. You can see it in the hysteria over "vote fraud" in elections and even in the demands to see President Obama's "long-form" birth certificate. You can see it in some McDaniel supporters' insistence that black votes must have been bought, or "harvested…like cotton," as a McDaniel supporter said on a Cochran campaign conference call. And the less said about Rush Limbaugh's response, the better.

Jamelle Bouie notes that the McDaniel camp's thinly-veiled implications have a long history. "For as long as blacks have been able to vote, there have been politicians who sought their support," Bouie says, "and for just as long, there have been critics who called it unfair."
As I said in a previous post, the racial angle may not be what McDaniel and his supporters actually intend to communicate here, although after that phone call its impossible to deny that it is playing a role in all of this, but that's how its coming across. At this point, though, nothing that McDaniel, or Johnson, or any of the others will do is going to change the outcome of the election. What it can possible do is one of two things. First, it could so widen the rift in the Mississippi GOP that Cochran ends up losing the General Election in November, although that seems highly unlikely. Second, this entire bizarre episode only serves to reinforce the arguments that Democrats make about the right and its relationship to minorities, especially the minority community. Many national Republicans clearly recognize this, and they are clearly distancing themselves from McDaniel at this point. However, if his efforts and the rhetoric of his supporters end up tainting the party as a whole that's going to do a lot of damage to the efforts of the GOP to reach out to minority groups.