The Tea Party Needs To Stop Whining About Losing In Mississippi
Chris McDaniel and his Tea Party supporters are being very sore losers.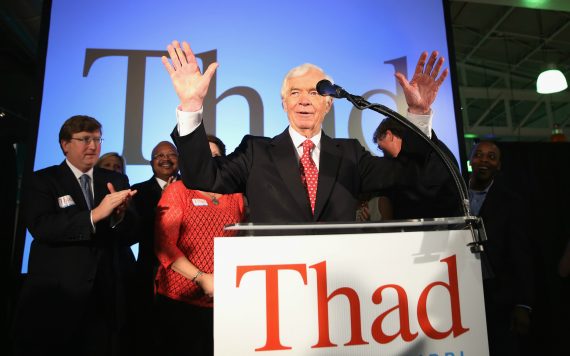 Thad Cochran's victory over Tea Party challenger Chris McDaniel on Tuesday night has opened up a huge rift in the Republican Party, and resulted in Tea Party supporters and conservative pundits denouncing how Cochran won, the GOP itself, and threatening to not support Cochran in November:
WASHINGTON — Republicans reacted on Wednesday to Senator Thad Cochran's victory-by-inches in a primary runoff in Mississippi with a mix of views that reflected the sharp divide between the party's establishment and Tea Party wings.

Senator Ted Cruz of Texas, a prominent voice of the Tea Party movement, said that despite the loss on Tuesday by State Senator Chris McDaniel, the Tea Party-aligned challenger to Mr. Cochran, he was struck by how close the race was and by the great effort that establishment Republicans took to beat an upstart candidate.

"You saw the Washington Republican establishment put millions of dollars into that race to preserve an incumbent," Mr. Cruz said on Fox News on Wednesday, "and they encouraged an awful lot of Democrats to vote in that race, and won a razor-thin race. I think that demonstrates that there's a lot of hunger for change."

But Senator Lindsey Graham, the South Carolina Republican who just fought off a primary challenge of his own from several opponents to his right, called the campaign against Mr. Cochran a misguided "purification effort" that was only hurting the party.

You add up all the money we spent on this intraparty fight, that's a lot of resources we could have had to pick up the seats necessary to get a majority," Mr. Graham said on Wednesday. "Thad Cochran, like any of us, I'm sure, is not a perfect senator. But really is he the problem compared to our Democratic colleagues?"

Mr. McDaniel has not conceded the race, but there were signs that some of his strongest backers were moving on.

"We are proud of the effort we made in Mississippi's Senate race, and we congratulate the winner," Chris Chocola, the president of the Club for Growth, the antitax group that spent more than $3 million to support Mr. McDaniel, said in a written statement. "We expect that Senator Cochran and others gained a new appreciation of voter frustration about the threats to economic freedom and national solvency."

Some of the national Tea Party groups that poured money into Mr. McDaniel's campaign were so angry that they were considering drastic options to keep their candidate afloat politically.

According to one person involved in the discussions among the leaders of these groups, the possibilities include trying to build support for a third-party run by Mr. McDaniel — a move that would almost certainly draw Republican votes away from Mr. Cochran and help his Democratic challenger, Travis Childers.

In addition, some Tea Party leaders were discussing throwing their weight behind Mr. Childers. Though he is a Democrat, some of his views — he is anti-abortion and opposes the Affordable Care Act — are attractive to conservatives. "The Tea Party is so burned they may do something radical," a conservative leader involved in the planning said, asking not to be named in order to discuss internal deliberations.

Some Tea Party supporters were pushing for Mr. McDaniel to wage a write-in campaign in the general election.

Wayne Allyn Root, a libertarian commentator and onetime third-party candidate for vice president who is aligned with the Tea Party, wrote on Twitter that if Mr. McDaniel campaigned as a write-in candidate, "I'll be in Mississippi campaigning by my friend's side. Take Cochran down in general election."
The vitriol was even worse from others on the right:
On the right's favorite websites as well as on Twitter, the conservative reaction to McDaniel's loss was one of rage and sorrow. Even in those corners of the right-wing Internet usually more devoted to stability, calm and deference to the GOP establishment, the belief that Cochran had survived McDaniel's challenge by relying on Democratic voters — African-American ones, no less! — inspired vitriol.

For example, here's how John Fund of National Review began his post reacting to McDaniel's loss: "You have to hand it to the GOP establishment. When their interests are threatened, they pull out all the stops. They demonstrated that in dragging GOP senator Thad Cochran across the finish line in tonight's runoff in Mississippi." Fund went on to claim that while the establishment would "justify their tactics by claiming that all is fair in politics" the truth is that the election's message "was the antithesis of conservatism — that only an aging 76-year-old incumbent can bring home pork-barrel projects that largely benefit a business elite while the state's voters are saddled with more federal debt."

(In a later post, Fund wondered whether a flyer he reported was prominent in African-American communities was the reason Cochran won.)

On a similar note, the Daily Caller reported Matt Kibbe of FreedomWorks, the Tea Party-aligned outside group, calling the election result "disgraceful" and railing that "a campaign platform of pork barrel spending and insider deal-making, while recruiting Democrats to show up at the polls" had been supported by "self-described GOP leaders like Mitch McConnell, John McCain, the Chamber of Commerce and the NRSC." Somewhat curiously, Kibbe then tried to argue that his side's loss on Tuesday was proof that "we've already won" because "the only way the K Street wing of the GOP establishment can win is by courting Democrats to vote in GOP primaries."
The commentary from the usual suspects on the right has also been about what you'd expect. Glenn Beck said that outcome got him so angry he fired a rifle in his office. Rush Limbaugh said that Cochran won by appealing to "Black Uncle Toms." Sarah Palin said that the runoff should be investigated for so-called "illegal voting" and suggested once again she'd be agreeable to the idea of quitting the Republican Party. And Tea Party groups and Sean Hannity are urging McDaniel to run as a write-in candidate and for Mississippi Republicans to vote for Democratic candidate Travis Childers. I've seen similar comments, and worse, from the usual conservative sources on Twitter, Facebook, and in the blogosphere. Obviously, there's a lot of resentment here that Cochran not only won a race that, by all accounts he seemed destined to lose, but that he did so by adopting a campaign strategy that seemed unlikely to win in a runoff campaign for a Republican Senate nomination.
Of all the complaints that have been batted about since Tuesday night, the most common one on the right seems to be the claim that Cochran only won because he convinced Democrats to get out and vote for him. This allegation seems to be at the center of the allegations that some on the right are making that there may have been something illegal going on, but my admittedly cursory examination of Mississippi election law indicates that there was nothing improper here. Mississippi has open primaries, so Democrats are permitted to vote in the Republican Primary. There is a bar against Democrats who voted in the primary three weeks ago from voting in the runoff, but that's something that can easily be checked at the polling place.  Cochran won by making an appeal to those voters, and specifically to African-Americans in Mississippi, who he has generally had a good relationship with in the 36 years he's been in the Senate. Because there was apparently no exit polling done by the news media on Tuesday, we'll never be entirely sure how much the Democratic and African-American vote helped Cochran, but Harry Enten makes a persuasive argument for the proposition that it played a crucial role.
As for the race itself, Tom Dougherty gets its right when it points out the simple fact that Cochran won by running a better, more creative, campaign that McDaniel:
As expected there have been a plethora of good articles already written about the "surprising" outcome of Thad Cochran's victory in Tuesday's runoff election in Mississippi; and they have covered quite a spectrum of viewpoints.

I will not regurgitate those points here, and will simply cut to the heart of the matter from a political strategist perspective – Chris McDaniel lost because he was out "got" and outplayed, period.

Ask any campaign operative or strategist what their job is and, if they know what they're doing, you will hear an answer very much like, "I don't make the rules but my job is to win within the rules, regardless of what they are."

That is exactly what Thad Cochran's campaign did, and it is why Chris McDaniel's camp lost.
Dougherty also had a fairly blunt message for McDaniel supporters and Tea Party types who are complaining about Cochran's victory:
The strategies and tactics employed by the Cochran campaign to defeat McDaniel have existed, and been utilized in varying ways, for many decades. They are aggressive and extreme but they are lawful and can be, as seen last night, highly effective.

If they anger, annoy, distress, disturb or cause you angst then your skin is far too thin and your shoulders are much too narrow to spend time in the political arena.
The attitude that Dougherty addresses here seems to be very prevalent among Tea Party supporters. Whether we're talking about election results or a piece of legislation in Congress, the attitude seems to be that absent total victory nothing else is acceptable. As I've noted many times before, this is an attitude that is simply not a viable strategy for governing at the Congressional (or state legislative) level because legislation involves compromises and accepting half-victories on important issues, this is especially true in an era of divided government. It's also an attitude that doesn't serve well if you're trying to gain influence inside of a political party, which is what the Tea Party is supposedly trying to do inside the GOP.  If you're part of a political movement that wants to move the GOP in a certain direction you have to realize how politics works. It doesn't work if your answer to losing an election is saying "I'm taking my marbles and going home!" Like the Democratic Party, the Republican Party is always going to be a broad coalition. Presently that coalition includes business interests, mainstream conservatives, moderate Republicans, a growing libertarian strain, and the hard right of the party, which is what the Tea Party is and always has been. None of these groups are going to find other Republicans very willing to cooperate with them in the future if they continue with the "all or nothing" strategy. I can understand why people might not like the idea of compromise, but if you want to succeed as part of a major national political party, you're going to have to learn how to live with it or you're not going to go anywhere.
Jeff Quinton makes a similar point:
If you want to be a part of a political party and want candidates who espouses the principles you agree with to be that party's nominee, then work your tail off, donate money, and do all you can to legally make sure your candidate wins. Then, if you're really interested in that party you will support the nominee in November. Otherwise, you leave the party and go to another one or start your own. You have the right to complain all you want about anything at anytime, but others have a right to call you out on it as well.

Think strategically instead of tactically sometimes. It's a big picture and you can make incremental gains to achieve your goals. That's the way all the successful movements have achieved their goal. I know I'll be called a RINO by some for this, but I don't really care. The people who know me know I'm anything but that.
On some level, the Tea Party reaction to the Cochran win is just the latest manifestation of what has happened in Republican primaries this year. For two election cycles, mainstream Republicans essentially let Tea Party groups have free reign over the primary process, resulting in the selection of disastrous candidates such as Christine O'Donnell, Sharron Angle, Joe Miller, Richard Mourdock, as well as a plethora of embarrassing House candidates such as Joe Walsh and Allen West. In Congress, leadership let itself be pushed around by the Tea Party caucus on issues ranging from the debt ceiling to the idiotic government shutdown last October. In essence, leaders like Boehner and McConnell gave the Tea Party everything it wanted when it came to confrontations with the White House, and they would still find themselves targeted because it wasn't perfect enough. The shutdown in October and the massive hit the party took in the polls at the time were the last straw, it seems, and set off a strategy in which the mainstream of the party decided that it was time to fight back. In Texas, Kentucky, South Carolina, and now Mississippi we've seen Tea Party challenges to sitting Senators defeated, and in states like Georgia Tea Party candidates were blocked from the runoff in the Senate race in favor of two decidedly "establishment" candidates. Mississippi looked like a race that they could've won, and if they had it would've been a bigger win that David Brat's defeat of Eric Cantor, which happened without any real support from the Tea Party at the national level. Cochran outsmarted them, though, and they spent most of yesterday being positively apoplectic.
In the end, I tend to think that much of this rancor on the right will amount to nothing. The days and weeks after one has lost a hard fought campaign are times when emotions are high, but eventually cooler heads prevail. McDaniel running a write-in campaign or otherwise encouraging supporters to stay home on Election Day or vote for Childers would do nothing more but make it more likely that the Democrats would win the seat and hold it for the next six years. Such an outcome could also make the difference between a Republican-controlled Senate and a Democratic-controlled Senate. The hotheads on the right will say they don't care about stuff like this, but the people who actually run the Tea Party show are unlikely to feel the same way. Of course, I could be proven wrong in this guess. In which case, the war between the GOP establishment and the Tea Party will get even more harsh, which may be all it takes to cost the GOP the Senate in November.