Cochran Certified Winner Of Mississippi Runoff, But McDaniel Continues His Quixotic Campaign
Thad Cochran has been officially certified as the winner of the Mississippi GOP Primary Runoff Election, but it's not over yet.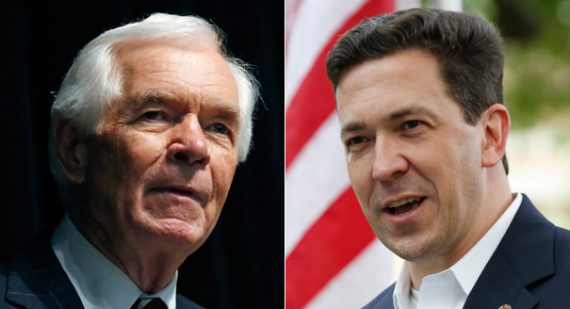 The Mississppi Republican Party has certified the results of last months runoff election for the closely fought Senate primary between Senator Thad Cochran and State Senator Chris McDaniel, finding an additional 1,000 votes for Cochran in the process, but McDaniel is making clear that the fight is far from over:
JACKSON, Miss. — The Mississippi Republican Party said U.S. Sen. Thad Cochran won the state's Republican primary runoff over challenger Chris McDaniel by 7,667 votes.

The party sent results to the Secretary of State on Monday, the legal deadline.

The GOP's numbers showed Cochran winning by more than the 6,800 votes counted by The Associated Press after the June election. Tallies changed as county parties examined provisional ballots and finalized results.

McDaniel, a state senator, has said he would challenge the results. But his attorney Mitch Tyner says it could be days before that happens.

Tyner said the campaign must first finish its investigation into how many voters improperly cast absentee ballots or who voted in both the Democratic primary and GOP runoff, a violation of state law.
In an interview with the Jackson Clarion-Ledger, Tyner said that the campaign had gotten "thousands" reports of voting irregularities in the runoff election:
A lawyer for Chris McDaniel said campaign canvassers started going through records at every courthouse statewide on Monday and he's confident McDaniel can successfully overturn the June 24 GOP runoff.

The Thad Cochran campaign countered that few voting irregularities are being found and the vote should stand.

"As you know there have been lots of allegations and lots of reports of voter fraud – all types of calls are coming into the campaign and coming into my law office, and we are following up on all those leads making sure the integrity of this election is not compromised," said Mitch Tyner, an attorney for McDaniel and former Republican candidate for governor. "In fact, as we've gone through this process, we are surprised by the amount of evidence that continues to come forward that shows us there has indeed been election fraud in this case."

Tyner said he is uncertain the number of ineligible votes the campaign has found. McDaniel's campaign reported 4,900 late last week, and McDaniel in television interviews said 5,000.

The McDaniel campaign has said a majority of these are people who voted in the June 3 Democratic primary, then crossed over June 24 and voted in the Republican runoff, which is prohibited by state law.

"I know there are several thousand that are absolute ineligible voters," Tyner said. "… Later this week we should have some idea what all they've found."

Both campaigns have people at courthouses across the state today, going through poll books and other records.

Cochran spokesman Jordan Russell on Monday refuted the McDaniel campaign's claim there are thousands of illegal votes and says the number appears to be within normal margins of election errors.

"We have representatives at all 82 courthouses today to monitor the review of ballot boxes and have been pleased with the results," Russell said. "The county by county results reported thus far are revealing an extremely low number of crossover votes from the June 24th election. As the process moves forward, the conversation is shifting from wild, baseless accusations to hard facts. As we have said from the beginning, the run-off results are clear: the majority of Mississippians voted for Senator Thad Cochran."

Russell said he didn't have totals, but listed the number of potential crossover votes found in four counties: Perry, 1; Lauderdale, 7; Pontotoc, 3; Leake, 5.
If numbers like that hold up, it seems hard to see how the McDaniel's campaign's claim that "thousands" of votes should be thrown out is going to be supported by the available evidence. Notwithstanding that, McDaniel and his supporters are pushing forward with the idea that Cochran's victory in the runoff was illegitimate and vowing to press on with a campaign that seems to be becoming increasingly quixotic by the day. In another statement yesterday, the McDaniel campaign's attorney repeated his assertion that they would find more than enough votes to make up for the margin between the two candidates and that, in that case, they would be "automatically" entitled to a redo of the runoff election. 
There are, however, several problems with the McDaniel campaign's argument. First of all, as noted above, it seems quite probable that what they are calling a questionable ballot isn't one that ought to be tossed out, as there is a big difference between "questionable" and illegitimate". Second, as The Washington Post's Philip Bump has noted, it's not at all clear that McDaniel has any remedy at all under Mississippi law regardless of what he's think he's able to prove:
We spoke with Matt Steffey, professor of law at the Mississippi College School of Law, to see if he agreed with Tyner's assessment of what will happen next and, in case we didn't already give it away, he didn't. "He uses the word automatically, and I think that's a very optimistic and self-serving reading of the law," Steffey told us by phone. "I don't think the cases can be fairly interpreted to say that if they come up with 6,700 illegal votes and candemonstrate that they're illegal — it's an overstatement of the law to say that it automatically demands a recount."

"There's simply no statute or case that holds that if the number of ineligible voters exceed the margin of victory then there's automatically a recount," Steffey said. "In fact, in 1983, the Mississippi Supreme Court held — and cited a number of cases — that a special election was not required even though the margin of victory [in the primary] was exceeded by the number of illegal votes." That case was Noxubee County Democratic Executive Committee v. Russell. "The Court has expressly said that the rule does not mean that one must show that the number of illegal exceed the margin. They have held exactly the opposite of Mitch Tyner's statement."

(…)

Moreover, McDaniel had a chance to contest those voters on the day of the runoff, but apparently didn't do so. Under Mississippi law, any questionable ballots can be marked as such that day, and later evaluated for their validity. Meaning they wouldn't have been counted for Cochran in the first place until further review. That's how the process is designed to work. "I think the reason they weren't out challenging ballots on the day of the election," Steffey said of the McDaniel campaign, "is that they thought they were going to win. If I were a judge, I would be disinclined to do for the McDaniel campaign what they could and should have done for themselves: challenge these voters on the day of the election."

Nor is the Supreme Court (which is where any legal challenge would almost certainly end up) likely to feel as though the will of the people was subverted, Steffey argued, which is the main reason it would decide to force a third election.
So, even if McDaniel were able to establish the facts that his campaign's attorney is asserting here, which seems unlikely for the reasons noted above, it's by no means certain that they would succeed in accomplishing anything. There is no provision in Mississippi's election law for an automatic recount, or indeed any real recount procedure established by law in any case other than the county-by-county count that is going on right now. That means that McDaniel's only recourse would be resort to the courts and, as Professor Steffey notes above, what actual Mississippi law there is on this subject is decidedly not in McDaniel's favor. Theoretically, I suppose, the campaign could attempt to resort to the Federal Courts. That strategy is being tried right now by outside groups such as TrueTheVote, which filed a lawsuit in Federal Court over this matter, only to find themselves strongly rebuked by a Federal Judge in an Order issued yesterday.  In the case of the campaign, it seems unlikely that they'd get any further with a Federal Court suit than they are likely to get in state court.
None of this is stopping McDaniel or his supporters, of course. The campaign seems fairly well committed to going forward with this challenge not withstanding the fact that it seems very unlikely that they can possibly win. National groups like FreedomWorks continue to pour resources into the state to support McDaniel's seemingly quixotic efforts, and now Senator Ted Cruz seems to be chiming in in support of McDaniel:
Sen. Ted Cruz (R-Tex.) on Monday sharply criticized allies of Sen. Thad Cochran (R-Miss.) for courting Democrats in last month's Republican runoff election and called for a thorough investigation into allegations of voter fraud, marking his most direct comments yet on the outcome of one of the most contentious and divisive campaigns in recent memory.

"What happened in Mississippi was appalling," Cruz said on the Mark Levin Show. "Primaries are always rough and tumble. But the conduct of the Washington D.C. machine in the Mississippi runoff was incredibly disappointing."

(…)

Cruz said it's clear that McDaniel won a "sizable majority" of Republican voters. He repeatedly blamed the "D.C. machine" for changing the outcome of the runoff.

"The ads they ran were racially charged false attacks and they were explicit promises to continue and expand the welfare state," said Cruz.

(…)

Cruz said there have been "serious allegations of voter fraud" that need to be "vigorously investigated." He stopped short of directly accusing Cochran or his allies of being at fault.
As limited as they are, Cruz's comments are interesting given the fact that he had previously stated that he would not be getting involved in any of the primary battles against Republican Senate incumbents in 2014. At the very least, it is a signal that this never-ending fight between Thad Cochran and Chris McDaniel, the outcome of which seems certain at this point, has become a proxy for the larger battle between the Tea Party and the GOP "establishment." To some extent, of course, it always has been, but the manner in which McDaniel and his supporters have acted since the runoff election has only seemed to make the fissure worse, and to guarantee that it will continue long beyond the resolution of this election in Mississppi.