Thad Cochran Resigning from Senate Effective April 1
The 80-year-old Mississippi Republican, who was first elected to the Senate in 1978 after serving six years in the House, has been in poor health.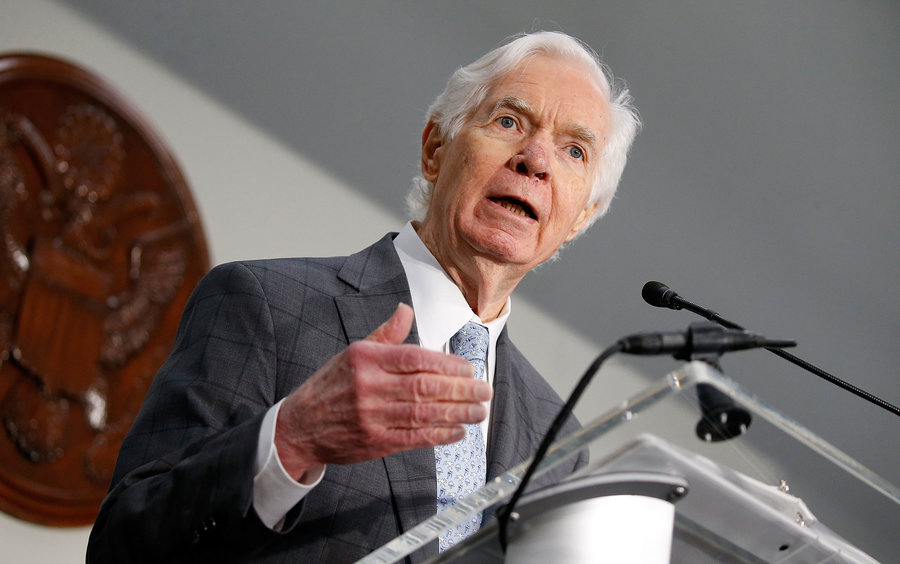 AP ("Miss. Sen. Thad Cochran resigning April 1"):
Longtime Republican Sen. Thad Cochran of Mississippi said Monday he will resign because of health problems — triggering what could be a chaotic special election to fill the seat he has held for a generation.

Cochran, who turned 80 in December and has been in poor health, has been a sporadic presence on Capitol Hill in recent months. He stayed home for a month last fall, returning to Washington in October to give Republicans the majority they needed to pass a budget plan. He has since kept a low profile and an aide ever present at his side.

"I regret my health has become an ongoing challenge," Cochran said in a statement. "It has been a great honor to serve the people of Mississippi and our country. I've done my best to make decisions in the best interests of our nation, and my beloved state. … My hope is by making this announcement now, a smooth transition can be ensured so their voice will continue to be heard in Washington, D.C."
The timing, and the ensuing speculation, is political:
Cochran said his resignation is effective April 1, allowing Republican Gov. Phil Bryant to appoint a temporary replacement to fill the seat until a special election Nov. 6. The winner would serve until the end of Cochran's term in January 2021.

Cochran's departure sets off a scramble within a state Republican Party already struggling to manage a disaffected conservative faction. The special election is expected to attract several candidates, including the outspoken, tea party-backed state senator who came close to defeating Cochran in a bitter 2014 Republican primary. Republican Chris McDaniel, who said last week he would challenge Mississippi's other GOP senator, Roger Wicker, said Monday it is "premature" to say whether he will run for the newly open seat.

"I want him to be healthy and happy," McDaniel said of Cochran. "We disagree politically, but I have nothing but respect for his service."

Republicans in Washington are hoping to prevent a rough and costly primary season as they struggle to defend their narrow 51-49 hold on the Senate. Some Republicans have doubts about McDaniel's ability to win a general election. And after Republicans' bruising loss in Alabama last year, party leaders are eager to block any risky candidates.

Mike Espy, a Democrat who served as President Bill Clinton's secretary of agriculture, said Monday he has a "strong intention" to run for Cochran's seat. In 1986, Espy became the first African-American in modern times to win a congressional seat in Mississippi.
Even in what may well be a Democratic wave election, it's almost certain another Republican will replace Cochran. POLITICO:
Mississippi GOP Gov. Phil Bryant will select Cochran's replacement, who will hold the seat until the special election. Senate Majority Leader Mitch McConnell has urged Bryant to appoint himself, according to a person familiar with the discussions. But late Monday, Republicans said they doubt Bryant will do so, and they are fretting about how to keep conservative state Sen. Chris McDaniel, a former Cochran challenger, out of the Senate.

GOP Sen. Roger Wicker is up for reelection in November and is currently facing McDaniel. With Cochran's retirement, a special election will take place the same day to fill out the rest of Cochran's term, which runs until 2020. McDaniel could also switch and run for Cochran's seat if his replacement looks more vulnerable than Wicker.

After Cochran's successor is named, a special election will follow — but with a twist. The state has a so-called jungle primary system, with no party identification listed on the ballot. If no candidate tops 50 percent margin, a runoff will be held.

McDaniel said he was monitoring both races but is focused on Wicker. McConnell's allies have signaled they could attack McDaniel in his campaign against the incumbent; Republicans fear that McDaniel could make the Senate race unnecessarily competitive as well as undercut their agenda in the narrowly divided Senate.

"What is important is that Mississippi now has the unique opportunity to send two conservatives to the U.S. Senate," McDaniel said. "If Mississippi won't send conservatives to the United States Senate, who will?"

Mississippi is typically a safe Republican state. Donald Trump won there in 2016 with 58 percent of the vote to Democratic nominee Hillary Clinton's 40 percent. But after an embarrassing loss in Alabama — a state even redder than Mississippi — Republicans won't want to take any chances in November.

"Depending on who the governor appoints, it could be a runaway winner," said Senate Majority Whip John Cornyn (R-Texas). "A lot depends on the person he selects and I'm sure that's very much on his mind."
Whoever wins, they'll be of a different mold than Cochran. Back to the AP report:
Cochran was first elected to the Senate in 1978 after serving six years in the House. A mild-mannered Southerner, Cochran came to the Senate when it had a far clubbier atmosphere and he played an insider's game throughout his seven terms — particularly as a member of the powerful Appropriations panel, which had long been a bipartisan powerhouse and way to funnel taxpayer dollars back home.

Cochran chaired the committee twice and used the post to channel money to Mississippi and other Gulf Coast states for Hurricane Katrina recovery after the 2005 storm.

"Thad knows there's a big difference between making a fuss and making a difference. And the people of Mississippi — and our whole nation— have benefited from his steady determination to do the latter," Senate Majority Leader Mitch McConnell said in a statement.

"I'm devastated. I assumed we would serve out our time together here," said Sen. Patrick Leahy of Vermont, the top Democrat on the Appropriations panel. "We've never once had a partisan word between us. And he has always, always, always kept his word — and I wish to heck some other senators around here would learn to do that."

But the old-school Cochran has seemed increasingly out of place in a chamber where partisan elbows are sharper.

Explicit earmarks for home-state projects such as roads and bridges, economic development grants, and help for schools such as Cochran's alma mater, the University of Mississippi, were banned in 2011.

In 2014, he struggled to win a Republican primary over McDaniel, who received financial support from libertarian-leaning groups that criticized Cochran as a big spender.

That race grabbed national attention after a McDaniel supporter entered a nursing home without permission and photographed Cochran's wife, Rose, who was bedridden with dementia. Images of her appeared briefly online in a video that attempted to show Cochran was having an inappropriate relationship with one of his longtime staff members, Kay Webber — an accusation he denied. McDaniel said he had no connection to the incident.

Rose Cochran died in December 2014. Thad Cochran married Webber in a private ceremony in May 2015.

McDaniel — who never conceded his loss to Cochran — announced last week that he will run this year against Wicker. But moments after making that announcement at a rally in his hometown of Ellisville, McDaniel said he could drop out of the Wicker race and run in the special election if Cochran resigns.

Wicker said Monday he and his campaign haven't communicated with McDaniel about which seat he'll seek. Asked if he's relieved because McDaniel might seek the open seat instead of challenging him, Wicker said, "I don't know that." He smiled as he answered the question and told reporters, "I'm smiling because of your persistence."
Toward the end of a stellar career, alas, Cochran became yet another example of why politicans ought retire or be retired well before they hit 80. AP:
The powerful Appropriations panel hasn't met in many months, though Cochran used his post to help secure aid for struggling cotton producers in a budget pact last month.
POLITICO again:
Cochran's health, mental acuity and future in the Senate have been a subject of intense speculation for months in Washington and back home, and in recent days he's been voting under the close supervision of aides on the Senate floor.
Absent a Constitutional amendment, there's likely no legal way to set a mandatory retirement age. And, certainly, people are living longer, healthier lives than they once did. But few people should be in positions of responsibility after the age of 75.