GOP Primary In Mississippi Heads Toward Runoff
Down to the wire in Mississippi.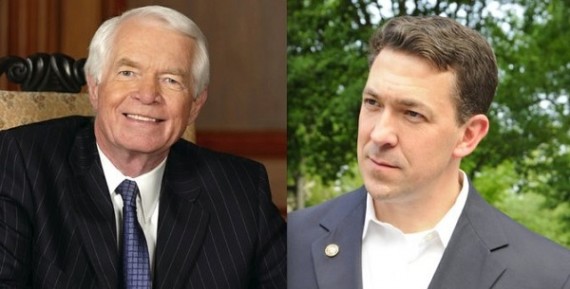 The Mississippi Senate race has always been one of the odder races of the 2014 election cycle. From the beginning, the idea of a relatively unknown state Senator challenging someone who had been in the Senate since 1978, and who had won all of his previous re-election bids by relatively easy challenges. When reports started surfacing that the challenging, State Senator Chris McDaniel had ties to neo-Confederate groups and other odd organizations, it seemed as though this would be a very short race. Nonetheless, McDaniel received the support of all of the major Tea Party groups, as well as endorsements from the likes of Sarah Palin. The polls, however, continued to show Cochran with a seemingly insurmountable lead. 

Then, things took a really bizarre turn in the already bizarre world of Magnolia State politics when a pro-McDaniel blogger was arrested for breaking into a nursing home where Cochran's wife, who suffers from dementia, is living and taking pictures of Mrs. Cochran that later appeared in a short-lived Internet video. Soon, other arrests took place in the case, including that of an attorney who happens to be the Vice-Chair of the Central Mississippi Tea Party and another who used to co-host a race with McDaniel. Throughout it all, the McDaniel campaign denied any connection to the parties involved in this weird stunt or any knowledge of the event, but the McDaniel campaign still seemed to stumble in its response to the question of what it knew and when it knew it about the break-in and the link to Mrs. Cochran.
Viewed from the outside, it seemed as though these events just before Memorial Day, and less than a month before the primary itself, would inure to the benefit of the Cochran camp. The race itself was seen by most outside observers as the Tea Party's last real chance to unseat a targeted Republican incumbent, and the attention of the nursing home scandal seemed like it would undo whatever chance McDaniel may have had. Instead, the intense media scrutiny seems to have served to fire up McDaniel's supporters. While none of the well known national polling firms did any polling in the state prior to Tuesday, several lesser known pollsters did poll the race and showed a contest that was much closer than it had been the last time anyone had bother to take the temperature of Mississippi voters. Last night, after Mississippi voters went to the polls, those polls seemed to be borne out as the McDaniel ended up with a small lead over the six-term Senator, with the race headed for a runoff since neither candidate managed to get above 50% of the vote:
WASHINGTON — There was no clear winner early Wednesday in the most hard-fought Republican Senate primary race this year, with the six-term incumbent Thad Cochran of Mississippi and his Tea Party-backed challenger, State Senator Chris McDaniel, running neck and neck after a night of lead changes.

At 2 a.m., with 99 percent of the vote counted, Mr. Cochran and Mr. McDaniel each had about 49 percent, with a third candidate pulling in less than 2 percent. Campaign officials said it might take until Thursday for final results, given the need to count absentee votes and sort through contested ballots.

Mr. McDaniel sounded confident in an address about 12:30 a.m. "For too long we let them have their way with us," he said. "Tonight in Mississippi, they heard us." At that point, Mr. Cochran had still not made an appearance before his supporters.

The senator's backers were deeply concerned going into the balloting on Tuesday about the possibility of a runoff, fearing that Mr. McDaniel's Tea Party supporters would be more likely to show up at the polls again. Any runoff would be held on June 24.

Conservative hard-liners were hoping that Mr. McDaniel would give them their first major victory over an establishment candidate this year. Senators Lindsey Graham of South Carolina, Lamar Alexander of Tennessee and Pat Roberts of Kansas still face primary opponents, but the challengers in those states are underfunded and little-known. Tea Party-backed candidates have already lost in Kentucky, North Carolina and Georgia.

In Mississippi, though, Republican leaders expressed anxiety even before the polls closed about just how much money and effort Democrats may put behind their Senate candidate, former Representative Travis Childers, should Mr. McDaniel be the Republican nominee. And in Washington, top Republicans planning a runoff strategy will have to consider how aggressively they want to target Mr. McDaniel — a man who could be their standard-bearer in Mississippi in three weeks.
More from Politico:
Mississippi Sen. Thad Cochran appeared to fall short of claiming the GOP nomination for a seventh term Tuesday, sending the longtime incumbent and his tea party challenger stumbling into a costly runoff election and scrambling the general-election landscape in one of the nation's most conservative states.

Already a savagely personal race, the duel between Cochran and activist state Sen. Chris McDaniel could now drag on until the next vote on June 24 and present national Republicans with a dilemma: Whether to continue supporting the senator and tearing down McDaniel at the potential cost of damaging the party's eventual nominee.

Outside groups have already spent more than $8 million in the Republican Senate primary, an extraordinary sum in a small state that rarely hosts competitive federal elections. Cochran and his allies have assailed McDaniel as a bumbling snake-oil salesman and finger-in-the wind opportunist who's out of touch with Mississippi's priorities. McDaniel and his campaign have attacked Cochran's record of voting for federal spending, accused him of being soft on President Barack Obama and raised not-so-veiled questions about the senator's age.

The primary was balanced on a knife's edge in the run-up to June 3, as outside groups continued to plow hundreds of thousands of dollars into ads supporting both candidates. The National Senatorial Committee rushed additional field staff to the state to fill gaps in Cochran's turnout operation.

And Cochran appeared to benefit from a wave of sympathy after a group of pro-McDaniel activists were arrested and charged with a lurid conspiracy to break into a nursing home and take photographs of the senator's wife, Rose Cochran, who suffers from progressive dementia.

All that was not enough to propel Cochran across the finish line. It is now unclear which national groups would continue to spend millions on the runoff, or whether Cochran will continue to enjoy the foursquare support of Mississippi's Republican establishment.

Cochran did not give a speech on election night. His campaign tweeted that the race was a "dead heat," writing: "New campaign starts tomorrow. Three weeks to victory!" In his own election-night remarks, McDaniel expressed confidence that he would emerge as the nominee, "whether it's tomorrow or three weeks from tonight."

"This is a historic moment in this state's history. And because of your hard work, because of your dedication, we sit here tonight leading a 42-year incumbent," McDaniel said.

Cochran backers acknowledged ahead of Tuesday's vote that a runoff would be an alarming prospect, one that would likely force the senator to compete with an even smaller group of voters that skews still further to the right.
As things stand right now, McDaniel leads Cochran by roughly 2,000 votes with 49.6% of the vote. Given the small percentage of the vote that is outstanding, it seems unlikely that he'd be able to get over the 50% mark when all the votes are counted. That means we're headed for a runoff election on June 24th. At first glance at least, it seems as though McDaniel will be the favored candidate here, not only because he came out on top in yesterday's voting but also because he seems to have the more energized voters. It's almost always the case that voter turnout in a runoff election is substantially below the turnout in the election that preceded it, so to the extent that the battle on June 24th will be about getting voters to the polls, it would seem as though McDaniel will have the advantage there. Cochran could still win, of course, but in order to do that he's going to have to find a way to get his voters to the polls, including possibly people who didn't bother to vote yesterday, and he's going to have to run a better campaign than he did leading up to June 3rd.
The possibility of a McDaniel victory in three weeks, of course, has many speculating about whether, however, improbably, Mississippi might become a competitive Senate race this November. Nate Cohn does a pretty good job of downplaying the expectations of Democratic success there, though:
At first glance, President Obama's strong performance in Mississippi, where he lost by just 11.5 percentage points in 2012, might suggest that the state is within striking distance for a strong Democrat against a Republican who may have weak appeal in the general election, like Mr. McDaniel. And Democrats have a potentially strong nominee, the former congressman Travis Childers.

But there is no state more polarized than Mississippi. Eighty percent of voters are black or white evangelical Christian. And the problem for Democrats is that they're on the wrong side of the ledger. In 2012, 50 percent of voters were white evangelical Christians, and they voted 95 percent for Mitt Romney. They form a nearly unbreakable bloc, and they're augmented by the state's deeply conservative non-evangelical white voters. Over all, Mr. Obama barely exceeded 10 percent of white voters, if at all.

The complete absence of persuadable voters was on display in 2008. Then, Democrats believed they had a shot in an exceptional Democratic year, when a former Democratic governor, Ronnie Musgrove, fought for an open seat against Roger Wicker. Yet in defeat, Mr. Musgrove inched only two percentage points ahead of Mr. Obama, to 45 percent of the vote. There just might not be a road to victory for Democrats in Mississippi.

Nor is there a serious third-party challenge to split the G.O.P. vote. The filing deadline was March 1, and the only third-party candidate appears to be Shawn O'Hara, a reform party candidate who runs for office just about every year. He received 1 percent of the vote in the 2012 Senate race. Mr. O'Hara is not exactly positioned to siphon off moderate Republicans: He has said that abortion is like "giving the middle finger to God."h

Mr. Childers is an experienced candidate who even represented northern Mississippi, which is probably where there are the most persuadable voters. But he is not a former governor who has won statewide, like Mr. Musgrove. Mr. McDaniel may be a flawed candidate — he is generally thought to be gaffe prone — but 2014 will not be 2008, a fantastic Democratic year. Mr. Childers probably won't benefit from historic black turnout, either.
It's possible, of course, that McDaniel would have a Todd Akin-like moment that would give Childers an opening, but as Cohn notes, that doesn't seem likely given how the campaign against Cochran has gone. Indeed, if even the blogger/nursing home break-in scandal didn't sink him then it's hard to see what will. This is, after all, Mississippi, a deeply red state if there ever was one. On the other hand, of course, if Cochran wins the runoff then there won't even be a contest worth writing about in the fall. In either case, the next three weeks will be interesting to watch.