Thad Cochran Wins In Mississippi
After appearing to be at the end of his political career, Thad Cochran has pulled off a surprising victory over his Tea Party backed challenger.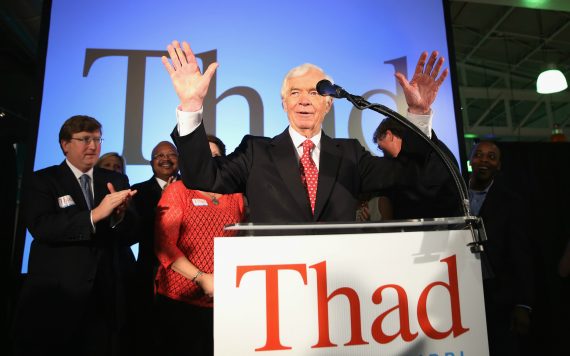 Three weeks ago, it appeared that Thad Cochran was headed for the end of a Senate career that had started when he won election 1978. After a brutal campaign capped off, just weeks before Election Day, by a bizarre story involving a blogger that supported his opponent sneaking into the nursing home where Cochran's wife is living due to dementia as part of some conspiracy involving members of local Tea Party groups, he had come up short against Mississippi State Senator Chris McDaniel, although neither candidate had gotten the 50% of the vote necessary to win outright. Polling since then had shown the race was close, but McDaniel seemed to have the edge and Cochran was pinning his hopes of victory in no small part on convincing Mississippi Democrats who had not voted in their own party's primary to vote for him this time around. As it turned out, though Cochran was able to pull off a stunning victory, and hand Tea Party groups perhaps their most disappointing loss of the 2014 cycle:
JACKSON, Miss. — The question seemed to tug at Senator Thad Cochran throughout his bumpy re-election campaign in Mississippi: Why, after a long, distinguished career — 42 years in Congress, including six terms in the Senate — was he seeking a seventh term?

By all accounts, Mr. Cochran had needed to be talked into running. He told one national publication that he had planned to retire, and another that the first thing he wanted to do after Election Day was take a nap.

And while the snowy-haired, 76-year-old Republican tried to hush whispers that he was not quite as sharp as he had once been, he occasionally gave the impression that he would have been almost as happy sitting on his front porch, sipping sweet tea, as he was campaigning.

Well, that's a good question," Mr. Cochran acknowledged last week after a campaign stop at a general store in Philadelphia, Miss., when asked why he had not retired. "It's a hard call. I served in Washington a long time, and people were just telling me, you know, 'I don't know what we'd do without you.' "

Mr. Cochran, who was first elected to Congress in 1972 on the coattails of President Richard M. Nixon, paused and then added wryly, "Well, they'd do fine without me, but I'm running again."

And run he did. After receiving just 1,400 fewer votes than State Senator Chris McDaniel, 41, in the Republican primary and finding himself in an unexpected runoff, Mr. Cochran threw himself into a heartfelt, if languid, plea for one last trip to Washington.

As the ballots were counted on Tuesday night, The Associated Press reported that Mr. Cochran had edged out Mr. McDaniel. He will face former Representative Travis Childers, a conservative Democrat, in November.

In remarkably short events on the trail — sometimes his speeches did not even last a few minutes — his campaign message seemed to consist of reminding people, over and over, who he was.

He introduced himself to the lunchtime crowd, one by one, at Broad Street Bakery in Jackson ("Hi, I'm Thad Cochran"). He gingerly greeted people at Forrest General Hospital in Hattiesburg ("Hello, everybody, I'm Thad Cochran"). And he politely offered a smile and outstretched hand to the loan-processing officer at Newton County Bank ("Thad Cochran").

"I know who you are!" the bank officer said, with a laugh.

In the end, that may have been enough.
In the end, Cochran's improbably strategy of trying to get Democrats, specifically African-Americans, to vote for him is what seems to have pulled him over the top:
Sen. Thad Cochran's narrow victory over Chris McDaniel in the Mississippi Senate runoff deprives Democrats of their argument that Republicans are beholden to the tea party wing of their party. But it offers them some optimism that African-American voters will show up in healthy numbers for the midterm elections, given that they made the difference in a Republican runoff in a deeply conservative state.

There was clear evidence that Cochran's attempt to boost Democratic African-American turnout paid off in a big way. In Jackson's Hinds County, where two-thirds of the population is black, Cochran won 73 percent of the vote, seven points higher than his performance in the primary. Turnout was up significantly in heavily African-American counties in the Mississippi Delta, like Quitman, Sharkey, Humphrey and Coahoma, where Cochran increased his primary election margins over McDaniel. Over 347,000 voters cast ballots in the runoff, a higher total than in the primary — marking the first time in 30 years that has happened in any Senate race.

"Looking at county data, Cochran's #MSSEN win is almost entirely attributable to a large turnout increase among black voters b/t 6/3 and 6/24," tweeted Cook Political Report analyst David Wasserman.

During the runoff, Cochran made overt appeals to the state's sizable African-American electorate, including several television ads featuring the senator campaigning with black voters. The New York Times reported that the leading pro-Cochran super PAC, Mississippi Conservatives, paid African-American leaders to get out the vote for the senator in the runoff.
Alexander Burns and Andrew Prokop go into the details of how Cochran pulled off this improbably victory, while David Weigel notes that, in the end, this was a big loss for the Tea Party. In the end, though, the national narratives aren't nearly as important to what happened in Mississippi as the simple fact that Cochran, after being outfoxed in a primary that both he and his supporters seemed to be very lackluster about from beginning to end, won the runoff election because he figured out a way to bring people out to the polls to vote for him after six terms in office, and especially to bring out voters who you don't expect to see voting in Republican primaries. Granted, a lot of these people are not likely to vote for other Republicans in November, and they certainly would not have been expected to support McDaniels had he pulled off a victory last night, but that's largely irrelevant. In the end, the candidate who wins elections is the one who convinces voters to come out to the polls. I know it sounds axiomatic, but it's the big truth about politics that ideologues like the people involved in the Tea Party seem to forget sometimes. Under Mississippi law, the primary was open to everyone, including African-American Democrats, and Cochran relied in no small part on the goodwill he had in that community due to his support for the state's African-American colleges and universities to get them to the polls. It worked, and he deserves credit for it.
Instead of giving him credit, though, McDaniel and his supporters are going into sour grapes/sore loser mode. McDaniel refused to concede last night despite the fact that the election returns, which show Cochran with a 6,000 vote lead, seem rather clear on the matter. In the meantime, J. Christian Adams, a conservative attorney who used to work at the Justice Department and his since moved on to a career in conservative punditry, is talking about filing a legal challenge to the results:
The lawyer leading the tea party effort to ensure there is no improper voting in the race for U.S. Senate in Mississippi said he would review reports of poll watchers before announcing the next steps in support of state Sen. Chris McDaniel (R-MS), who was narrowly defeated in the runoff election Tuesday night by Sen. Thad Cochran (R-MS).

"After I read the hundreds of pages of observer reports, I will have more information for you," the attorney, J. Christian Adams, said when asked whether they would challenge election results, according to MSNBC.

Adams is the lead lawyer for the voter integrity initiative a number of tea party groups started for the runoff election and a former Department of Justice official from the Bush administration. Those groups support McDaniel.

Politico reached out to Ken Cuccinelli, president of the Senate Conservatives Fund, one of the conservative outside groups closely supporting McDaniel's candidacy and involved in the voter integrity project. Politico asked Cuccinelli if his group would consider challenging the runoff results in court but Cuccinelli hung up.
The challenge would seem to be based on the fact that Democrats voted in the election, but since this is permitted under Mississippi law, it seems unlikely that there would be any real chance of success here.
Cochran will most assuredly be re-elected in November, so the Republicans can stop worrying about Mississippi potentially being in play this year. What's truly interesting about this race, though, is the fact that, once again, the Tea Party has suffered a defeat in one of its high profile races. Texas, Kentucky, South Carolina, and now Mississippi. All of their challenges to Republican incumbents have failed and, while there are still two races remaining where you're like to hear about Tea Party supporters hoping to depose a Republican, in Tennessee and Kansas, the trend for 2014 is clear. The Tea Party wave has crested.