Mississippi GOP Senate Primary Gets Even More Bizarre
Mississippi goes from bizarre to, well, even more bizarre.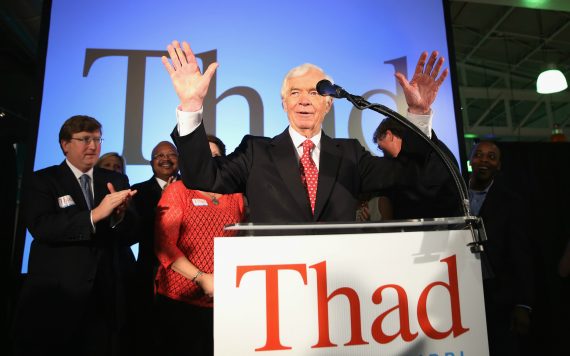 The Republican primary between six term incumbent Senator Thad Cochran and State Senator Chris McDaniel has, without a doubt, been the most bizarre race of this election cycle, and it's a candidate for being one of the most bizarre ever. In the beginning, McDaniel was just a Tea Party backed candidate throwing his hat into the ring for the Senate in a state that the GOP would clearly win in November, in fact it wasn't even clear at the time McDaniel announced that Cochran would be running for re-election. When Cochran confirmed that he was indeed running for a seventh term in the Senate, the race became one of the many "Tea Party v Establishment" battles that we have seen this year, and most outside observers didn't believe that McDaniel had much chance of unseating a man who had become a political institution in the Magnolia State. For the most part, the polling seemed to confirm that, with most polls showing Cochran in the lead and a few unknown pollsters showing the race as being more competitive than it seemed. Since none of the national pollsters spent money on the race, it's clear in retrospect that nobody had any idea what was going on in Mississippi.
Three weeks before the primary, though, things really started to get strange. A few weeks earlier, a video had appeared on the Internet that appeared to show Cochran's wife convalescing in the nursing home where she has been for years due the fact that her dementia makes it impossible for her to live at home. The video was taken down almost immediately, but that wasn't the last of it. On May 16th, a political blogger who was a supporter of McDaniel's, although not tied to the campaign according to any available evidence, was arrested and charged with being the person who had taken and posted the video of Cochran's wife. Within days, three more people, including a prominent local attorney and Vice-Chair of the local Tea Party group, were also arrested. The McDaniel campaign denied any involvement or knowledge of the matter, but questions were raised in the media over what the campaign knew about the arrest and its connection to Cochran's wife before those matters had been made public.
While the legal proceedings remain pending under mid-July, the nursing home matter played a prominent role in the first round of the primary, with both sides trading accusations. In the end, though, Cochran and McDaniel basically fought to a draw, forcing a runoff that occurred last Tuesday. Cochran, of course, won that runoff rather handily and, much to the consternation of McDaniel supporters, he did so in no small part by bringing voters to the polls who don't typically vote in Republican primaries, including African-Americans. In the wake of that victory, McDaniel's supporters have been rather apoplectic even though it is quite apparent that Cochran beat them fair and square, and he did so by the tried and true method of expanding the voting pool.
Rather than conceding defeat, though, McDaniel and his supporters are doubling down. Repeating claims made by bloggers and others, McDaniel is stating publicly that there are "thousands" of voting irregularities. The main claims of irregularities seem to be revolving around people who may have voted in the Democratic Primary in early June voting in the Republican runoff and the fact that there is a provision in the law that states that someone voting in a party primary pledges to support whomever wins the primary in the November election. As to the first claim, there has been no evidence presented that establishes that this occurred, never mind that it occurred in sufficient numbers to impact the outcome of the runoff. Even if those two things could be proven, though, it would be impossible for anyone to determine who those "illegal voters" voted for, or which votes should be invalidated. Mississippi law does not appear to have any provisions for a "do over" election, so McDaniel's only option here would be in court and it seems implausible that he would be able to present sufficient evidence to convince a judge to both overturn the election and declare him the winner. As to the second point, "loyalty oaths" such as the one that the Mississippi are basically meaningless. As I noted when the Virginia GOP tried to impose one during the 2012 primaries, these oaths are completely unenforceable and likely unconstitutional under the First Amendment.
In the end, though, the claims of "improper voting" by McDaniel and his supporters seems to boil down to the simple fact that they cannot handle the fact that African-American voters came out and voted in the GOP Primary. Even before the vote on Tuesday, there were reports circulating that someone allegedly affiliated with Cochran's campaign was distributing leaflets in African-American communities accusing McDaniel of being a racist, but these reports have never been corroborated beyond a single picture of a leaflet that has been shared among Tea Party types on social media. There was a a report that some McDaniel supporters were alleging that African-Americans had been given coupons to Popeye's chicken in exchange for a vote for Cochran, an accusation that is similarly unproven and just dripping with obvious racism. As Ed Kilgore notes in his own review of all these conspiracy theories, even if McDaniel and his supporters don't mean for their complaints to have a racial component to them, that is most certainly how they are coming across, and in a state like Mississippi, which has one of the largest African-American populations by percentage of any state, that's playing with fire.
But the post-election whining from McDaniel and his supporters isn't even the beginning of how weird this election has become.
Yesterday morning, news broke that Mark Mayfield, a well-known Jackson, MS attorney, Tea Party leader, and McDaniel supporter had committed suicide in his home. Mayfield was on of the three men arrested in late May on charges related to the break-on at the nursing home where Thad Cochran's wife lives, and while there's absolutely no evidence that his suicide was connected to either that or the election it did not take long for things to head in that direction. One McDaniel campaign staffer laid the blame for Mayfield's suicide on national Republicans who had supported Cochran, and Dana Loesch, a radio host popular among Tea Party folks nationwide, passed on that claim by saying that  the National Republican Senatorial Committee "had blood on its hands." All of this comes before anyone even knows why Mayfield killed himself, and during which the only appropriate response should be sympathy for his family and friends.
In the end, it still seems to me that all of this will amount to very little. As Tom Dougherty noted in a post yesterday, the math simply does not support a plausible McDaniel argument for overturning the election results. Mississippi law precludes McDaniel from mounting the write-in campaign, something that Tea Party groups have urged since the loss became official. And, the hopes of Democrats notwithstanding, the odds that Democratic nominee Travis Childers could actually beat Cochran in November are fairly low. At the same time, though, the at times utterly insane manner in which McDaniel and many Tea Party groups and supporters have reacted since the polls closed on Tuesday night makes me wonder if we might just not see national implications from all this, especially if, as expected, the Tea Party loses its last two efforts to unseat Republican incumbents in Tennessee and Kansas. Whatever happens in those cases, there's simply no way they could ever become as bizarre as what we've seen in Mississippi. This is one for the history books, folks