Cory Booker Wins New Jersey Senate Race
Mayor Booker is now Senator-Elect Booker.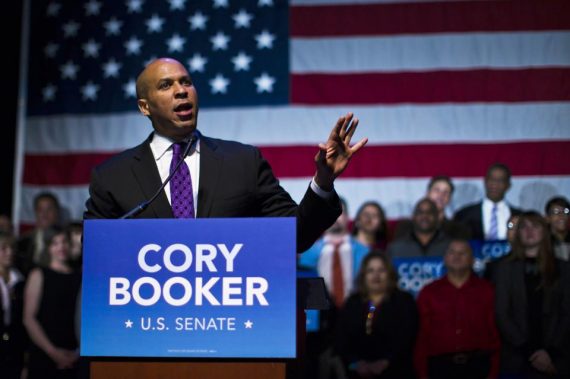 To no real surprise, Newark Mayor Cory Booker pulled off a win in the Special Election to replace Frank Lautenberg in the United States Senate:
Mayor Cory A. Booker of Newark easily won New Jersey's special Senate election on Wednesday, finally rising to an office that measures up to his national profile.

He will arrive in Washington already one of the country's most prominent Democrats, and its best-known black politician other than President Obama, who backed him aggressively. Mr. Booker's fund-raising prowess puts him on course to lead his party's campaign efforts in the Senate, and he has been mentioned as a possible vice-presidential pick for 2016.

With 99 percent of the precincts reporting, Mr. Booker had 55 percent of the vote to 44 percent for Steve Lonegan, a Republican former mayor of Bogota, N.J., and state director of the conservative group Americans for Prosperity, according to The Associated Press. Still, the campaign gave a wider audience to certain facets of Mr. Booker that long ago began to prompt eye-rolling among his constituents.

With a Twitter following six times as large as the city he has led, Mr. Booker was known outside Newark largely for his appearances on late-night television and his heroics: rescuing a neighbor from a burning building, shoveling out snowbound cars, living on a food stamp diet.

The campaign gave him less flattering national attention for his Twitter exchanges with a dancer in a vegan strip club, and renewed old questions about whether he embellished an oft-told story about a moving encounter with a drug dealer, who may or may not have existed (Mr. Booker called him "an archetype"). He had to resign from a media company that Silicon Valley investors had paid him millions to start — but not before the resignation of the 15-year-old son of a television executive, whom Mr. Booker had put on the company's board.

Having started his political career by moving into a Newark housing project, Mr. Booker spent the final days before his Senate election beating back stories in the conservative news media that he did not actually live in the city; the fact that this story could catch hold at all suggested the level of suspicion aimed at the mayor in the city where he began his rise. And he had to call off campaign events during a nearly two-week spree of murders in Newark this summer, underscoring the layoffs of police officers during his tenure, and a complaint that has long made him bristle: that he is a better orator than manager.

Polls suggested this took a toll. In a Rutgers-Eagleton Institute survey a week before the election, Mr. Booker had a positive rating among 54 percent of likely voters, but that had dropped nine points from early September. His unfavorable ratings had nearly doubled, to 32 percent. A third of likely voters said his career had been more about self-promotion than improving Newark, which is the state's largest city.

At the New Jersey Performing Arts Center in Newark on Wednesday night, a festive crowd of about 150 people shook blue and white pompoms to Bon Jovi songs as they waited for Mr. Booker to arrive.

Thanking supporters, Mr. Booker returned to many of the lines he used to open his campaign in June, promising to bring a new kind of politics to Washington.

"Too many people are forgetting that the lines that divide us are nothing compared to the ties that bind us," he said. "It forgets that old saying, 'If you want to go fast, go alone; if you want to go far, go together.' "

Conceding the race before a crowd of a few hundred supporters at a banquet hall in Bridgewater, N.J., Mr. Lonegan called the race a victory, even in defeat, and thanked the prominent conservatives who had come to the state to campaign for him, including Rand Paul and Sarah Palin.

"We came well closer to winning this election than anyone ever expected," Mr. Lonegan said to loud cheers. "The big Washington power groups and consultants said we couldn't win. Well, maybe if they had played a role in this election, we would have won."
The final results, which showed a 10.3% gap between Booker and Lonegan ended up being slightly closer than the 13.8% polling average that RealClearPolitics had at the end of the race, and far below the 20+ point gap that we saw in polling at the start of the race. As the linked article notes, and as I noted in a previous post, this can be attributed to both the natural tightening of the race and the fact that Booker did stumble a few times during the course of this race, which perhaps isn't surprising considering that this was the first campaign he ran outside of the City of Newark and New Jersey politics can be, well, a bit rough-and-tumble. Other factors that likely played into the lower than expected margin of victory include the fact that voter turnout was 23.8%, actually pretty respectable for a Wednesday in October but nowhere near normal turnout for non-Presidential year election in New Jersey, and the interesting fact that Booker's campaign spent less than $1,000,000 on television, which is actually a pretty extraordinarily low number for a state that is served by two of the most expensive media markets in the country. To put things in perspective, three days ago we learned that Booker had out-raised Lonegan in the third quarter $11.2 million to $1.35 million. Had he wanted to, Booker could've flooded both New York and Philadelphia airwaves with ads. The fact that he didn't strikes me as both a measure how assured the campaign was of victory, and a desire to bank at least some of this money for the next election, which for Booker is less than 13 months away in November 2014.
Booker will be only the 9th African-American to serve in the United States Senate, and only the 4th to have been popularly elected.1  He will also be among the ten youngest members of the Senate, in a seat that he could hold for quite some time into the future if he so desires. No doubt, he will be among the most closely watched new Senators in quite some time. It's going to be quite a change, though, going from a job as Mayor of the most populous city in New Jersey where he was very hands-on and very communicative on social media to being just one among 100 Senators, and one of the lowest guys on the totem pole at that. There will be plenty of speculation about this future national political career, obviously, although it seems as though Booker himself is doing as much as possible to knock back that speculation at the moment. Indeed, he's likely to keep his head down a bit at the start, especially since he has an election campaign to worry about in just about thirteen months, although to be honest I don't think he's going to have to worry about the result in that race all that much.
1 Of the remaining five, two were appointed by the Mississippi State Legislature during Reconstruction under the pre-17th Amendment method for selecting Senators and three, including current South Carolina Senator Tim Scott were appointed to fill out an unexpired term.