Cory Booker Rocking Political Boats In New Jersey
Cory Booker's decision to explore a run for the U.S. Senate has upset the powers-that-be in New Jersey Democratic politics.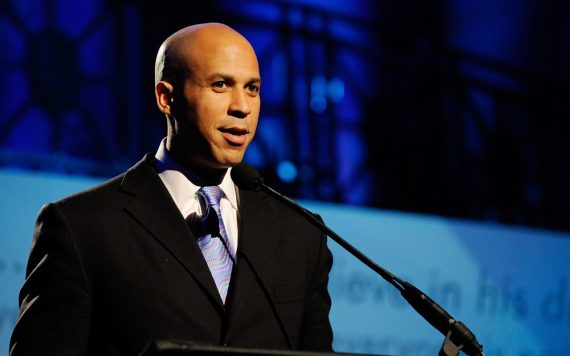 Newark Mayor Cory Booker's decision to explore a bid for Senate in 2014 isn't sitting well with some of the powers that be in the New Jersey Democratic Party apparently:
Cory Booker may be "America's favorite mayor," but in New Jersey, his fast rise and transparent ambition has rankled many establishment Democrats, who suggest he's putting himself above his state party.

The Newark Mayor's December announcement that he'd "consider" a Senate bid in 2014 — a decision that followed a long, public deliberation played out on Sunday shows and cable news — may have served to raise his national profile. But Democratic insiders complain that it upended the state's political landscape, making Republican Governor Chris Christie, without Booker challenging him, a virtual lock to win re-election, and setting in motion an intra-party war that has the state choosing sides between Booker and the 88-year-old incumbent Senator Frank Lautenberg.

Technically, Booker says the Senate bid is only a possibility, but N.J.'s political class knows better.

By the morning of Booker's video announcement, the call to supporters was already out and a political action committee was poised to send an e-mail blastto 75,000 potential Booker-for-Senate donors — "Cory Booker is running for Senate," the email said. The group, PAC Plus, now plans to contact 500,000 supporters over the next month, with a goal of raising $100,000 for Booker by June, director Steve Phillips told BuzzFeed.

The Senate run that Booker said he would "explore" — a "possibility," he called it in his announcement video — was in high-gear from day one.

As a N.J. Democratic official put it, "Booker is running — that's the bottom line."

"No one in the state ever thought he was running for governor," said the official. "That was all bullshit. Christie owns him, but he was really being pushed by other power brokers in the state who are much more concerned about the down-ballot effect of what could potentially be a slaughter in 2013."

Even before Booker said he wouldn't challenge Christie for the governorship, the chances of any Democrat taking on the incumbent seemed grim. The governor's approval ratings went as high as 77 percent after Hurricane Sandy
It doesn't surprise me that there might be some resentment or anger among New Jersey Democrats over Booker's decision not to take on Christie this year. Even before Sandy hit, Christie's approval ratings were among the highest in the nation for Republican Governors (now they are the highest for any Governor in the nation), and polls of hypothetical 2013 candidate showed Booker as being the only Democrat that even came close to being in a position to realistically take him on. Part of that, of course, was due to Booker's name recognition, his well-publicized heroic exploits, and the fact that he may well be the most Twitter-adept politician in the nation in a way that actually benefits his constituents. It was fairly obvious for most of 2012 that New Jersey Democrats wanted Booker to run and he was no doubt subjected to much lobbying by the powers-that-be in the state. Now that he's turned them down and Christie seems pretty much assured of re-election, New Jersey Democrats are visibly worried about the possibility of the down ballot impact of a big Christie win. Even if it doesn't result in the GOP picking up one, or more, of the houses of the State Legislature, a loss of seats in either or both branches would significantly increase Christie's influence in his second term. .
The decision not to run for Governor, though, appears to be only one aspect of the manner in which Booker has annoyed some of his fellow Democrats. There also appear to be some pretty massive egos involved:
The party is also faced with the uncomfortable dynamic Booker's Senate race has created surrounding Sen. Frank Lautenberg, one of the most respected, storied figures in the state's political history, who also happens to be 88 years old and hell bent on staying in office — or at least retiring on his own terms.

Although Lautenberg would be 90 years old in 2014, running a re-election bid for a six-year term, he has not publicly indicated even the impression that he wants to retire.

Lautenberg did retire once before in 2001, but he was asked a year later to unseat an incumbent candidate, Sen. Bob Torriecelli, after he was charged with federal corruption. But Lautenberg's respite from office was a decision he is saidto have regretted within minutes of making.

Although Lautenberg's office received advance warning of Booker's announcement, a N.J. Democrat said, the Senator was offended that his retirement should be anyone's decision but his own.

Booker chose his words on the subject carefully in the video announcing his Senate run. "I forward to consulting with Senator Frank Lautenberg," said Booker, adding that "it would be a privilege and honor to continue his legacy of service."

Booker also tweeted hours later that Lautenberg "has served NJ well. Right now I'm going to talk with him," he wrote.
But Booker wasn't waiting around for Lautenberg to make up his mind. The mayor was already on Twitter, rallying the troops. "So happy to hear of your plans to run for US Senate," said one supporter. Booker's response — "Thanks! Please register at corybooker.com." Another supporter, on the day of Booker's announcement: "Caught up on the news of today. Cory Booker has my vote." The response from Booker again — "Please register your email at corybooker.com." Ten more such tweets exist on Booker's feed.

A day after the announcement, Booker told NBC Channel 4 that he personally had "not been able to connect with the Senator." That same day on NJTV, when asked about a potential primary race against Lautenberg, Booker responded, "That hypothetical question is inappropriate right now. Let me afford him the respect of hearing what his thoughts are and what he wants to do. He hasn't commented on that yet."
Lautenberg will be 90 years old, indeed nearly 91 years old, on Election Day 2014, and he would be nearly 97 by the time that term would send in January, 2021. He missed a good part of the last part of the just-concluded lame duck session of Congress because he was sick with the flu. There's been open speculation for the better part of the past year that he likely would not run for re-election in 2014, but he's never been clear on that. If he did decided to run again in 2014, would the young energetic Booker take on the well-connected geriatric Senator? If he did, it would be a huge political risk on Booker's part because a loss in a primary would be a substantial setback to his political career. At the same time, though, it's worth remembering that Lautenberg began his political career in 1982 by running for an open Senate seat in 1982 against long time New Jersey Congresswoman Millicent Fenwick. At the time, Lautenberg was 58 and Fenwick was 72. During that election, Fenwick's age was a none-too-subtle theme of Launteberg's campaign. If the tables were to be turned on him in 2014, it would be, in some sense, a bit of poetic justice.
As for Booker, the man has his critics outside of those Democrats in the Garden State who seem to be upset with the fact that he isn't waiting his turn. Some say that he's more concerned with his own image than the good of his community and that he's governed Newark with an overly broad assertion of Executive authority. There's no doubt that Booker is a media star, and likely to continue to be one for some time, but one also cannot deny the fact that, under his leadership, Newark has improved significantly from the era when it was ruled by a succession of Mayors brought down on corruption charges. Whether the skills he's displayed in Newark can be translated to the national scene is something we'll have to wait to see. However, if he turns over a few tables of the entrenched politicos in a state full of politicians who have been in power for far too long, then maybe that's a good thing.