The GOP Has Already Given Up On The New Jersey Senate Race
There is only one serious candidate in the race for Frank Lautenberg's old Senate seat, and he's got pretty much no chance of winning the election.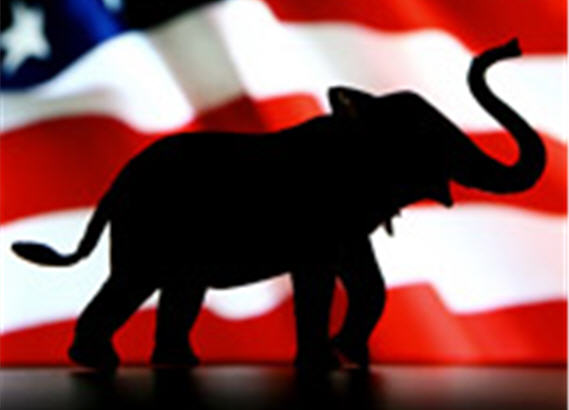 The deadline for candidates to enter the Republican (and Democratic) primary for the Special Election to fill Frank Lautenberg's Senate seat expires at 4pm today, the deadline for all candidates to have their nominating petitions, 1,000 valid signatures of registered voters at the Secretary of State's office in Trenton. So far, it looks like there will only be one serious Republican candidate in the race:
While Democrats have a crowded primary for New Jersey's open seat in the U.S. Senate, the Republicans already have a presumptive nominee — and he's kind of a clown.

Meet Steve Lonegan, chairman of the New Jersey chapter of the tea party group Americans for Prosperity. Lonegan was a three-term mayor of Bogota, a town of 8,000 people in Bergen County. And he's a longtime party gadfly, having twice unsuccessfully sought the Republican nomination for Goveror and also lost races for Congress and state Senate.

Lonegan is 30 points behind Newark Mayor Cory Booker, the most likely Democratic nominee, in the first poll of the race. And Lonegan's tendency to alienate voters make him unlikely to improve that margin much.

Lonegan's website has a banner that says "conservative Republican victory" and touts his intention to "fight Obama's agenda in the U.S. Senate." That sort of message works in Texas, but President Obama has a 12-point net-positive job approval rating in New Jersey. It's the sort of place where hugging the president is often a sound political move even (or especially) if you are a Republican.

(…)

Lonegan is going to be an embarrassing candidate for the Republican party. So how is he becoming the nominee? Because while an unfiltered, archconservative Republican like Lonegan can't win a Senate race, neither can the moderates that the party usually nominates.

The last Republican to win a Senate race in New Jersey was Clifford Case, a moderate, in 1972. New Jersey is a blue state and it wants Democrats in the senate.
Lonegan, of course, is not a moderate. He didn't govern like one when he was Mayor of Bogota. He didn't campaign like one when he ran against Chris Christie for the GOP nomination for Governor in 2009, a race he lost by 12 points, and he hasn't put forward that kind of image in the time since then as one of the loudest voices in New Jersey's version of the Tea Party. He is, however, going to be the Republican nominee largely because other candidates, including moderates like Tom Kean Jr. who would clearly do a better job of appealing to voters in a General Election, decided not to run this time around. Kean Jr. had run for Senate before, losing to Bob Menendez in 2006, and likely shied away from the race because he didn't want to enter a race that no Republican is likely to win.
Lonegan's supporters, of course, will likely say good riddance to Kean and the other Republicans who bowed out of the race. After all, this gives them the chance to nominate the "true conservative they've always wanted in a statewide race. The only problem is, nominating "true conservatives has not historically been the path to victory in the Garden State, and that's a history that stretches back nearly 40 years:
[T]he claim that what New Jerseyans want is a "true conservative" is nonsense. The last time conservatives got their way on a statewide nomination in New Jersey was 2001, when Jersey City Mayor Bret Schundler beat the establishment Republican candidate for the gubernatorial nomination. Schundler got creamed, losing the general election by 15 points.

And in 1978, conservatives deprived the Republican party of its last New Jersey Senate seat by denying renomination to then-Senator Case. The conservative who beat him in the primary, Jeffrey Bell, lost the general election to Bill Bradley by 12 points, even though 1978 was a good year for Republican senate candidates nationally. The only Republican who ever came close to beating Bradley was Christie Whitman, a moderate.

To the extent New Jersey voters ever like Republican candidates, they like them like Chris Christie: protective of taxpayer interests and resistant to the upward rise of New Jersey's sky-high taxes, but pragmatic and willing to make compromises with Democrats. That's not Steve Lonegan. But at least his crushing defeat will provide a useful reminder that lurching farther away from the median voter is not the way to improve your party's brand.
I doubt Republicans will learn that lesson, though. Instead, they'll blame the loss on Chris Christie not setting the Special Election for 2014, an argument that ignores the fact that Jersey Democrats had already threatened to file a lawsuit if that happened, a lawsuit that Christie very well could have lost. But that's the standard Republican way these days, blame everyone but yourself for your failures.
And, yes, I fully expect to have this post quoted back to me if, somehow, Lonegan manages to win. Given the current circumstances, though, I'd put the odds of that happening at something less than 10%.