Who's Responsible For Syria Boondoggle?
Raymond Pritchett longs for the good old days of Tom Donilan, Hillary Clinton, and Leon Panetta.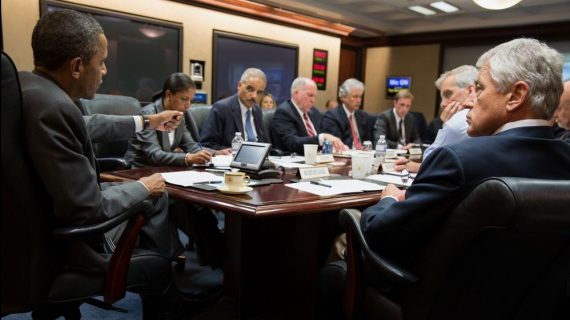 Raymond Pritchett and I agree that the proposed strikes in Syria make no strategic sense. But, whereas I chalk it up to "doing something" while minimizing the costs of doing so, he's furious about the leadership failures.
[T]here is no question the reaction so far by the White House to the events in Syria have been mismanaged by national security leadership. It is impossible for me to imagine Tom Donilan, Hillary Clinton, and Leon Panetta allowing this situation to unfold like what we have seen this week with Susan Rice, John Kerry, and Chuck Hagel. It is also impossible for me to believe that Donilan would ever go along with a plan like this.

[…]

Only someone as strategically inept as Susan Rice would think this is a good idea. Democrats have defended Susan Rice when the evidence has been overwhelming she really isn't qualified to be top National Security advisor, and her inexperience outside her foggy bubble is on parade right now. Partisans in the US keep making the same mistakes. They get caught up listening to what their political opponents say and don't pay enough attention to what the career oriented professionals say. The line of non-partisan career national security professionals who have deep respect for Susan Rice for her intellectual capacity of national security affairs is very short, and today may be invisible.

[…]

[T]he number of things that can go wrong, in my opinion, greatly exceed the number of things that can go right. Susan Rice does not give me any confidence at all this will end well for core US national interests. With everything going on surrounding Syria this week, my faith in process and execution is solely with the professionals in the military who are on the front lines. Unless there is a brilliant plan that nobody has leaked, which is unlikely given the number of leaks we are seeing right now, my sense is this will come down to the individuals on the front line to make something useful out of the rotten pile of nonsense they are being handed by the administration.

And I hope no one forgets the policy with strategic "ends" defined as "bombing Syria" is taking place on General Dempsey's watch. Wake me up if that guy ever steps up, because the only thing every new challenge facing the military does is make me miss Admiral Mullen's leadership as the CJCS that much more.
While I'm by no means Susan Rice's biggest fan, she's certainly qualified to serve as National Security Advisor. She's an incredibly bright and talented woman who has spent more than two decades, going back to her Oxford dissertation, studying and working policy on intervention issues. She's not an expert on military planning but, then, that's not the NSA's job and many of her predecessors have lacked that expertise.
My criticism of Rice is the same as I have for this particular policy: placing too much emphasis on international legal theory and too little on the practical implications. While sending a consistent message is ideal in theory, in practice international security policy must be inconsistent because the costs, benefits, and risks of each situation vary considerably.
Rice and Kerry were brought into the team with Syria as a known problem and their pro-intervention views were well known. (Ditto UN Ambassador Samantha Power.) The president clearly knew what he was getting here.
Hagel is almost certainly, like Bob Gates during the run-up to action in Libya, a voice of caution inside the private conversations at the National Security Council and the White House. He'd almost certainly resign in protest if the president were ordering a serious invasion.
Dempsey, once given the opening by Congress, could not have been more outspoken against intervention in Syria, both because the costs of achieving our strategic goals are too high and because the force can't sustain another war right now. He's been overridden, although just barely–a token strike to save face after the red line bluff was called. I suppose Dempsey could resign but that seems unwarranted here given the stakes.
The bottom line here is that, while I believe the policy here to be wrongheaded, the president has been given advice by competent professionals and weighed the alternatives with eyes open. He has, after all, resisted intervention—which is surely his gut impulse given the scope of the bloodshed—for more than two years given the lack of good options. But he's backed himself into a corner with his "red line" rhetoric and clearly believes doing nothing here is worse than doing something ineffectual. And, yes, I believe he's fully aware that these strikes will be ineffectual.