When Should Generals Resign in Protest?
Elected representatives, not soldiers, make policy. But there are times when generals should make a stand.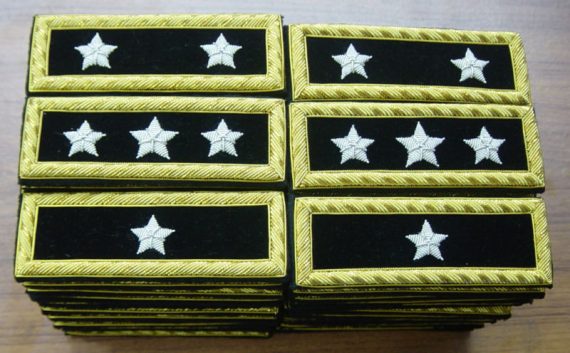 Guesting at Tom Ricks' Best Defense blog, retired Marine Colonel Gary Anderson suggests that the Chairman of the Joint Chiefs of Staff, Army General Martin Dempsey, ought to threaten to resign his post because "the Obama strategy for dealing with the self-proclaimed Islamic State is doomed to fail as currently structured." Given that Dempsey's public comments have hinted that he agrees with Anderson's strategic assessment, "The threat of a resignation itself might cause the president to reconsider his ill-advised action in taking American troops in a ground role off the table." Further, Anderson argues, "Rather than be remembered as the failed implementer of a strategy that he knew to be fatally flawed, Dempsey would be an example to generations of future West Point cadets as a soldier who put honor and professionalism above career concerns."
While I fully concur with Anderson that the president's plan, as currently outlined, will fail to achieve its ostensible objective to "degrade, and ultimately destroy, ISIL" and believe Dempsey agrees as well, that's not grounds to offer his resignation.
The people's elected representatives, not its generals, set American national security policy. Dempsey's role is to offer his best military advice to the president and Congress. It's their responsibility to weigh competing risks and decide the resources to allocate. The president has decided, and by their silence Congress has acquiesced to his decision, that the threat posed by the Islamic State is high enough to demand military action but not so high as to risk American ground troops.  Instead, he's hoping that regional forces will miraculously serve as the ground combat element.
As it happens, the president and the American people are on the same sheet of music. In the latest polling, 73% support air strikes against ISIS while only 38% support sending in American ground troops. While I think they're wrong, some 62% are at least somewhat confident that the plan will succeed.
While Dempsey has given every indication that he, too, is skeptical that we'll achieve the president's objectives without an American ground presence, I haven't the foggiest idea whether he believes the objective is worth risking the lives American ground forces. Even if he does, however, he's simply being overruled by his commander-in-chief on a policy decision.
There are occasions when officers should at least strongly considering resigning over principle when their recommendations are overruled. Most obviously, these occur when they believe following their orders will greatly endanger the nation, waste the lives of the troops under their charge, or believe the orders to be illegal or immoral.
The case for resignation would be much stronger if the situation were reversed. That is, if the president were ordering a large contingent of American ground forces off to war and Dempsey strongly believed that the risks would be in vain, then Anderson's suggestion of "slap[ping] his four stars on the table and tell[ing] the president to find somebody else to pitch the next inning" would be much more compelling.
Likewise, if Dempsey believed that failing to immediately send American ground troops in to defeat ISIS would put American citizens in grave jeopardy, then a grand gesture would be warranted. But I know no one credible who's making that argument and, certainly, Dempsey has given no hint that he thinks that.
Finally, it's possible to construct an argument that, given ISIS' nesting among a noncombatant population, that attacking them via a massive air campaign is in violation of the laws of war. But, again, I have no reason to think Dempsey believes that.
Absent those motivations, threatening to resign in hopes of forcing the president's hand or actually resigning to take the case public would stand the role of the general on its head, signaling that their policy preferences, not those of the elected commander-in-chief, should prevail.
Nor would Dempsey's resignation somehow signal putting " honor and professionalism above career concerns." He is, after all, at the pinnacle of his profession; there is no higher military post to which to aspire. Nor would he be putting anything at risk. He's a four-star general with forty years of service; he's eligible to retire at that grade and receive 100% of his base pay for life.
My guess is that Dempsey gave little or no serious consideration to handing in his stars, whatever his disagreements over the policy he's being directed to help implement. Instead, he's going to work every day giving his best military advice to the president and doing everything he can to shape the decisions to best serve the national security interests of the nation and implement the commander-in-chiefs policy in the most effective way possible while minimizing the risks to the men in women in our armed services. He can't do any of that from the retired list.