Condoleeza Rice, New Political Star?
Condoleeza Rice's first trip onto the political stage was very successful last night. Where will she go from here?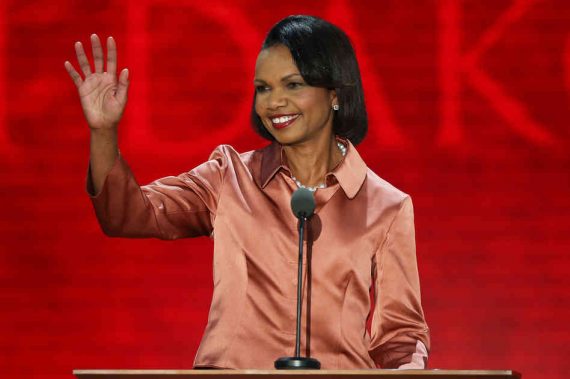 Condoleeza Rice's speech to the Republican National Convention last night, which she delivered entirely from notes without use of a teleprompter, has been among the most well-received speeches of the entire convention so far. That's not entirely surprising given the fact that Rice has been someone Republicans have had their eye on even since she served in a relatively minor role on President George H.W. Bush's National Security Council. When the Republicans returned to the White House in 2001, she seemed a natural choice for National Security Adviser and then, when Colin Powell retired, Secretary of State. Ever since she returned to the academic world, there has been speculation about a political career for Rice, with many Republicans hoping she would run for office in her home state of California, or even for President. When the Veepstakes was in full gear, there were rumors floating that Rice was on the final version of Mitt Romney's short list. Last night, she used the time the RNC had granted her to deliver a speech that the delegates in the hall clearly enjoyed immensely:
Condoleezza Rice added a dollop of star power to the evening's proceedings with a call to tell the world "where America stands" that mixed the exceptionalism rhetoric of the Bush administration, some soaring reminders of the country's immigrant past and civil rights obligations, an academic lecture about trade agreements and a reminder about the obligations of leadership.

Almost as an aside, she assured cheering delegates that Mitt Romney and Paul Ryan have the answers.

Many of Rice's themes echoed the red meat offered by Sen. John McCain (R-Ariz.) two hours earlier — the need for U.S. strength in an uncertain and dangerous world — but delivered more as a policy speech than a political rallying cry. Without mentioning the incumbent president, his policies or perceived failings, she warned that "we cannot be reluctant to lead, and you cannot lead from behind."

Delegates stopped roaming the aisles and chatting with their neighbors to pay attention as Rice brought them to their feet with lines such as, "We must work for an open global economy and pursue free and fair trade to grow our exports and our influence abroad." In the past three years, she told them, the United States had ratified only three trade agreements, while China had signed 15.

Parts of her speech were reminiscent more of Obama than of Romney. "The essence of America-that which really unites us-is not ethnicity, or nationality or religion," she said, "it is an idea, and what an idea it is: That you can come from humble circumstances and do great things. That it doesn't matter where you came from, but where you are going."

Education, she said, "is the civil rights struggle of our day." Immigration laws should "protect our borders" and "meet our economic needs," but should also "show that we are a compassionate people."

Rice was eloquent on the burdens of leadership and the need to pay attention to the rest of the world at a time of deep domestic concern. "I know that it has not always been easy, but it has been rewarding to speak up for those who would otherwise be without a voice —  the religious dissident in China, the democracy advocate in Venezuela, the political prisoner in Iran. It has been hard to muster the resources to support fledgling democracies, or to help the world's most desperate." She spoke of war weariness, that "it feels that we have carried these burdens long enough."

But, she said, "we do not have a choice."
There's much to criticize in Rice's speech last night, of course. A good deal of what she was talking about essentially called for a return to Bush Administration policies that everyone who isn't a diehard Republican have pretty much rejected. Moreover, when asked yesterday morning to name a foreign policy failure by the Obama Administration, Rice was unable to do so:
O'DONNELL: Can you be specific about somewhere where you think President Obama has failed on foreign policy.

RICE: What we should do tonight, is talk about what a President Romney would mean for America. It's not a time to look back, it's a time to look forward. We have real challenges out there, in the Middle East, in Asia, in Europe, with our allies.

O'DONNELL: But if President Obama isn't doing anything wrong, then why change things?

RICE: It's a question of what a President Romney would do and there is no doubt that the United States' voice has been muted and when the United States' voice is muted the world is a more dangerous place.

O'DONNELL: How is the United States' voice muted?

RICE: Just look at the situation in Syria for instance. We have a circumstance in which Assad is butchering his people. The Iranians are helping him to do so. The United States seems to be mired in the Security Council. The Russians and the Chinese say no, no, no and we don't have an answer. When that is the case, it's a dangerous place. …

O'DONNELL: But I think the president agrees with that as well. Having covered the White House, the question is whether … a President Romney would be willing to advocate and commit American troops, American lives, in a place like Syria right now.
I would submit, though, that looking to a convention speech to be a dissertation on specific policy proposals, either on foreign policy or any other topic, is a mistake. The primary purpose of a convention speech is to set the tone for a campaign, and to address the party faithful. In that regard, Rice did exactly what the RNC asked of her last night.
The Fix's Aaron Blake contends that, with this speech, Rice has made herself a new GOP political star:
 TAMPA — The next time Republicans are searching for a presidential candidate, rest assured: Condoleezza Rice will be a part of that conversation.

Rice's speech Wednesday night at the Republican National Convention was easily the best-reviewed of the week so far and, at times, even seemed to out-hype vice presidential nominee Paul Ryan's keynote remarks.

The former secretary of state used her time on stage to deliver a speech that was at times wonky, at times red meat for the base, and at times personal reflection. It was good without being gimmicky — a trap other GOP speakers seemed to fall into.

Through it all, the audience was rapt.

(…)

The question from here is whether she actually wants to be president — or serve in some other elected position (senator from California, perhaps?).

Rice has made a significant effort to stay in the political game in recent months, and there is clearly a place for her there. A recent Fox News poll in advance of Ryan's selection as vice president showed that Rice was the No. 1 choice for the job, with 30 percent of Republicans picking her, well ahead of Ryan and even Sen. Marco Rubio (R-Fla.).

Much of that could be attributed to the fact that she had higher name ID than the likes of Ryan and Rubio, but it shouldn't be discounted as a reflection of enthusiasm for her role in the party.

As we've written several times, there were plenty of reasons she wasn't the V.P. pick this time — not least the fact that she has expressed some pro-abortion rights tendencies and may or may not have voted for President Obama in 2008. Oh, and there's also the matter of her having served as a close adviser to Bush, who Republicans would still like to pretend doesn't exist. Rice was deeply involved in the Bush administration's foreign policy, which even many Republicans now balk at.

But time heals wounds, and parties (and politicians) evolve. The fact is, if Rice wants to run in 2016 or 2020, abortion may not be as huge a hurdle as it once was. And by that time, Rice will only be in her low-to-mid-60s, and Bush and Obama could be a relatively distant memory.

One thing's for sure: the Republican base already liked Rice a lot even before Wednesday night. And on Thursday, they are going to like her even more.

The speech she gave is the kind that keeps politicians in the national dialogue for years to come. It wasn't on the same level as President Obama's 2004 Democratic convention keynote  — which effectively stamped his ticket for the 2008 race — but it's along the same lines.
As Blake notes, in the past Rice has demurred from taking on a political role of any kind. During the Bush Administration, of course, this was due to the non-political nature of the jobs that she held. Even after 2008, though, she declined to step into the political ring at a time when, notwithstanding the sour reputation of the Bush Administration as a whole, she likely could've run for any office she wanted to and the GOP base would've rallied behind her. When the talk about her possibly becoming Romney's running mate came up last month, she dismissed the talk and indeed dismissed the idea that she would ever have any role in electoral politics. Yet, there's no denying that Rice has taken on a more political role even while denying any interest in running for office. Several months ago, she ended up being the star attraction at a private Romney fundraiser by delivering a speech that impressed pretty much everyone in attendance, including the candidate. Now, she's given a speech before the Republican National Convention that, while not a direct attack on the President, was certainly partisan and political in nature. If Rice truly didn't want any role in politics, she wouldn't have accepted the invitations, I submit.
This doesn't mean that Rice is interested in running for office. One can have a political role outside of elected office, and Rice has said in interviews several times this week that she is especially interested in engaging the public in more discussion of issues like education, which she calls the civil rights issue of the modern era. However, if she does have that desire in her, it seems fairly clear to me that there are plenty of Republicans who would welcome her into the arena. The interesting thing, though, would be how many of them would react to the fact that she has expressed views on some issues that conflict with where the majority of Republicans stand. She's said repeatedly, for example, that she considers herself pro-choice on the issue of abortion, she's spoken positively about at least granting gays and lesbians the right to enter into civil unions, and she's firmly in the Jeb Bush camp on the issue of immigration. Much like Colin Powell, it may be that her star power in the GOP will fade if she starts speaking out more on these types of controversial issues in a manner that deviates from where the base of the party stands. That's a matter for the future, but for the moment at least Rice clearly made some fans inside the GOP last night. Where she chooses to go from there is something she'll have to decide.