Why Are We in Afghanistan?
Regular readers know that I've long thought we've achieved all we're going to in Afghanistan. But that doesn't mean that our presence is therefore motivated by secret motives.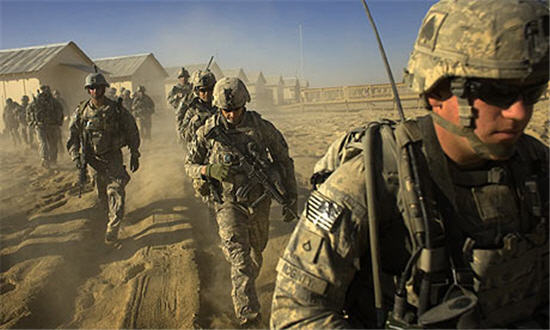 Anatol Lieven, the eminent journalist and now professor at the King's College Department of War Studies, has a very dark assessment of NATO's operation in Afghanistan, which he shares in a very long book review essay at Current Intelligence. I respond at New Atlanticist with a piece called "NATO in Afghanistan: Perception and Reality."
In response to the notion that the Brits are there out of a combination of loyalty to the United States, rent seeking behavior, and an effort to regain their lost martial honor:
Do the soldiers and marines doing the fighting and dying there want their sacrifice to count for something?   And do their leaders wish to avoid the psychic costs of failure for reasons aside from Realist calculations of the national interest?   Are politicians cynically exploiting the debate for partisan advantage?  Of course.   But these aren't the reasons we're there but rather consequences of our presence.

The Brits are fighting in Afghanistan for the same reason we are:  it was the country from which the 9/11 attacks where supported and they assess the risks of allowing the Taliban back in power to be quite high.   Additionally, various actors within our societies — and those of the other Allies — have varying level of commitments to democratization, women's rights, development, and other humanitarian agendas.

As regular readers are by now perhaps tired of hearing, I've become skeptical of our ability to achieve these aims.    Most signs point to the consensus moving in that direction in most NATO capitals.   But whatever one might think of the wisdom of the war effort and the strategy being employed to advance it, it's simply not the case that there's a dark, hidden agenda behind it.
In response to assertions that we know nothing about Afghanistan or the Taliban:
Now, as Christian Bleuer points to almost embarrassing detail, there has been a virtual cottage industry in producing high quality academic works on Afghanistan and the Taliban in the years following 9/11.  And, one would presume, some of them have actually been read.  But it remains true that, nearly a decade in, our high level decision-makers (by which I mean field grade and flag officers and their equivalent in the diplomatic and intelligence communities, not politicians and political appointees) still have very little in the way of cultural and regional expertise.    Nor have we corrected our woeful lack of investment in language proficiency.

Beyond that, we almost certainly don't have the foggiest clue what the ramifications of decisions we have taken or might take will have on the Taliban.   Indeed, we're only finally figuring out that there are multiple Talibans, which have very different agendas and relationships with regional governments and sub-governments.  Are they mostly, as David Kilkullen argues, "accidental guerrillas" who have banded together in response to foreign invaders, motivated by a combination of tribal pride, a sense of adventure, and monetary reward?   Or would they soon be back in charge in Kabul if we weren't there to keep them in check?    And what about al Qaeda?  Would they come back to the other side of the border and resume their old safe haven, growing back to something like their former self?   Or is that version of the group gone forever, replaced by fractured cells that can operate anywhere but incapable of planning 9/11-scale operations?

There are a lot of guesses on those front, some more educated that others.   But we really don't know.  And that's a very scary position from which to make strategic decisions.
Much more at the link.