Who Lost Afghanistan?
The postmortems are well underway.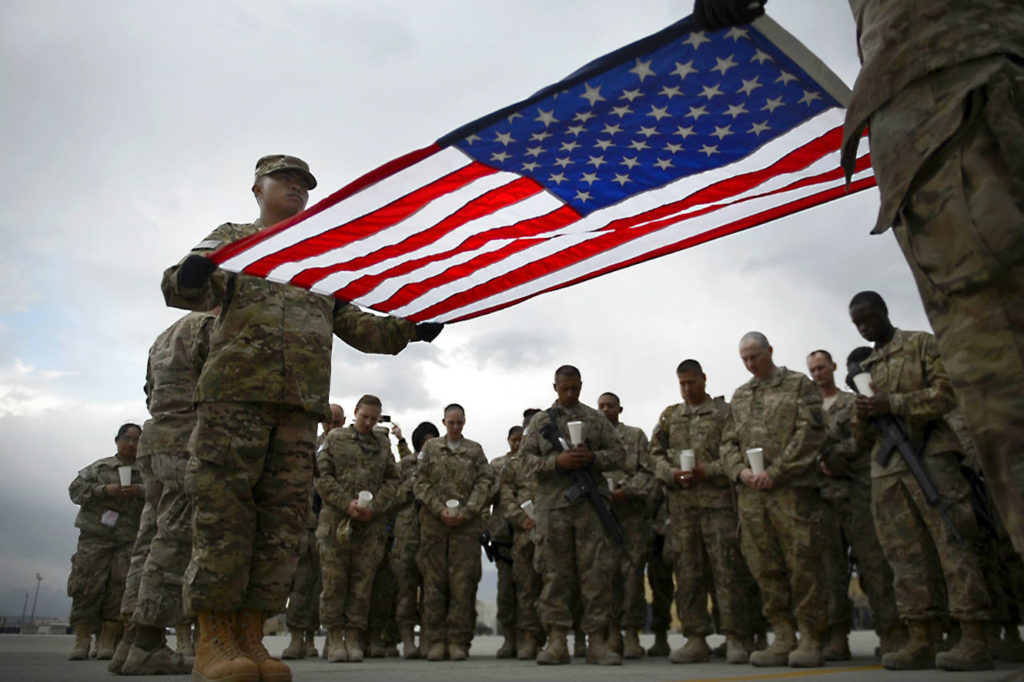 As Afghanistan falls, capital city by capital city, to the Taliban as the US withdraws its forces, analysts are scrambling to figure out how twenty years of massive American investment produced so little.
Thomas Gibbons-Neff, Fahim Abed and Sharif Hassan for the NYT ("The Afghan Military Was Built Over 20 Years. How Did It Collapse So Quickly?"):
This implosion comes despite the United States having poured more than $83 billion in weapons, equipment and training into the country's security forces over two decades.

Building the Afghan security apparatus was one of the key parts of the Obama administration's strategy as it sought to find a way to hand over security and leave nearly a decade ago. These efforts produced an army modeled in the image of the United States' military, an Afghan institution that was supposed to outlast the American war.

But it will likely be gone before the United States is.

While the future of Afghanistan seems more and more uncertain, one thing is becoming exceedingly clear: The United States' 20-year endeavor to rebuild Afghanistan's military into a robust and independent fighting force has failed, and that failure is now playing out in real time as the country slips into Taliban control.

[…]

As positions collapsed, the complaint was almost always the same: There was no air support or they had run out of supplies and food.

But even before that, the systemic weaknesses of the Afghan security forces — which on paper numbered somewhere around 300,000 people, but in recent days have totaled around just one-sixth of that, according to U.S. officials — were apparent. These shortfalls can be traced to numerous issues that sprung from the West's insistence on building a fully modern military with all the logistical and supply complexities one requires, and which has proved unsustainable without the United States and its NATO allies.

Soldiers and policemen have expressed ever-deeper resentment of the Afghan leadership. Officials often turned a blind eye to what was happening, knowing full well that the Afghan forces' real manpower count was far lower than what was on the books, skewed by corruption and secrecy that they quietly accepted.

And when the Taliban started building momentum after the United States' announcement of withdrawal, it only increased the belief that fighting in the security forces — fighting for President Ashraf Ghani's government — wasn't worth dying for. In interview after interview, soldiers and police officers described moments of despair and feelings of abandonment.
At the New Yorker, Jon Lee Anderson ("The Return of the Taliban") observes,
In the wake of the horror of Al Qaeda's attacks on the United States, most Americans polled believed that the country was doing the "right thing" in going to war in Afghanistan. That level of support didn't last long, but the war on terror did, and so did the military expedition to Afghanistan, which stretched on inconclusively for two decades and now ends in ignominy. Donald Trump set this fiasco in motion, by announcing his intention to pull out the remaining American troops in Afghanistan and begin negotiations with the Taliban. In February, 2020, an agreement was signed that promised to withdraw all U.S. military forces in return for, among other things, peace talks with the U.S.-backed Afghan government. The American troops were duly drawn down, but, instead of engaging in real discussions, the Taliban stepped up their attacks. In April, President Joe Biden announced his intention to carry on with the withdrawal, and pull out forces by September 11th. However much he says that he does "not regret" his decision, his Presidency will be held responsible for whatever happens in Afghanistan now, and the key words that will forever be associated with the long American sojourn there will include hubris, ignorance, inevitability, betrayal, and failure.
It's too early to know how history will judge these events but it would be absurd to lay the blame on Biden, or even Trump. Writing for The Daily Beast, David Rothkoff argues "America's Catastrophic Afghanistan Exit Has Many Fathers." While I don't agree with all of his analysis, he's right. For my own part, President George W. Bush, who initiated the war, achieved its initial objectives, but then vastly expanded its remit without resourcing it for the remaining seven years of his administration surely deserves the lion's share. And Obama, who cynically doubled down on it with a "Surge" while simultaneously declaring that the withdrawal would begin just a few months later, deserves almost as much. He got a lot of Americans killed—the vast majority who died in the conflict did so under his watch, not Bush's—knowing damn well that it would be for naught. Trump was incompetent in his handling of the mess but that we needed to exit was of course right. As to Biden, I would have preferred a more planned withdrawal but the die was largely cast. And, as Rothkopf notes, the decision to back the Mujahadeen in 1979 also deserves mention.
At NYT, Steven Erlanger points out the obvious: "Afghanistan's Unraveling May Strike Another Blow to U.S. Credibility."
Afghanistan's rapid unraveling is already raising grumblings about American credibility, compounding the wounds of the Trump years and reinforcing the idea that America's backing for its allies is not unlimited.

The Taliban's lightning advance comes at a moment when many in Europe and Asia had hoped that President Biden would reestablish America's firm presence in international affairs, especially as China and Russia angle to extend their influence. Now, America's retreat is bound to sow doubts.

"When Biden says 'America is back,' many people will say, 'Yes, America is back home,'" said François Heisbourg, a French defense analyst.

"Few will gang up on the U.S. for finally stopping a failed enterprise," he said. "Most people would say it should have happened a long time ago." But in the longer term, he added, "the notion that you cannot count on the Americans will strike deeper roots because of Afghanistan."
Still, this is vastly overblown:
That hesitation will now be felt all the more strongly among countries in play in the world, like Taiwan, Ukraine, the Philippines and Indonesia, which can only please China and Russia, analysts suggest.

"What made the U.S. strong, powerful and rich was that from 1918 through 1991 and beyond, everybody knew we could depend on the U.S. to defend and stand up for the free world," said Tom Tugendhat, chairman of the British Parliament's Foreign Affairs Committee.

"The sudden withdrawal from Afghanistan after 20 years and so much investment in lives and effort will see allies and potential allies around the world wondering whether they have to decide between democracies and autocracies, and realize some democracies don't have staying power anymore," he added.
First, Afghanistan was never meaningly part of "the free world." Second, this is hardly the first time that the US has abandoned a hopeless cause after years of investment. Third, if Ukraine is still confident the US has their back after six years of Russian incursion into their sovereignty, it's extremely unlikely that the events in Afghanistan will shake that.
The key to me remains our duty to keep the faith with the interpreters and others who so closely hitched their wagons to the US cause. We simply have to evacuate and provide sanctuary to as many of them as we can.
This, though, strikes me as much more insightful:
In Afghanistan—and, for that matter, in Iraq, as well—the Americans did not merely not learn from the mistakes of others; they did not learn from their own mistakes, committed a generation earlier, in Vietnam.

The main errors were, first, to underestimate the adversaries and to presume that American technological superiority necessarily translated into mastery of the battlefield, and, second, to be culturally disdainful, rarely learning the languages or the customs of the local people. By the end of the first American decade in Afghanistan, it seemed evident that the Western counterinsurgency enterprise was doomed to fail, and not only because of the return of the Taliban in many rural parts of the country: the Americans and their nato allies closed themselves off from Afghans in large regional bases, from which they operated in smaller units out of combat outposts, and distrust reined between them and their putative Afghan comrades. "Green-on-blue attacks," in which Afghan security forces opened fire on their American and European counterparts, became alarmingly frequent. The Taliban, meanwhile, grew inexorably stronger.

During a visit to the tense, embattled, eastern province of Khost, in the winter of 2010, a senior American military commander there, Lieutenant Colonel Stephen Lutsky, acknowledged to me the lack of trust with his Afghan counterparts, several of whom he suspected of working with the Taliban. "The cultural complexity of the environment is just so huge that it's hard for us to understand it," he said. "For Americans, it's black or white—it's either good guys or bad guys. For Afghans, it's not. There are good Taliban and bad Taliban, and some of them are willing to do deals with each other. It's just beyond us."

[…]

Most of the Afghan men whom I met and who led battles against the Taliban two decades ago are now dead. Almost all were killed, in separate assassinations, as part of the Taliban's plan to return to action. Their comeback has taken twenty years, but it is a classic example of a successful guerrilla war of attrition, and has involved all the usual elements of guerrilla strategy: a stealth campaign of hit-and-run military attacks, selective assassinations to demoralize their adversaries, and acts of terror that both weakened the government and created an atmosphere of abject compliance from local populations. A public campaign of hearts and minds followed, accompanied by decoy negotiations with the government and its allies in order to promote the idea that, as a force, the Taliban are not really extremist and are, in fact, open to dialogue, even to internal change. But the Taliban, by their very nature, are fundamentalists, believers in a strict Quranic credo.
The kicker:
The Taliban have rendered Afghanistan unworkable as a country; unworkable, that is, without them. And the truth is that they were never really beaten. They merely did what guerrillas do in order to survive: they melted away in the face of overwhelming force, regrouped and restored themselves to fighting strength, and returned to battle. Here they are.