Why is Harvard Subsidized by the Taxpayer?
A wealthy alumnus has given Harvard $400 million, sparking a heated debate.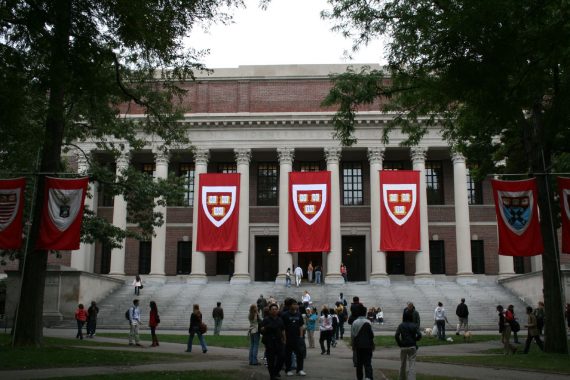 A wealthy alumnus has given Harvard $400 million, the largest donation in its history. It's endowment now tops $36 billion–$10 billion more than any other university. Indeed, the $400 million donation alone far surpasses the average total endowment of our nation's universities.
Naturally, people are coming out of the woodwork questioning the wisdom and morality of this use of money. While I tend to agree it is, at the end of the day, John Paulson's business what he does with money he earned legally. And, while Harvard doesn't need the money, it does use the earnings on its investments to fund research, provide scholarships, and other things that are socially worthwhile.
What does strike me as legitimate fodder for public debate is the fact that these donations are heavily subsidized by the taxpayer:
Dean Zerbe, a tax lawyer and former senior counselor for the Senate Finance Committee from 2001 to 2008, estimates that Paulson will receive a nearly $200 million tax deduction due to his donation. Zerbe worked with Republican Senator Chuck Grassley in 2008 in a failed attempt to require that universities spend a certain amount of their endowments (most wealthy universities cap endowment spending at about 4 percent of annual returns).

Donations to universities, the returns on their endowments and their property holdings are not taxed, as colleges are considered nonprofits. This tax-exempt status has, at times, been a controversial one. Billions of dollars of investment returns and donations go untaxed each year at wealthy universities like Harvard. Zerbe believes that more and more lawmakers are becoming frustrated by such tax advantages for wealthy universities.

"Congress is just slack-jawed people are giving huge amounts of money to institutions that have more money, and don't even know what to do with the money they've got," he said. "Is this more frosting on a cupcake that's already got seven layers of frosting on it, or what?"

Cunningham says that, in her experience, donors aren't motivated by tax breaks. Yet such tax incentives impact the bottom line for American taxpayers, and some wonder if such benefits should exist for donors who choose to give to the wealthiest institutions in U.S. higher education.

"It's great if a wealthy individual wants to donate $400 million to an institution like Harvard, but the problem is that the rest of us support that gift — and subsequent earning on it — through generous tax breaks," said Richard Kahlenberg, a senior fellow at the Century Foundation, in an email.

While Harvard and universities like it usually offer large amounts of financial aid to middle- and low-income students, they generally enroll fewer low-income students than regional colleges and community colleges with less wealth. In 2012-13, for example, 19 percent of students at Harvard were eligible for Pell Grants, a type of federal aid only available to low-income students. Yet 36 percent of undergraduates in the U.S. received Pell Grants that year.

Conversely, Harvard enrolls many more wealthy students than most universities, and their graduates generally have better employment and earning outcomes than most U.S. college graduates, although critics say that these students likely have qualities — academic, and for many, socioeconomic — that make them likely to succeed wherever they go to college.
While the issue doesn't get a lot of attention, we're thus seeing those on the right (Grassley) and the left (Century Foundation) raising concerns that subsidizing these donations through the tax code is problematic. In essence, Paulson's $400 million donation only costs him $200 million, with the rest of us footing the rest of the bill in foregone tax revenues. Given the rather dubious return on investment, it's not at all obvious why we should be doing that.
Harvard's a special case in that it's far and away the university with the largest endowment. As Inside Higher Ed 's Kellie Woodhouse notes in the linked piece, "It's part of a prestigious pack of 10 rich universities that hold more one-third of all the wealth in higher education." Indeed, the top 40 schools "hold two-thirds of all the wealth among the 500 colleges rated by Moody's, which rates institutions that are financially sound enough to trade in public markets." But these questions apply not only to other massive-endowment universities but the entire nonprofit sector.
Most Americans make too little income to itemize their taxes, much less have the means to donate substantial money to charity. Essentially, then, we're ceding to the very wealthy the power to decide which institutions and causes get massive taxpayer grants. It would make far more sense, in this case, to devote an additional $200 million into Pell Grants, the National Institutes for Health, the National Science Foundation or some other educational or research endeavor than giving Harvard more money that it won't spend. Instead, we automatically match Paulson's donation to Harvard without even debating it.
Nonprofits spend the overwhelming amount of their income on salaries, overhead, and other expenses unrelated to their core mission. With the possible exception of a relative handful of pure charities, most of them have only tangential public service value, instead supporting an agenda of the funders' choosing. It's not obvious why they're not taxed, much less why donations to them are tax deductible.