Hank Paulson, The Bush Treasury Department, And Crony Capitalism
Guess who got advance warning of government actions on the eve of the 2008 financial crisis?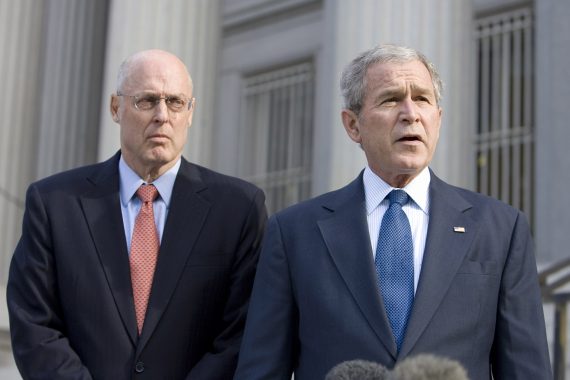 Bloomberg is out with a rather astonishing, and yet not astonishing, report of how Hank Paulson, then George W. Bush's Treasury Secretary, met with a group of hedge fund managers in August 2008 and basically tipped them off to the government's plans with regard to Fannie Mae and Freddie Mac, which were in financial turmoil due to the ongoing collapse of the housing market:
On the morning of July 21, before the Eton Park meeting, Paulson had spoken to New York Times reporters and editors, according to his Treasury Department schedule. A Times article the next day said the Federal Reserve and the Office of the Comptroller of the Currency were inspecting Fannie and Freddie's books and cited Paulson as saying he expected their examination would give a signal of confidence to the markets.

At the Eton Park meeting, he sent a different message, according to a fund manager who attended. Over sandwiches and pasta salad, he delivered that information to a group of men capable of profiting from any disclosure.

Around the conference room table were a dozen or so hedge- fund managers and other Wall Street executives — at least five of them alumni of Goldman Sachs Group Inc. (GS), of which Paulson was chief executive officer and chairman from 1999 to 2006. In addition to Eton Park founder Eric Mindich, they included such boldface names as Lone Pine Capital LLC founder Stephen Mandel, Dinakar Singh of TPG-Axon Capital Management LP and Daniel Och of Och-Ziff Capital Management Group LLC.

After a perfunctory discussion of the market turmoil, the fund manager says, the discussion turned to Fannie Mae and Freddie Mac. Paulson said he had erred by not punishing Bear Stearns shareholders more severely. The secretary, then 62, went on to describe a possible scenario for placing Fannie and Freddie into "conservatorship" — a government seizure designed to allow the firms to continue operations despite heavy losses in the mortgage markets.
As Felix Salmon put it, who did Hank Paulson think he was working for in the summer of 2008, the taxpayers or the hedge funds? Apparently, what Paulson did is entirely legal (of course), although the report goes on to note that one of the managers that was present for the meeting called his lawyer later that day and was told not to act on any of the information Paulson had shared because it could constitute "non-public information" and thus covered by insider trading laws. It's unknown if any of the other managers acted on Paulson's information, though, and it's apparently not possible to even determine that based solely on publicly available information. It's also worth noting that this isn't the first report of something like this that we've gotten. Back in 2009, Andrew Ross Sorkin's book revealed that Paulson had met with the entire board of Goldman Sachs in a hotel suite in Moscow when they all happened to be there at the same time. Sorkin's account of that meeting is worth quoting:
When Paulson learned that Goldman's board would be in Moscow at the same time as him, he had [Treasury chief of staff] Jim Wilkinson organize a meeting with them. Nothing formal, purely social — for old times' sake.

For fuck's sake! Wilkinson thought. He and Treasury had had enough trouble trying to fend off all the Goldman Sachs conspiracy theories constantly being bandied about in Washington and on Wall Street. A private meeting with its board? In Moscow?

For the nearly two years that Paulson had been Treasury secretary he had not met privately with the board of any company, except for briefly dropping by a cocktail party that Larry Fink's BlackRock was holding for its directors at the Emirates Palace Hotel in Abu Dhabi in June.

Anxious about the prospect of such a meeting, Wilkinson called to get approval from Treasury's general counsel. Bob Hoyt, who wasn't enamored of the "optics" of such a meeting, said that as long as it remained a "social event," it wouldn't run afoul of the ethics guidelines.

Still, Wilkinson had told [Goldman chief of staff John] Rogers, "Let's keep this quiet," as the two coordinated the details. They agreed that Goldman's directors would join him in his hotel suite following their dinner with Gorbachev. Paulson would not record the "social event" on his official calendar…

"Come on in," a buoyant Paulson said as he greeted everyone, shaking hands and giving bear hugs to some.

For the next hour, Paulson regaled his old friends with stories about his time in Treasury and his prognostications about the economy. They questioned him about the possibility of another bank blowing up, like Lehman, and he talked about the need for the government to have the power to wind down troubled firms, offering a preview of his upcoming speech.
As Salmon asked both back in 2009 and now, under what conceivable set of facts could Paulson have thought that this was even remotely acceptable:
When we found out about the Moscow meeting, I asked how on earth Paulson thought such behavior was OK. But now I think he was downright pathological in giving inside information to his old Wall Street buddies. And the crazy thing is that we have no idea how many of these meetings there were, or how long they went on for — the only way that we ever find out about them is when reporters like Sorkin or Bloomberg's Richard Teitelbaum manage to find a source who was in the meeting and is willing to talk about what happened.

Given that it's taken two years since the release of Sorkin's book for the Eton Park meeting to be made public, it's fair to assume that there were other meetings, too — possibly many others. Paulson was giving inside tips to Wall Street in general, and to Goldman types in particular: exactly the kind of behavior that "Government Sachs" conspiracy theorists have been speculating about for years. Turns out, they were right.
Sadly, at least judging by Memeorandum, there seems to be very little coverage of this in the conservative blogosphere, perhaps because this is a story about the Bush Administration. That's unfortunate, because this is precisely the kind of crony capitalism that many on the right seem to be accusing the the Obama Administration of (appropriately in many circumstances), and it establishes beyond a doubt that this is something that both parties have been guilty of throughout the years. Even if there isn't anything technically illegal about what Paulson did, the fact that he did it is yet another example of the incestuous relationship between government and business that corrupts both, distorts the market, and ends up costing the taxpayers billions if not trillions of dollars somewhere down the line. I'm in complete agree with Rod Dreher, when he says that Congress should investigate this. They won't do it, of course, for fear of shining light on all the cockroaches that traverse the halls of Capitol Hill, the White House, and most of official Washington.
Photo via Reuters