No Charges Against Goldman Sachs
After two-and-a-half years and who knows how many taxpayer dollars spent trying to prove criminal wrongdoing, the SEC fell short.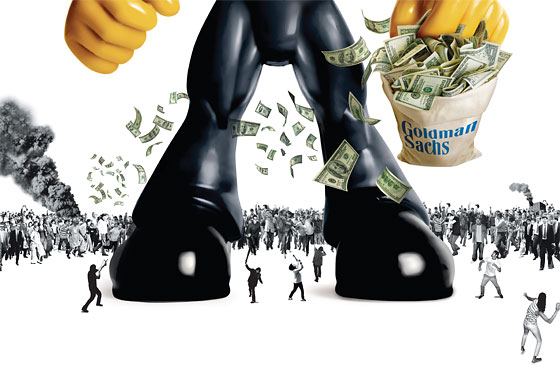 A long investigation into possible fraud by Goldman Sachs has ended with insufficient evidence for criminal charges.
WSJ ("U.S. Won't Pursue Goldman Charges"):
After a year-long investigation, the Justice Department said Thursday that it will not bring charges against Goldman Sachs Group Inc. or any of its employees for financial fraud related to the mortgage crisis.

In a statement released Thursday, the Justice Department said "the burden of proof" couldn't be met to prosecute Goldman criminally based on claims made in an extensive report prepared by a U.S. Senate panel that investigated the financial crisis.

"Based on the law and evidence as they exist at this time, there is not a viable basis to bring a criminal prosecution with respect to Goldman Sachs or its employees in regard to the allegations set forth in the report," the statement read.

The Justice Department reserved the right to bring charges in the future if new evidence emerges.
So, what is it that Goldman is supposed to have done? Recall this rather damning Christian Science Monitor report from April 2010:
A Senate investigative panel Saturday released e-mails showing that Goldman Sachs executives discussed profiting from the subprime mortgage crisis in 2007.

"Sounds like we will make some serious money," one manager e-mailed. "Yes we are well positioned," his colleague responded, referring to the fact that the investment firm had bet against the mortgage market.

Such revelations are red meat to those on Capitol Hill pushing financial reform.

"Investment banks such as Goldman Sachs were not simply market-makers, they were self-interested promoters of risky and complicated financial schemes that helped trigger the crisis," said Senator Carl Levin, chairman of the Senate Permanent Subcommittee on Investigations, in a statement.

"They bundled toxic mortgages into complex financial instruments, got the credit rating agencies to label them as AAA securities, and sold them to investors, magnifying and spreading risk throughout the financial system, and all too often betting against the instruments they sold and profiting at the expense of their clients," said Sen. Levin.
A CNN Money report from the same day, though, showed the complexity of proving criminal conduct:
But the firm said that all of the documents turned over to the panel reveal a different picture — that the firm lost $1.2 billion in residential mortgage-backed securities in 2007 and 2008.

"Of course we didn't dodge the mortgage mess," Goldman CEO Lloyd Blankfein told company executives in an e-mail dated Nov. 18, 2007 that was released by both the committee and Goldman. "We lost money, then made more than we lost because of shorts," or trading bets aimed at profiting when a bond drops in value.

But Blankfein added: "Also, it's not over, so who knows how it will turn out ultimately."
As a layman, it certainly looked to me like Goldman intentionally sold a bad asset to unwitting customers so that the firm was covered either way. That's prima facie unethical. But it's not necessarily illegal—and damned hard to prove, in any case.  In my contemporaneous write-up ("Goldman Sachs Fraud Case") I closed with the following caution:
Everyone's behavior looks worse in the charging document than in reality, as it's designed to state the absolute strongest case against the accused and omits every shred of exculpatory evidence.
The press reports we were treated to were, essentially, the handful of Goldman emails that looked the most damning, combined with statements from prosecutors and Senators out to poison the well against the firm. After two-and-a-half years and who knows how many taxpayer dollars spent trying to prove criminal wrongdoing, though, they fell short.