1,500 Still Missing In Joplin, Missouri After Tornado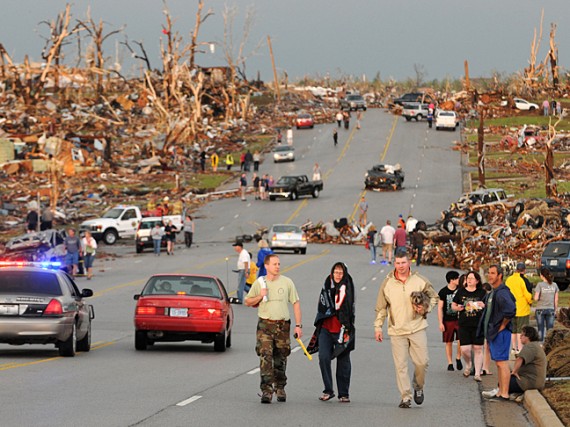 The news from Joplin, Missouri just seems to get worse:
JOPLIN, Mo. — About 1,500 people are unaccounted for in this battered city, a Fire Department official said Tuesday, as rescue workers took advantage of a few hours of sunny weather to continue searching for survivors in buildings leveled by the country's deadliest tornado in more than 60 years. At least 117 people have died.

While the number of those unaccounted for is alarmingly high in a city with only 49,000 people — and raises the specter of a far higher death count — it may merely be a reflection of the widespread breakdown of communication systems here in the wake of Sunday's vicious storm. Many residents who fled ahead of the tornado or survived it may be unable to notify the authorities or family members who have reported them missing.

Capt. Robert Daus of the Maryland Heights Fire District, who is helping to lead a team of about 100 St. Louis-area firefighters in search and rescue operations in Joplin, said that in addition to the 1,500 people who remain unaccounted for, an additional 500 had been injured by the tornado, which cut a three-quarter-mile-wide path through this southwestern Missouri city and damaged as many as 30 percent of its buildings.

While much of Tuesday provided a respite from the nearly unrelenting rain and wind that had hampered rescue efforts, more challenging weather may be on the way. An unusually strong weather system moving east across the Rockies is expected to mix with moist air heading north from the Gulf of Mexico, carrying with it the possibility of creating severe storms late Tuesday.

"We are expecting some violent storms to develop across Kansas and Oklahoma today bringing rain, hail and the risk of tornadoes that could move into the Joplin area this evening," said Doug Cramer, a meteorologist with the National Weather Service. "This is a very good set up for very big tornadoes."
Indeed, because as I type this there are one or more large tornadoes in the vicinity of Oklahoma City:
A large tornado touched down Tuesday and advanced on communities northwest of Oklahoma City, snapping power poles, overturning vehicles and injuring motorists, officials said.

Canadian County Emergency Management Director Jerry Smith told CNN there were reports of a large tornado crossing I-40 near El Reno and heading toward Calumet and metropolitan Oklahoma City.

The storm has injured an unspecified number of motorists on Interstate 40 and U.S. 81, Smith said. Deputies were attending to the injured, and there were reports of property damage in the area.

The tornado pushed into Concho and Piedmont and was bearing down on Edmond, just north of the capital.

"This is an extremely dangerous and life-threatening situation," the National Weather Service said.

Tornado warnings were issued in Oklahoma County, Canadian County and Grady County, indicating other twisters had touched down. Tornadic winds were spotted near Chickasha, southwest of the capital.
Stay safe guys.