Three Storm Chasers Killed In Friday's Oklahoma Tornadoes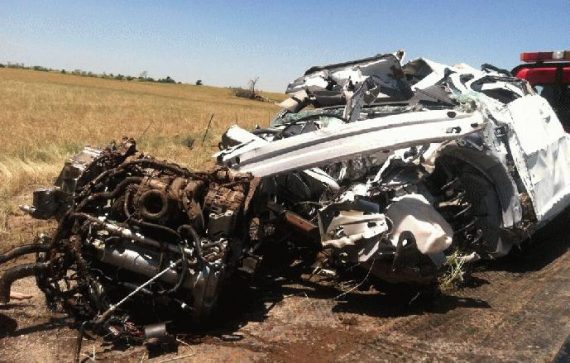 The tornadoes that moved through Oklahoma, Arkansas, and Missouri on Friday were, fortunately, far less destructive than the May 20th tornado that hit Moore, Oklahoma, but they ended up claiming the lives of three people who had dedicated their lives to following these most dangerous of storms up close and personal:
Storm chaser and meteorologist Tim Samaras, his storm chaser partner Carl Young, 45, and his son Paul Samaras, 24, were among the 11 people killed in the latest round of tornadoes and severe weather to hit Oklahoma Friday night, according to family members.

They were killed near El Reno in an EF3 tornado with winds up to 165 mph that ripped through the Oklahoma City area during rush hour.

"They put themselves in harm's way so that they can educate the public about the destructive power of these storms," Canadian County Undersheriff Chris West told the Associated Press.

Tim Samaras, 55, dedicated the last three decades to learning about tornadoes while he successfully combined his passion for storm chasing and an engineering career.

"I'm not sure exactly why I chase storms. Perhaps it's to witness the incredible beauty of what Mother Nature can create" Samaras said in aYoutube video posted on his website.

Samaras' brother, Jim Samaras posted a statement on Tim Samaras' Facebook book early Sunday morning:

"It truly is sad that we lost my great brother Tim and his great son, Paul. Our hearts also go out to the Carl Young family as well as they are feeling the same feelings we are today," the statement said. "They all unfortunately passed away but doing what they LOVED. Chasing Tornado's. I look at it that he is in the 'big tornado in the sky…'"
At first glance, what these men and those like them do seems insane. Driving into a tornado laden storm just when it is at it's peak? Crazy right? Well, the truth of the matter is that these storm trackers end up providing invaluable data to the National Weather Service and other meteorologists that allows them to get a better idea of the path and intensity of a storm, and to get the warnings out to the appropriate areas. No doubt, these three men saved many lives during their years of living a real life version of Twister.  Additionally, the vehicles that the true professionals use are nearly as heavily armored as the vehicles the US military used in Iraq. It just appears that, this time, these three men ended up being in the wrong place at the wrong time when an unpredictable storm led to a tornado touchdown in an area other than the one they were expecting it to. 

Photo via WTVC (Chattanooga, TN)