Mid-Atlantic Braces For Sandy
The Mid-Atlantic region is under the gun.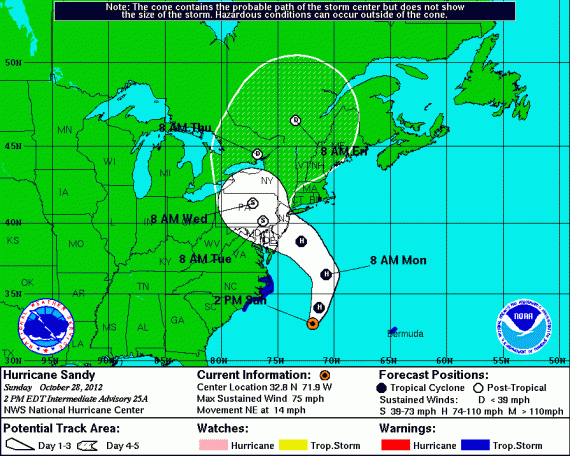 Hurricane Sandy seems to be following nearly precisely the projections that the National Hurricane Center and other meteorologists have been making for the past several days. The possibility that it will continue north, or turn to the west and spare the Mid-Atlantic coast the brunt of what one observer called the largest Atlantic Hurricane we've ever seen now appears to be very remote. The only question now is when it will make that turn left that you see in the NHC projection above. Yesterday, the projections had it hitting somewhat along the Delmarva Peninsula putting into severe danger the low lying areas along Maryland's Eastern Shore and perhaps turning into the nightmare Chesapeake hurricane that many have feared for years. Since yesterday evening, though, it looks like landfall is likely to be somewhere along the Jersey shore, which has the potential to cause serious storm surge problems for New York City and Long Island.
As a result, New York City is getting ready:
As the National Hurricane Center warned on Sunday of a "life-threatening storm surge" that could cause record-breaking coastal flooding, tens of millions of residents from Delaware to southern New England braced for the onslaught of Hurricane Sandy. The authorities across the region ordered the evacuation of many low-lying areas, including parts of New York City, and the shutdown of subway, bus and railroad services in New York and New Jersey.

Mayor Michael R. Bloomberg urged residents in low-lying areas to be out by 7 p.m., the same time that transit service would be suspended.

"We're going to have a lot of impact, starting with the storm surge," said Craig Fugate, the administrator of the Federal Emergency Management Agency. "Think, 'Big.' "

Though the hurricane is not expected to make landfall until sometime late Monday, coastal regions will be hit by gale-force winds, heavy rain and possible flooding as early as Sunday, said Rick Knabb, the director of the National Hurricane Center. Tropical storm conditions were being felt in parts of North Carolina on Sunday, though the storm was 250 miles off the coast.

"Sandy is a large hurricane, and large systems pose multiple hazards for more people than smaller systems of comparable intensity," Dr. Knabb said.

Forecasters warned that it could ravage areas far beyond the projected trajectory, and they urged people to heed evacuation calls and to prepare for the worst.

In its latest report, the Hurricane Center said the storm surge could be as high as 11 feet above normal along Long Island Sound and Raritan Bay — a significantly higher forecast than in previous reports — and warned that major flooding could occur across a broad area of the East Coast. Forecasters also expected torrential rains in some regions, which would add to the flooding.

And then there is the snow.

As Hurricane Sandy approaches land. it will be drawn into a system known as a midlatitude trough, a severe winter storm that is moving across the country from the west. A burst of arctic air is expected to sweep down through the Canadian Plains just as they are converging. That could lead to several feet of snow in West Virginia and Kentucky and lighter amounts in Pennsylvania and Ohio. Temperatures could drop into the mid-20s.

In announcing the transit shutdown, Gov. Andrew M. Cuomo of New York said it was unsafe to operate trains in high winds. He also said the closing was intended as a signal to discourage New York-area residents from being "up and about."

The subway system will begin to curtail service at 7 p.m., and the transit authority's railroads, Metro-North and the Long Island Rail Road, will begin their final trips at the same time, some buses may remain in service until 9 p.m. (It takes about eight hours for the subways to be shut down, but only six for the bus system.)

"The transportation system is the lifeblood of the New York City region, and suspending all service is not a step I take lightly," Mr. Cuomo said. "But keeping New Yorkers safe is the first priority, and the best way to do that is to make sure they are out of harm's way before gale-force winds can start wreaking havoc on trains and buses."

Joseph J. Lhota, the chairman of the Metropolitan Transportation Authority, said he expected the transit systems to restore at least some service about 12 hours after the storm passes over the area, but he warned that the city could be without transit for as many as two full working days. "I do think Monday and Tuesday are going to be difficult days," Mr. Lhota said.

He said that if sustained winds reached 39 miles per hour, drivers on the bridges would be required to slow down. At 60 m.p.h., they would be closed to traffic. Outbound trips on the authority's paratransit service, Access-A-Ride, were scheduled only until noon on Sunday; return trips would continue until 5 p.m.

A full-scale closing of the subways, which run 24 hours a day, had never been ordered until August 2011, as Tropical Storm Irene approached. That storm toppled trees onto the tracks of the commuter rails, flooded train yards and led to millions of dollars in lost fares for the authority, which submitted $65 million in insurance claims this year to recover those losses. The closing this year could prove even more devastating.
As Brendan Loy noted last night, it's somewhat puzzling that Bloomberg waited until this morning to order the evacuations from the areas of the city most vulnerable to a storm surge when it was clear yesterday that these areas were in danger. Now, with transit set to shutdown by 9pm tonight, the people living in these areas don't have a lot of time to make their alternate plans, and there's the danger that some people won't get word in time, or are physically unable to leave without assistance that might not get to them in time. Jeff Masters at Weather Underground notes that there are many striking similarities between Sandy and the storm that New York was bracing for just over a year ago:
 Sandy is expected to have tropical storm-force winds that extend out more than 400 miles from the center, which will drive a much larger storm surge than its peak winds would ordinarily suggest. The full moon is on Monday, which means astronomical tides will be about 5% higher than typical, increasing the potential for damaging storm surge flooding. Fortunately, Sandy is now predicted to make a fairly rapid approach to the coast, meaning that the storm surge will not affect the coast for multiple high tide cycles. If Sandy hits near New York City, as the GFS model predicts, the storm surge will be capable of overtopping the flood walls in Manhattan, which are only five feet above mean sea level. On August 28, 2011, Tropical Storm Irene brought a storm surge of 4.13′ to Battery Park on the south side of Manhattan. The waters poured over the flood walls into Lower Manhattan, but came 8 – 12″ shy of being able to flood the New York City subway system. However, the town of Lindenhurst (population 28,000), on the south side of Long Island, was mostly under water due to the storm surge, and fresh water run-off from Irene's torrential rains, riding on top of a 3 to 4-foot storm surge, allowed the swollen East and Hudson Rivers to overflow at the edges of Manhattan. New York was not as lucky on December 12, 1992, when a 990 mb Nor'easter drove an 8-foot storm surge into Battery Park, flooding the NYC subway and the Port Authority Trans-Hudson Corporation (PATH) train systems in Hoboken New Jersey. FDR Drive in lower Manhattan was flooded with 4 feet of water, which stranded more than 50 cars and required scuba divers to rescue some of the drivers. Mass transit between New Jersey and New York was down for ten days, and the storm did hundreds of millions in damage to the city. The highest water level recorded at the Battery in the past century came in September 1960 during Hurricane Donna, which brought a storm surge of 8.36 feet to the Battery and flooded lower Manhattan to West and Cortland Streets. According to the latest storm surge forecast for NYC from the experimental Extratropical Storm Surge model, run by NOAA"s Meteorological Development Laboratory, Sandy's storm surge may be higher than Irene's, and has the potential to flood New York City's subway system (Figure 4.) The amount of water will depend critically upon whether or not the peak storm surge arrives at high tide or not. If the peak surge arrives near Monday evening's high tide near 9 pm EDT, a portion of New York City's subway system could flood, resulting in billions of dollars in damage. I give a 30% chance that Sandy's storm surge will end up flooding a portion of the New York City subway system.
As it turned out, of course, Irene ended up not being as big an issue for New York City as had been feared. That led some people make the absurd suggestion that coverage of the storm had been overhyped, and even that the actions of politicians like Bloomberg and Chris Christie prior to the storm's arrival were more than what was needed. As I noted back then, though, this was an absurd suggestion. Political leaders couldn't wait until the last minute to make the decisions that they needed to make, and all of the available information indicated that Irene was going to be a serious threat to the New Jersey shoreline and New York Harbor. As for the media, it strikes me that erring on the side of more information is always preferable in situations like this. Finally, I'm sure the residents of Central New York and Vermont didn't think Irene was overhyped considering that they had to deal with flooding unseen in a century. In the end, it turned out that Irene was one of the ten most expensive hurricanes in history. This time around, we've got a more powerful and much larger storm heading for the exact same area. Hopefully it won't be an issue, but it strikes me that it would've been smart to be even more proactive this time.
The rest of the mid-Atlantic region doesn't look like it's in much better shape. It's rare for a storm this powerful to hit the Jersey Shore head on like this, and the potential for serious damage is quite hit. Governor Christie ordered an evacuation of all barrier islands from Sandy Hook all the way down to Atlantic City yesterday, and the Atlantic City casinos have all been closed. Further south, the Delaware Bay area is particularly vulnerable, as is the Delarmva Peninsula. Then, assuming this track holds, it seems pretty clear that central Pennsylvania and New York, both of which experienced severe flooding from Irene last year, are going to get positively hammered with rain for the better part of this week. One estimate from an industry representative said that of the 50 million or so people under the gun from Sandy, some 20%, or 10 million people, are in danger of experiencing power outages that could last for several days at the least. This isn't hype.
Here in the Washington D.C. area, we're expecting things to start getting really bad sometime tomorrow. For that reason, we're already starting to see school closings through at least Wednesday due not so much to the conditions we'll be seeing in the morning but the fact that getting people home is going to be a serious problem, especially in the close-in D.C. suburbs where many areas are vulnerable to flash flooding and there are plenty of old trees that could fall down quite easily. I wouldn't be surprised to see the Federal Government shut down tomorrow either. The area where I am is far enough west and south that I expect I may be spared some of the worst of what hits us, but the status of power, internet access, and cell phone networks is certainly an issue. Those people closer in to D.C. are likely to have a rougher time of it, though. I suppose that the only "good" thing about this storm happening now is that it isn't happening in the middle of 90° heatwave when a loss of power could become a threat to the lives of people in bad health.
Finally, any of you out there in the storm's path, stay safe. If you're in a mandatory evacuation zone, just get the hell out rather than trying to prove your bravado.
Update: Via NASA, here's a satellite view of Sandy that shows just how big she is: