Why Don't People Listen To Evacuation Warnings?
As Hurricane Florence bears down on the East Coast, most people are listening to orders to evacuate, but some people aren't.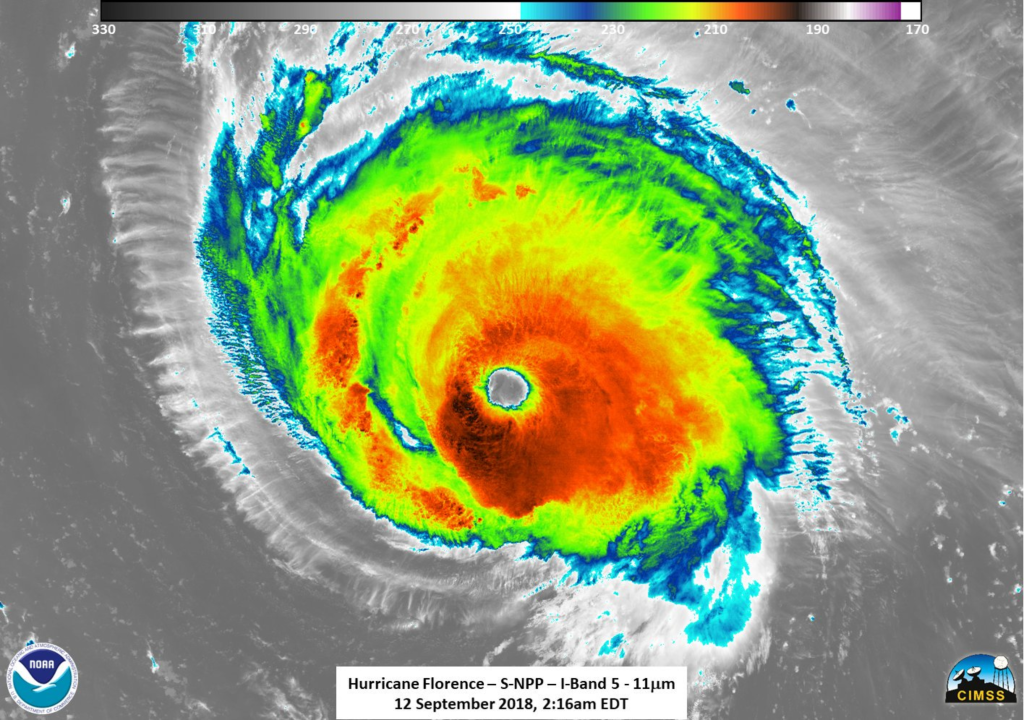 By this time on Friday, Hurricane Florence is expected to make landfall somewhere along the North or South Carolina coastline. Whereever the storm hits exactly, it's expected that the massive storm, which is currently at a Category Four and could reach a Category Five before making landfall, will be the most powerful tropical storm to hit the East Coast of the United States north of Florida in more than a generation. More importantly, because of the size of the storm and speed at which it is expected to move, forecasters believe that, somewhat like Hurricane Harvey last year, the biggest danger from Florence will be not from the wind so much as the water and storm surge. This could lead to catastrophic flooding in coastal areas from the Outer Banks south to the South Carolina/Georgia border as well as risks of additional flooding in inland areas. As a result of these forecasts, the Governors of North Carolina and South Carolina have both issued evacuation orders. Most residents of the threatened areas appear to be complying with the calls to get out of the way of the storm, but the news media is full of reports from longtime residents of many of the areas likely to be impacted who say they intend to ride the storm out.
This isn't a new story, of course. Every time we have one of these storms, there are reports of people who stay behind. In most cases, these people seem to believe that they will be okay and they are determined to stay behind to protect their property. Nonetheless, there's no question that these people are putting their lives, and the lives of first responders, at risk. So, naturally, some people are asking why people would decide to ignore the warnings to vacate:
Lack of preparation helps to explain why the material losses we have experienced after recent disasters have been as severe as they were, even when people have been forewarned. And lack of preparation, the research shows, is caused by cognitive biases that lead people to underplay warnings and make poor decisions, even when they have the information they need.

The pattern occurs again and again. When Hurricane Sandy hit New York and the Mid-Atlantic states in 2012, for example, 40 people drowned because they failed to heed warnings to evacuate flood-prone coastal areas. Yet the storm had been accurately forecast, and, what's more, people believed the forecasts.

A survey conducted in advance of the storm found not only that residents in the area were acutely aware of the storm threat but also that many believed it would be even worse than it was. One day before the storm arrived, for example, New Jersey residents believed there was an 80 percent chance that they would experience hurricane-force winds from the storm — odds far higher than the actual risk they faced, according to estimates at the time provided by the National Hurricane Center.

Yet preparations for the storm were comparatively limited: Twenty percent of residents surveyed indicated that they had a preparedness plan in place. What went wrong? In this case the cognitive bias of excessive optimism kicked in: Residents knew all too well that a storm was at their doorstep and that many people would be affected — they just thought it wouldn't affect them.

Moreover, the bias of herd thinking compounded the problem. Looking around and seeing that few others were making preparations, residents felt no social pressure to do more.

In addition to over-optimism and a herd mentality, several other psychological biases undermine preparation for dangerous natural events. Consider myopia. Sound preparation for disasters requires us to make short-term costly investments (buying insurance or evacuating, for instance) to stave off a potential future loss. But most of us tend to be shortsighted, focusing on the immediate cost or inconvenience of preemptive action rather than the more distant, abstract penalty for failing to act. That leads us to conclude that preparedness is something that can be put off.

Amnesia is also evident in people's reactions to news of a storm heading their way. Even when we have been through disaster before, we tend to forget what it felt like the last time — the discomfort of being without power for days, the challenges of repairs. While we may remember the bare facts of the event, emotions are what tends to drive action, and those memories fade the fastest. Examples of this type of forgetting are evident in many areas of life. After the financial meltdown of 2008-2009, as after other crises, one heard calls to curb excessive risk taking on Wall Street, to minimize the possibility of a recurrence. But after the recovery, investors were right back at it; they had a hard time fully reimagining the downturn.

Simple reminders do little to help. Many cities that have experienced deadly disasters, including Galveston, Tex., have monuments to remind residents of these events. But they evidently do little to instill the horror of living through such an event and therefore do little to inspire preparation

Inertia and simplification are also enemies of sound decision-making. When we are unsure of what to do in the face of an incoming storm, we tend to stick to the status quo of — doing nothing. If we are unsure when to evacuate, we tend not to evacuate at all. Additionally, we tend to simplify our courses of action, selectively attending to a subset of relevant factors when making choices involving risk. When preparing for a hurricane, many things may need doing: arranging for lodging in the event an evacuation is ordered, securing water and supplies for 72 hours, filling cars with gas, locating alternative power supplies. In the face of such complexity we may undertake one or two actions and consider the job done.
In other words, what we're dealing with here, to a large extent, is human nature. Notwithstanding the warnings that we've seen in the case of past storms and those that will be issued in the next 24-72 hours with regard to Florence, most people don't believe that they will be directly impacted by the worst of the storm. Overcoming this internal bias isn't easy, and in many cases, it depends on whether or not it comes from an authority that projects the kind of authority and responsibility that are likely to cause people to listen to them. Former New Jersey Governor Chris Christie, for example, became famous for his warning to residents to "get the hell off the beach" in advance of the approach of Hurricane Irene in 2011, and he was similarly taken seriously when he issued similar warnings as Hurricane Sandy bore down on the Garden State a year later. Part of the reason for that was that, at the time, Christie had developed a reputation that demanded he be taken seriously. Even in those cases, though, there were still people who stayed behind to ride out both storms.
Another factor that likely influences behavior in these situations is the fact that previous warnings have proven to be premature and storms that were forecast to be devastating ended up either changing course at the last minute or otherwise losing strength. The same thing happens frequently with regard to winter storms that are forecast to be major events but then end up being much ado about nothing, causing many people to question a decision to close schools that was made based on forecasts that seemed reliable at the time. Over time, these types of event likely taken on the nature of the story of the boy who cried wolf, causing people who are already skeptical of these warnings to become even more skeptical. The problem with that attitude, of course, is that eventually these forecasts have a way of being all too accurate, and the consequences can be devastating.
The authors make a few suggestions about how to get around these biases:
The key to better preparedness is thus not to eliminate these biases, a hopeless task, but rather to design preparedness measures that anticipate them. Consider the bias toward simplification: the tendency for people to consider themselves prepared after taking one or two actions. The fix? Officials shouldn't distribute long, generic checklists of preparedness measures, which, the research suggests, will lead people to pick a couple (often the easiest rather than the most important). Rather ordered lists should be issued: Tell people, "If you are going to do only one thing to prepare for a storm, it should be this. If you are going to do three, you ought to …." To fight inertia, work hard to persuade people to develop precise preparedness plans that include a shopping list of supplies, and exact plans for when to, and where to, evacuate, should that be necessary.

Recent years have seen tremendous advances in our ability to predict natural disasters such as hurricanes, floods and heat waves — extreme events that may become increasingly common as the climate changes. But these advances have done little to reduce the damaging cost of these events. Reducing those costs will require advances of a different kind: a better understanding of the psychology biases that shape how people make decisions, and better preparedness systems that anticipate and work around these biases.
Perhaps these methods would work, they certainly seem worth trying even if they only result in a handful of lives saved. On the other hand, it's possible that if we really are entering an era where storms like Florence become more common, and it's far too early to tell if that's the case, then perhaps people will start to take the warnings more seriously. In that regard, I'd be interested to know if there have been any studies done in the wake of storms such as Hurricane Katrina, Hurricane Sandy, or, more recently last year's triple threat of Harvey, Irma, and Maria, to determine if the seriousness of those storms is causing people to reevaluate how they react to the warnings they get from public officials. If that's the case, then they could be one of the few positive things to come out of these storms.
In any case, if you live in any of the areas likely to be impacted by Florence, my personal advice is to get out of the way immediately. If the storm turns out to be a dud, then the worst that has happened is that you've lost a couple days staying a hotel, in an emergency shelter, or with relatives. If the worst comes to pass, or anything close to it, then you may well have saved your life.