Isaac Could Rival Hurricane Katrina
Though still just a Tropical Storm, Isaac has the potential to be as dangerous as Hurricane Katrina.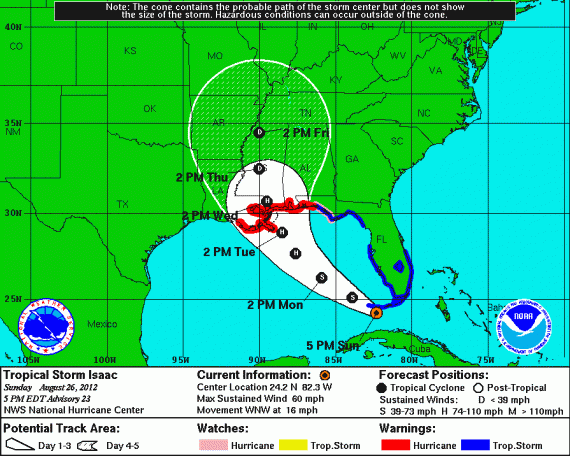 With the threat to Tampa and the Republican National Convention largely out of the picture, attention is now being turned to a bigger question; whether Tropical Storm Isaac could end up being a far more destructive storm than anyone anticipated just a few days ago:
On August 24th, we warned on Forbes that Tropical Storm Isaac could pose a threat to energy markets and even rival Hurricane Katrina in its destructive power (Could Tropical Storm Isaac Turn Into Another Katrina?).  While the computer models are still showing a substantial spread in solutions, it appears more likely that Isaac will make landfall somewhere near the Louisiana, Mississippi Gulf Coast.  This track will provide the storm more time to intensify over the very warm water of the Gulf of Mexico.

The entire Gulf Coast from Lake Charles, LA to Panama City, FL should be aware of the latest forecast model guidance.  The reason for this large spread is because the computer models are split between whether a trough will capture Isaac or not.  As of 8AM Sunday morning, it appears Isaac will not be captured and as a result, a more westward track is most likely.

Hurricane Katrina made landfall near New Orleans on Aug 29, 2005.  It is estimated that the total economic impact in Louisiana and Mississippi exceeded $110 billion, earning the title of the most expensive hurricane ever in US history.

As Katrina moved through the heart of the Gulf of Mexico offshore oil and natural gas production area, it negatively impacted nearly 20% of US oil production. Hurricane Katrina, followed by Hurricane Rita in September, destroyed 113 offshore oil and gas platforms and damaged 457 oil and gas pipelines. Oil, gasoline, and natural gas futures prices on the NYMEX soared as damage assessments were reported.

The hurricane damage inflicted by Katrina caused oil prices to increase from the mid-$60s per barrel to over $70/bbl and gasoline prices at the pump rocketed to near $5 a gallon in some areas of the US. The US government released oil from its stockpile in the Strategic Petroleum Reserves (SPR) to offset price rises. In the natural gas market, prices were trading in the $9 to $10/MMBtu range at the time, but spiked to over $15/MMBtu as the full extent of the damage became apparent.

Additionally, the Louisiana Offshore Oil Port (LOOP) was closed on August 27, 2005, reducing production by over 400,000 barrels per day.  LOOP handles 13% of the nation's foreign oil, about 1.2 million barrels a day, and connects by pipeline to 50% of the U.S. refining capability. The port was undamaged by the storm and resumed operation within hours of electricity coming back online.

Gulf of Mexico oil production was reduced by about 1.4 million barrels per day as a result of Hurricane Katrina, equivalent to about 91% of daily Gulf of Mexico oil production. Additionally, over 8 billion cubic feet (Bcf) per day of natural gas production was shut in, equivalent to 83% of daily Gulf of Mexico natural gas production.

Seven years later as what will be Hurricane Isaac bears down on the Gulf Coast, the Gulf of Mexico currently accounts for about 23% of oil production and 7% of natural gas output according to the US Department of Energy. Furthermore, roughly 30% of natural gas processing plant capacity and 44% of US refining capacity is located along the US Gulf Coast.

According to the Bureau of Ocean Energy Management (BOEMRE), 8.6% of the Gulf's daily oil output and 1.6% of daily natural gas production was shut down as a result of Isaac approaching the Gulf of Mexico. Closing prices as of Friday, Aug 24, 2012 of NYMEX October WTI futures settled at $96.15/bbl, while September natural gas settled at $2.70/MMBtu.
One thing this potentially portends is a sudden intense spike in energy prices like the one that we experienced in 2005 when Katrina hit, along with possible supply disruptions for those parts of the country most dependent upon gasoline supplies from the Gulf Coast. In that regard, I am reminded of the time during Katrina's assault on the Gulf Coast when I drove up to the local gas station I frequented at the time on the way home from work only to learn that they literally had no gas to sell because their supply truck had not arrived that day. It was something of a surreal experience, because the reliability of gas coming out of the pump is something we had come to rely upon as much as the reliability of water coming out of the kitchen sink. Within days, local gas prices skyrocketed thanks to high demand and low supply, and while they dropped fairly quickly after supply lines had been re-established, I can't say I'll ever forget the moment when there was no gas coming out of the pump.
But, of course, there are larger concerns than just the  supply of oil and gasoline. Everyone remembers Hurricane Katrina, and the people in Southern Louisiana aren't wasting any time. Even before any state officials had made a statement, the President of Jefferson Parish, which encompasses most of the suburban New Orleans area, declared a State of Emergency. Louisiana Governor Bobby Jindal extended the State of Emergency declaration to cover all of Southern Louisiana, and New Orleans Mayor Mitch Landrieu made a similar declaration for his city. At the same time, though, Landrieu oddly didn't call on city residents to evacuate, something which Brendan Loy, who was the first person to note that Louisiana residents needed to get out of town in advance of Katrina, criticizes heavily:
In a bizarrely low-key press conference that seemed more focused on calming residents' "anxiety" and vaguely telling them to "be prepared" (and then making of a series of mundane announcements about municipal matters like trash collection and parking restrictions) than on advising them to take specific, concrete steps commensurate to the risk of a possibly major hurricane potentially making a direct hit on America's most hurricane-vulnerable city starting in about 48 hours, New Orleans Mayor Mitch Landrieu did his best Ray Nagin impression Sunday, announcing a no-evacuation, "shelter in place" plan that suggests a stunning level of confidence that a worst-case scenario won'thappen, at a time when it remains, meteorologically speaking, very much in play.

The possibility that residents would be "sheltering in place" in a "place" the could, in the worst-case scenario, be swallowed up by the Gulf of Mexico, was not mentioned.

Mayor Landrieu said he did not anticipate announcing any revisions to the plan — such as a decision to order evacuations, a possibility he explicitly downplayed — until around noon tomorrow, by which time the onset of bad weather would be around 24 hours away. Despite reams of pre-Katrina literature indicating that it takes 48 to 72 hours to evacuate New Orleans in the event of a major hurricane threatening a direct hit, and despite the experience of 2005-s rushed and incomplete evacuation so flawed that it left 50,000 people to be rescued from rooftops and such by the Coast Guard, Mayor Landrieu apparently thinks 24 hours is enough time to make an evacuation work, if one is needed.

Okay then.

I want to be fair here. I'm neither a meteorologist nor a New Orleans official, planner or expert. Perhaps Landrieu is right, and I'm wrong. Perhaps New Orleans now has plans that will allow it to effectively evacuate in 24 hours' time. My understanding has been that that's basically impossible, but again, I'm concededly not an expert. It's certainly true that, by midday tomorrow, we'll have more and better information about Isaac's projected path and intensity at landfall, both of which remain maddeningly difficult to pin down right now. So if it's reasonably possible to wait until tomorrow morning to make the call, that would certainly be preferable. I'm just not so sure it's reasonably possible. I thought the decision needed to be made today, despite the admittedly imperfect information and the very significant chance of a false alarm.

Even if an evacuation can reasonably be begun tomorrow if necessary, Mayor Landrieu certainly should have done more to prepare residents now for the possibility.
Much of this is, of course, a guessing game. The storm could bend east and end up leaving New Orleans with little more than a big rain storm. It could lose intensity, although that seems unlikely given the warm waters of the Gulf of Mexico. Given the current track, the fact that New Orleans would be on the western side of the storm could mean that it avoids most of the worst of the storm surge. But, those are all possibilities that the people who live there won't know the answer to for at least 24 to 48 hours. By that time, evacuation would be a far more difficult task to accomplish, as we learned in 2005. It seems to me that this is one of those situations where "better safe than sorry" applies. If you evacuate and the storm turns out to be a dud, you're out a couple days at home and a tank or so of gas. If you don't, and the storm turns into something serious, you've got far bigger problems than a few charges on your credit card.
By the way, given the current track as shown above, I'd give that same advice to people on the Alabama and Mississippi Gulf Coasts.
Graphic via Brendan Loy's Flickr Feed