Hurricane Isaac Pounds Louisiana, Mississippi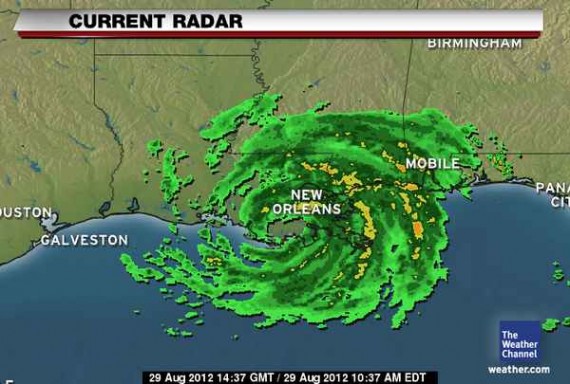 Hurricane Isaac isn't the monster wind storm that Hurricane Katrina was five years ago, and the destruction it leaves in its wake is likely to be far less thanks in large part to the improvements to the New Orleans levee system that were made post-Katrina, but that doesn't mean it isn't causing serious problems for residents of southern Louisiana and Mississippi:
NEW ORLEANS — Hurricane Isaac hovered over the Gulf Coast on Wednesday morning, punishing southeast Louisiana with 80 mile per hour wind gusts, driving, horizontal rain and the threat of calamitous flooding. Forecasters said the rainfall may not let up for days.

The hurricane, which made its second landfall early Wednesday, was essentially stationary just off the Louisiana shore, according to the National Weather Service, bringing with it the heightened risk of tornadoes and flash flooding hundreds of miles inland from Louisiana, and across Mississippi and Alabama to Florida.

The longer the storm lingers, the more pressure it is putting on the levees and other flood-protection systems along the coast.

In Plaquemines Parish, about 95 miles from New Orleans and where the hurricane first made landfall, water "overtopped" a levee, causing extensive flooding, according to the National Weather Service.

The levee is not one of the large, federally maintained earthworks lining the Mississippi River, but a locally maintained levee some 8 feet high, and lower than the 12-foot surge that hit it, according to officials from the Army Corps of Engineers. The water is threatening people living along the east bank of the parish, near the mouth of the Mississippi River, who did not comply with the mandatory evacuation.

"Right now, we're trying to figure out where they actually are," said a state trooper, Russel Brueck, at the parish emergency operations center. "They're not actually in the body of water. They're just stuck."

In the early morning, as the hurricane stalked up into the bayous of southern Louisiana, fierce wind and pounding rain arrived in earnest here in New Orleans. Wind gales howled through the streets, blowing apart billboards, tugging down trees and flooding streets.

More than 520,000 residents of Louisiana were without power, nearly a third of them in New Orleans. They had nothing to do but wait, since Entergy, the utility, could not send workers to fix lines until winds were below 30 miles per hour.

As they awaited daylight, emergency officials across south Louisiana braced for another long day.

In Jefferson Parish, there was anxiety about two communities not protected by levees — Grand Isle and Lafitte.

Mandatory evacuations had been ordered in both places, but while only about 30 residents remained in Grand Isle as Hurricane Isaac bore down on them, far fewer had heeded the warning in Lafitte.

"Initially, the storm only being a tropical storm instead of a hurricane, many people, especially the people who live down there, didn't have a whole lot of concern," said Deano Bonano, an aide to a parish councilman. "Then it ramped up pretty quickly."

By 11 p.m. Tuesday night, two feet of water had inundated parts of Grand Isle, a barrier island. There was significantly less flooding in Lafitte. Though the storm's direction had helped by pushing water out, that direction may change later Wednesday, and flooding there was likely.

Hurricane Isaac is the first test of a $14.5 billion, 133-mile ring of levees, flood walls, gates and pumps installed after Hurricane Katrina by the Army Corps of Engineers, the agency that built the defenses that failed New Orleans catastrophically in 2005.

While the current storm is nowhere near as powerful as Hurricane Katrina — which struck seven years ago Wednesday — its pounding, driving rains and surging waves are lashing towns from east of Morgan City, La., to the Mississippi-Alabama border.
While the levees in New Orleans seem to be holding just fine, other parts of the state haven't been so lucky. In Plaquemines Parish, south of the city, a levee was breached and hundreds of residents have been trapped in their homes:
Hurricane Isaac pounded the Gulf Coast Wednesday, overtopping a levee southeast of New Orleans, knocking down trees and cutting power to more than 400,000 homes.

There were no reports of injuries but dozens of residents of Plaquemines Parish, La., were stranded atop a levee, while there were multiple reports of people trapped in attics by rising waters. Thus far, fewer people were evacuated than during Hurricane Katrina, which hit New Orleans seven years ago today.

But the Category 1 slow-moving storm is expected to stay over the region all day with its drenching rains and high winds. As of 9 a.m. the storm's center was about 40 miles southwest of New Orleans, according to the National Hurricane Center.

At 9 a.m., 30 to 40 vehicles were stranded atop the levee in Plaquemines waiting for a ferry, with water all around, according to a contactor who works for the parish. That ferry is the only way off that flooded spit of land. A source told ABC News that nearly the entirety of the area has been flooded, and winds still howling at 35-40 mph, preventing a ferry from approaching.

It is estimated that it will be six to eight hours before it's safe for the ferry to motor out to the stranded people, who were without power but do have cell phone service.

Thousands who live in the area are still stuck in their homes or attics, and rescuers are out in boats helping those who need it most.
At this rate, the big news from Isaac is turning out to be the fact that it is such a slow moving storm that its dumping far more water on the area than otherwise might have been expected. Additionally, since it's retaining hurricane strength, the storm surge is continuing each time there's a high tide; so far, there have been two high tide storm surges since the storm hit the area, and there's likely to be a third. By the time this storm is over, the rainfall is likely to be close to a foot in some locations.
Nationally, the storm is leading to a spike in gas prices thanks to disruptions to service at area refineries and oil wells:
NEW YORK (CNNMoney) — Gas prices shot up by nearly 5 cents a gallon nationwide Wednesday — with one-day surges of as much as 14 cents in some states — after Hurricane Isaac cut output from refineries along the Gulf Coast.

But experts say the price spike is likely to be short lived, especially since the winds associated with the Category 1 storm are not believed to have caused lasting damage to the refineries in the region.

(…)

Motorist group AAA reported that the price of a gallon of regular gas shot up 4.8 cents to $3.804 in the latest reading released Wednesday. It is the highest level since early May and the biggest one-day spike in prices since February 2011, when fighting in Libya raised concerns about oil supplies.

The Gulf states, which were hit by big gas prices spikes in Tuesday's reading, continued to see their prices rise Wednesday — up 5.1 cents in Louisiana, 3.9 cents in Mississippi and 4.1 cents in Alabama.

But every state in the country was paying a higher average price Wednesday as compared to Tuesday. And some of the states in the South and Midwest that get oil or gas from pipelines in the Gulf region suffered significantly larger spikes. The biggest increase was a 13.9 cent jump in Ohio, followed by a 13.2 cent rise in Indiana and a 12 cent rise in Michigan.
This was to be expected, of course, as the same thing happened in the wake of Katrina.
The big story, though, is in the Gulf Coast area, which is just getting hammered with rain, and will continue to be until Isaac decides that its time to move on.
Graphic via The Weather Channel