East Coast, Political Campaigns, Brace For Hurricane Sandy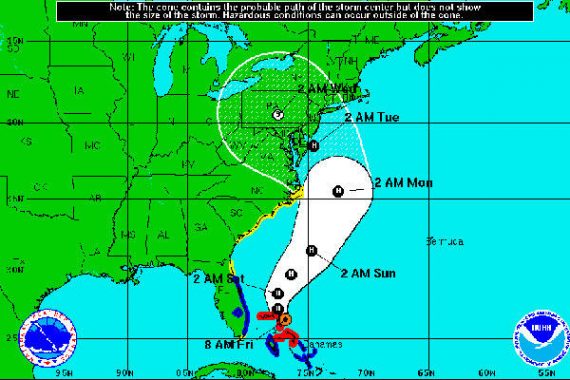 With less than two weeks to go until Election Day, one of the most populous regions of the nation is under the gun of a late season hurricane that threatens to mutate into a Nor'Easter:
Forecasters said on Friday that there was a 90 percent certainty that Hurricane Sandy would make landfall on the East Coast, but cautioned that it was too early to say where the giant storm would strike or how intense its winds would be when it hit.

Computer models show potential targets include an area stretching roughly from the Chesapeake Bay to southern New England.

The storm, now moving northwest at about 10 miles per hour, may stay off the coast in the Atlantic Ocean until Monday or Tuesday, but will likely combine with a colder weather system from the west to dump more than one foot of snow — perhaps as much as two feet — in the Appalachian Mountains of West Virginia, and cause strong winds all the way to the Ohio River Valley and eastern Great Lakes region.

The storm is also expected to dump as much as 10 inches of rain in the area where it makes landfall and to create a significant storm surge that will lead to flooding throughout a large coastal area, perhaps most seriously in Delaware, forecasters said.

"We expect a long-lasting event — two to three days for most people," said James Franklin, branch chief of the National Hurricane Center in a conference call on Friday. It is, Mr. Franklin said, "a very large system."

On Friday morning, the hurricane tore through the Bahamas with 100-m.p.h. winds, after killing at least 21 people in the Caribbean. By noon, the system was moving north out of the Bahamas, as a Category 1 storm, with wind speeds of 80 m.p.h., Mr. Franklin said.

The hurricane is likely to turn northeast late Friday or Saturday, roughly parallel to the Carolina coast, forecasters said.

Coastal areas of the United States, from Florida to North Carolina, were under a tropical storm watch Friday.

Meteorologists say that while early storm projections can be unreliable, this storm will cause major disruptions in an area larger than Hurricane Irene in 2011, which caused billions of dollars of damage.

"It really could be an extremely significant, historic storm," said Brian McNoldy, a senior research associate at the University of Miami, explaining that conditions are similar to those that created the famous "perfect storm" of 1991.

The chain of events that would make Hurricane Sandy develop into a grave threat to the coast involves a storm system known as a midlatitude trough that is moving across the country from the west. If the systems meet up, as many computer models predict, the storm over land could draw the hurricane in.

"Now you've got this giant storm complex with a lot of energy," said Dennis Feltgen, a meteorologist and spokesman for the National Hurricane Center.
While it's hardly the most important part of the story, there's a definite political angle to the story, because this storm could have a serious impact on the final days of campaigning and, potentially, voting itself:
There is no escaping the 2012 presidential campaign, which is entering its final, all-consuming 10 days.

But what if something came along and diverted everyone's attention? What if the candidate rallies and speeches were but a sideshow? What if all the cable TV chatter was about something else?

That something else is churning through the Atlantic right now.

Hurricane Sandy is expected to slam into the East Coast sometime early next week as a strong — perhaps historic — tropical storm that could cause severe coastal flooding, generate intense wind damage and knock out power to millions of people for days.

In other words — perfect television.

Meteorologists are still not certain of the storm's track. It could end up shifting eastward, heading harmlessly out into the Atlantic. Or it could make landfall as a much weaker storm that fizzles as a real news story.

But if it becomes the "Frankenstorm" that some weather watchers are calling it, the storm has the potential to have a serious effect on the presidential campaign in its final days.

Travel of the candidates could be disrupted as campaign planes are forced to divert around the storm. President Obama is scheduled to return to the White House each day after campaigning next week, but the storm could create havoc with those plans.

And Mitt Romney and the president could find it harder for their last-minute messages to break through if they are competing with the visuals of a large, threatening storm.

That could have a particularly outsized impact in Virginia if the storm hits that far south. The state is one of the most important battlegrounds for the campaigns, and polls have shown the race there exceedingly tight.
At this point, it's far too early to say what this storm is going to do, but at the moment it looks like it's going to hit somewhere along the East Coast and bring with it lots of rain, and lots of wind. For a region that just dealt with Hurricane Irene a year ago, that's going to be a lot to go through. As far as the campaign goes, it looks like we have our October Surprise.