37?!?
The much-hyped Chevy Volt got its EPA sticker: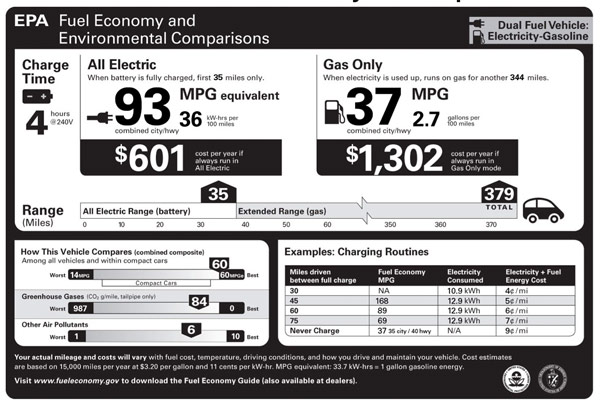 The woefully limited 35-mile range on battery and mere 37 MPG on gas leaves one wondering what all that hype was really about.
UPDATE: (11/30/2010): Chris J. Kobus points out that, comparing apples to actual apples, even these underwhelming numbers are mostly puffery:
The current "miles per gallon equivalent" is a fraud perpetrated to hide the true environmental cost of these cars. One gallon of gas does have about 33.5 kilowatt-hours of chemical potential (depending on blend, additives, etc). And about that much energy is needed to get the Leaf to go 99 miles, and the Volt to go 93. But here's where the fraud is perpetrated: the electricity for those vehicles is being generated by mostly coal power plants that are only about 33% efficient (minus transmission losses and losses from charging). Coal plants are off-site power generators (whereas car engines are on-board) and are totally ignored in the EPA rating. …

The real efficiency of the Leaf is dependent on the efficiency of the coal power plant: the Leaf gets 25 MPG, not 99. The Chevy Volt gets 23 MPG, not 93.

The EPA is purposely comparing apples to oranges, conveniently hiding the fact that you are simply displacing gasoline usage with coal. The fact that you don't have to directly throw coal into your car doesn't mean you aren't using any. Indeed, the overall efficiency of electric vehicles charged on coal is no better than a car with a spark ignition engine.
And even that, of course, does not take into account the full life cycle environmental impact tied up in, say, battery disposal.