General Motors Loses Nearly $50,000 Every Time It Sells A Chevy Volt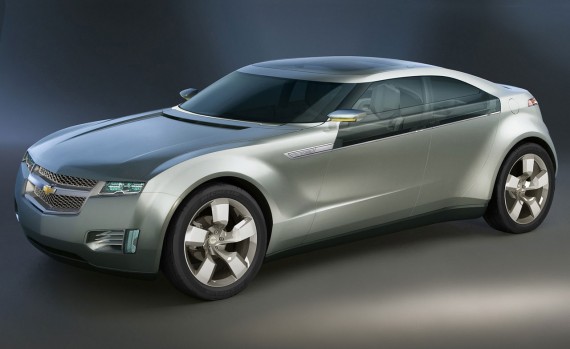 The Chevy Volt, the mostly electric car that President Obama, and General Motors officials, have touted as the future of the American car industry, is a massive money loser that any sane businessman would stop making immediately:
Sept 10 (Reuters) – General Motors Co sold a record number of Chevrolet Volt sedans in August – but that probably isn't a good thing for the automaker's bottom line.

Nearly two years after the introduction of the path-breaking plug-in hybrid, GM is still losing as much as $49,000 on each Volt it builds, according to estimates provided to Reuters by industry analysts and manufacturing experts.

Cheap Volt lease offers meant to drive more customers to Chevy showrooms this summer may have pushed that loss even higher. There are some Americans paying just $5,050 to drive around for two years in a vehicle that cost as much as $89,000 to produce.

And while the loss per vehicle will shrink as more are built and sold, GM is still years away from making money on the Volt, which will soon face new competitors from Ford, Honda and others.

GM's basic problem is that "the Volt is over-engineered and over-priced," said Dennis Virag, president of the Michigan-based Automotive Consulting Group.

And in a sign that there may be a wider market problem, Nissan, Honda and Mitsubishi have been struggling to sell their electric and hybrid vehicles, though Toyota's Prius range has been in increasing demand.

GM's quandary is how to increase sales volume so that it can spread its estimated $1.2-billion investment in the Volt over more vehicles while reducing manufacturing and component costs – which will be difficult to bring down until sales increase.

But the Volt's steep $39,995 base price and its complex technology – the car uses expensive lithium-polymer batteries, sophisticated electronics and an electric motor combined with a gasoline engine – have kept many prospective buyers away from Chevy showrooms.

Some are put off by the technical challenges of ownership, mainly related to charging the battery. Plug-in hybrids such as the Volt still take hours to fully charge the batteries – a process that can been speeded up a bit with the installation of a $2,000 commercial-grade charger in the garage.
The production cost of a Volt is nearly twice that of the other vehicles in the General Motors fleet, and it's sales are far below any of those other models as well. The idea that these production costs will go down as more Volt's are sold, a possibility that seems dubious at best given the appallingly bad sales record of the Volt, makes little sense at all. The production issues here have nothing to do with things that become suddenly less expensive once you start mass producing them, especially when you're talking about a battery that is expensive to produce because of the material needed to make it.
We've known for awhile now that the Volt was a boondoggle, and this is really just further confirmation of that fact. More0ver, assuming electric cars do become more common GM will have to deal with competition from other companies. Already, Nissan has the Leaf which, while similarly expensive, has received far better reviews than the Volt from folks in the car industry. On the other side of the coin, there is the distinct possibility that the cost of ownership of an electric vehicle will grow even higher than it currently is if the cost of energy sources such as natural gas start to rise, something that seems inevitable now that natural gas resources are being exploited for a wide variety of uses.
If you're a businessman and you're losing $50,000 on every sale of a certain item you manufacture, shouldn't that tell you that you're doing something wrong? Shouldn't it, perhaps, tell you that the idea of building the rebirth of your company on such a product is a mistake? We were told after the bailout that we'd see something new from Detroit. With the Volt, all we're seeing is more of the same bad business decisions that got Detroit in trouble in the first place.